In a harmonic convergence of two big trends in luxury, the best online resale sites are also excellent sources for hot items in "New Age" luxury. Our correspondent Julie Chang Murphy has curated a a guide on how to shop the luxury online resale site The Real Real for vintage items that are on-point with the hot new trend toward "New Age" luxury goods.
Online vintage luxury resale sites are booming during the coronavirus era
Some people like to Netflix and chill. We like to Netflix and scroll through The Real Real. Whether it's stalking our latest fashion obsession or pricing out a potential investment bag, the luxury resale site is a treasure trove of eye candy.
The advent of shelter-in-place regulations has only fueled the growth of luxury online consignment and resale sites. The combination of retail stores being closed and plenty of time to assess wardrobe needs has caused a flood of both new merchandise and new shoppers.
As the Real Real site adds even more merchandise categories to its growing collection, we thought an edit might be in order, to limit endless scrolling in search of on-trend items. Although, of course there's nothing wrong with endless scrolling . . .
[white_box]
Join our community
For access to insider ideas and information on the world of luxury, sign up for our Dandelion Chandelier newsletter. And see luxury in a new light.
sign up now >
[/white_box]
For this post, we were inspired by the now trending category of "New Age Luxury."
what is New Age luxury?
The rise in popularity of the mystical arts has already been well documented. And we're guessing that as the future seems to get ever hazier (Will beaches open this summer? When can I hug my sister again? Will the kids ever go back to school??), that interest and passion will not only be sustained, but continue to grow.
Our friends at the Pew Research Center tell us that roughly 65% of the the American public between the ages of 18 and 29 believe in things like astrology, tarot cards, and crystal energy.
No longer to be dismissed as just a trend, "New Age" practices have become a mainstay of our culture – a place where people find well-being and guidance in their lives.
Meghan Markle famously dazzled fans the world over with her zodiac charm necklaces, with talismans representing her husband and newborn son,
[white_box]
Related Post
Which Luxury Vintage Handbags are the Best Investments?
read more >
[/white_box]
Many of fashion's most renowned luxury houses have been inspired by symbols and motifs from the occult, including Givenchy, Dior, Chanel, Gucci, Valentino, and Prada.
And why not? After all, our treasured apparel and accessories can be thought of as talismans, giving us inner confidence and power.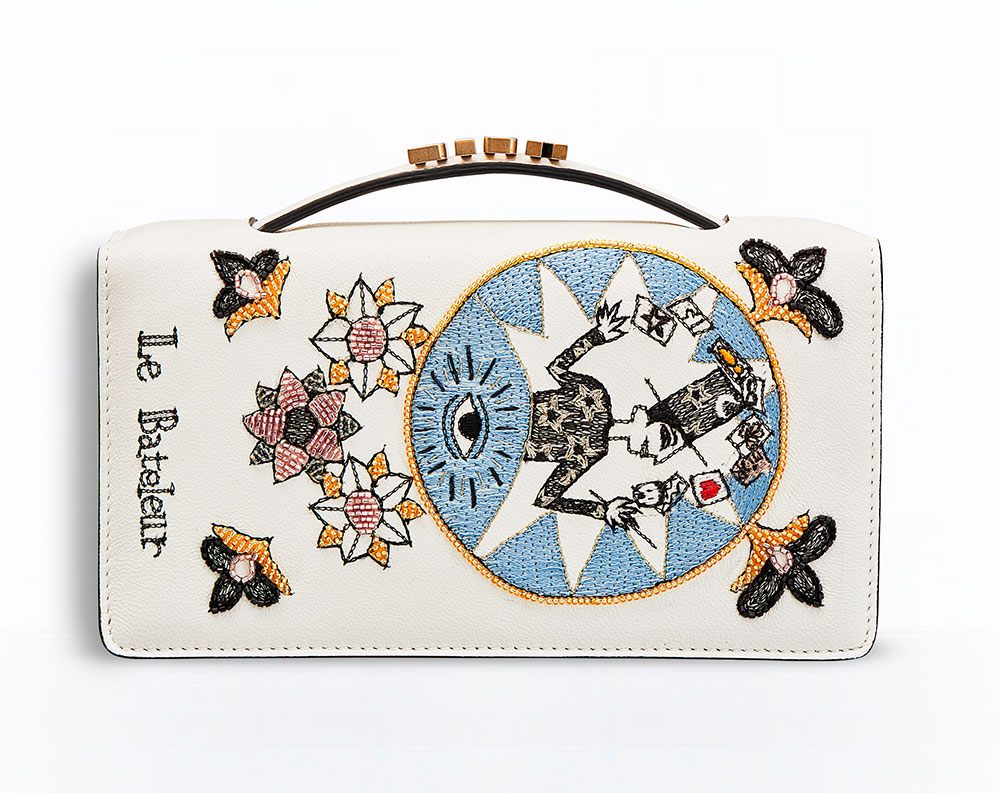 And when those quotidian coverings and adornments are re-conceived by the best brands in luxury, and connected to the rich and mysterious history of the zodiac or arcane energies of powerful animals, alchemy can occur. What results can make for a fashion collector's item.
How to Shop the Real Real for Vintage "New Age" Luxury
We sorted through The Real Real's collection and put together the most magical pieces to buy now. Whether or not you're a believer, you've got to admit- anything that takes us to another world or dimension at the moment definitely has its appeal! Be sure to click on the links for the most up-to-date pricing of any item that suits your fancy. Fate (aka sales in the 20% – 50% range) may be on your side!
1. Zodiac
Your next outfit just might be written in the stars. And no, it's not the same loungewear you wore the day before (and the day before that.) Here are some stellar finds inspired by the art of astrology.
[white_box]
Related Post
The Best Luxury Consignment Resale Sites Right Now
read more >
[/white_box]
2. Celestial
For a glimpse of the divine, just look up at the sun, moon and stars. These celestial bodies can inspire versatile looks from modern and graphic stylings to the romantic and bohemian.
Intergalactic
These space inspired looks are quirky, cool and edgy. It's no wonder luxury design houses, as well as popular streetwear brands have been inspired by the galaxies. The guy who can pull these off is certainly out of this world.
[white_box]
Related Post
The Best Substitutes for High-Priced Luxury Beauty Products
read more >
[/white_box]
4. Tarot & Talismans
The beautifully illustrated archetypes found in a deck of tarot cards have been incorporated into many collections in Maria Grazia Chiuri's Dior. We were delighted to find some fine examples available (at the time of writing) on The Real Real. Here, they are shown along with some equally magical and powerful symbols that have withstood the test of time.
5. Traditional Asian Symbols
The dragon, phoenix, crane, lotus and koi fish are some of the most powerful and auspicious images in East Asian cultures. They are used in the practice of feng shui to inspire harmony and attract good fortune – something we could all use a little more of right now.
[white_box]
Related Post
Are You Ready for the Era of the Chic Luxury Face Mask?
read more >
[/white_box]
6. Dark Magic
Nope, it's not just for Halloween season. Witchy, rock & roll dressing in black with gothic undertones makes us feel sexy, strong and mysterious all year round.
How to Shop the Real Real for Vintage "New Age" Luxury
There you have it –over 60 "New Age Luxury" picks from The Real Real. Happy Shopping!
join our community
For access to insider ideas and information on the world of luxury, sign up for our Dandelion Chandelier Newsletter here. And see luxury in a new light.
Crediting her training as a cultural anthropologist at Wellesley College, Julie has immersed herself in various industries in the last 15 years including fashion design, event planning, and fitness. Julie lives in New York where she loves trying every ramen and dumpling restaurant with her husband and three children. She finds joy in bold prints, biographies of fierce women, kickboxing. And spending way too long finding the perfect polish color to express her mood.