What are the Best New Books Coming in May 2020?
All products are independently selected by our editors. If you buy something, we may earn an affiliate commission.
New month, new books! Book Light is our Dandelion Chandelier curated list of the most-anticipated new book releases every month, and next up is May 2020. If you ask us, the perfect May read is neither too hot nor too chill – like the month's weather, a great May book is just right. So what are the best new books to read coming out in May 2020? Our intrepid team has been exploring and here's what we found.
what are the most-anticipated new book releases for May 2020?
Wondering what to read in May 2020? We've surveyed the landscape, and rounded up a list of the best new books coming this May.
[white_box]
Join our community
For access to insider ideas and information on the world of luxury, sign up for our Dandelion Chandelier newsletter. And see luxury in a new light.
sign up now >
[/white_box]
Due to the coronavirus pandemic and the impact it has had on retail stores being closed, and airline flights being largely cancelled, several high-profile new books that were supposed to be released in May 2020 have been postponed until later this year. It's hard to promote a book when you cannot do signings at bookstores, or travel to do press interviews.
Nevertheless, there are a lot of great new book releases coming in May 2020. Here are some of the ones we're most excited about.
the best new books coming in May 2020
Here's our pick of the top new book releases of May 2020 – novels, essay collections, and non-fiction – that we cannot wait to read. You can pre-order them now if you like (and if you do, full disclosure, we may earn a small commission on the sale).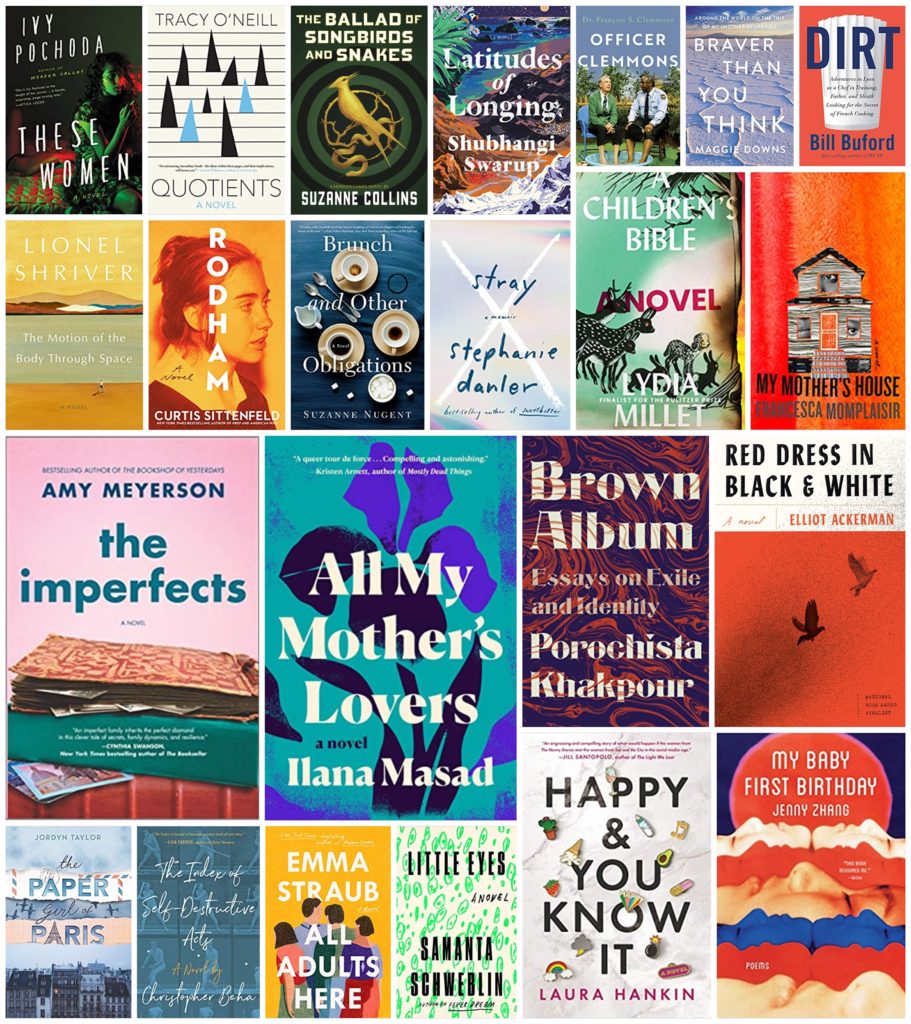 New books coming in the week of May 5, 2020
1.
All Adults Here by Emma Straub. The beloved author of The Vacationers and Modern Lovers returns with a new story of a fractured family. When she witnesses a school bus accident, Astrid is forced to acknowledge that she was not the best parent to her three, now-grown children. Her youngest son is adrift. Her daughter is pregnant but still acts like a child. And her eldest son seems far too hard on himself. But, really, is she the one to blame for it all? – Publication date: May 5, 2020
2.
The Imperfects by Amy Meyerson. From the bestselling author of The Bookshop of Yesterdays comes a new novel about a priceless inheritance. The three grown – and estranged – Miller siblings are reluctantly reunited when their mother passes away. Then they find a secret inheritance hidden among her possessions―the Florentine Diamond, a 137-carat yellow gemstone that went missing from the Austrian Empire a century ago. – Publication date: May 5, 2020
3.
Little Eyes by Samanta Schweblin. The latest work from the Argentine novelist centers around a strange gadget called a "kentuki." The creatures, who resemble robotic stuffed animals, have cameras and faraway operators. The impact of this new technology is profound in a society where people are all too eager to invite strangers into their private lives – Publication date: May 5, 2020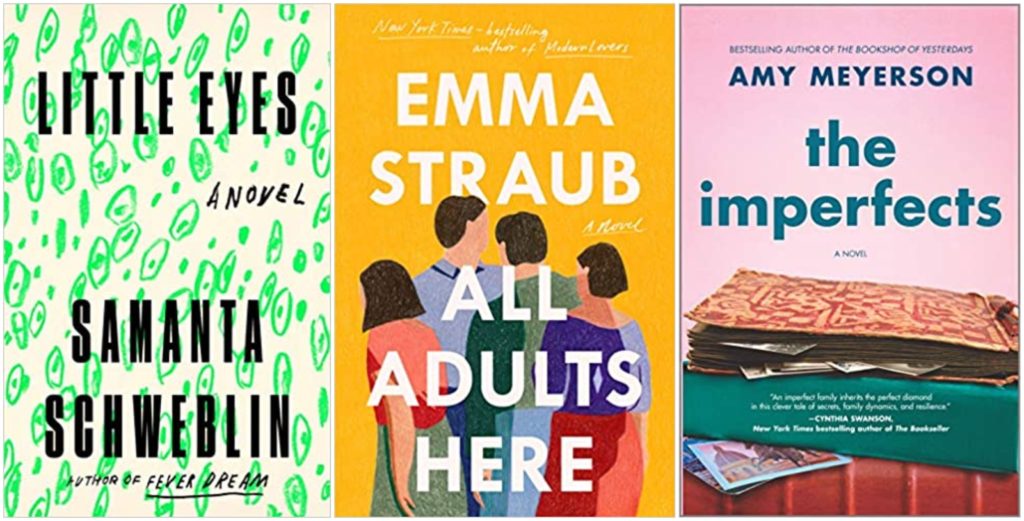 4.
Brunch and Other Obligations by Suzanne Nugent. The only thing reclusive bookworm Nora, high-powered attorney Christina, and supermom-in-training Leanne ever had in common was their best friend, Molly. When Molly dies, she leaves mysterious gifts and cryptic notes for each of her grieving best friends, along with one final request: that these three mismatched frenemies have brunch together every month for a year – Publication date: May 5, 2020
5.
The Index of Self-Destructive Acts by Christopher Beha. On the day Sam Waxworth arrives in New York to write for the Interviewer, a street-corner preacher declares that the world is coming to an end. Over the course of the summer, it often seems that the apocalypse is nigh. This is a family portrait and a meditation on the passing of the torch from the old establishment to the new meritocracy, exploring how each generation's failure helped land us where we are today – Publication date: May 5, 2020
6.
Latitudes of Longing by Shubhangi Swarup. This novel from a widely-praised new voice follows the interconnected lives of characters searching for true intimacy in India. A scientist who studies trees and a clairvoyant who speaks to them. A geologist working to end futile wars over a glacier. A mother struggling to free her revolutionary son. And the ghost of an evaporated ocean as restless as the continents. Binding them all together is a vision of life as vast as the universe itself – Publication date: May 5, 2020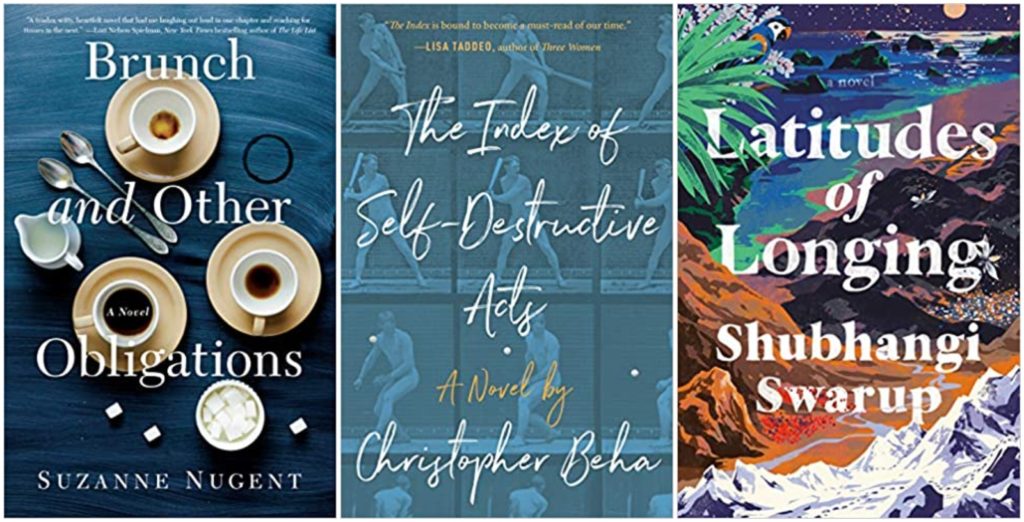 7.
Stray: A Memoir by Stephanie Danler. The author's debut novel Sweetbitter, was a runaway success. But, as she describes in her new memoir, that success couldn't erase the devastating details of her past. In this raw account, she reveals the pain she suffered as the daughter of two parents struggling with addiction – Publication date: May 5, 2020
8.
Officer Clemmons: A Memoir by François Clemmons. The man who played the beloved Officer Clemmons on Mister Rogers' Neighborhood looks back on that time as well as what came before it. Including a traumatic childhood and his days at Oberlin College, where he started exploring his sexual identity. The actor, who later founded the Harlem Spiritual Ensemble, writes candidly about his relationship with Fred Rogers, and how his life changed because of the show – Publication date: May 5, 2020
9.
Dirt by Bill Buford. journalist Bill Buford documented his formative trip to Italy, where he learned how to properly cook the country's cuisine, in his best-selling memoir Heat. Now he returns with Dirt captures his five years spent in Lyon with his wife and twin toddlers. There, Buford grows obsessed with the history of the food he's both preparing and eating, which he describes in tantalizing detail – Publication date: May 5, 2020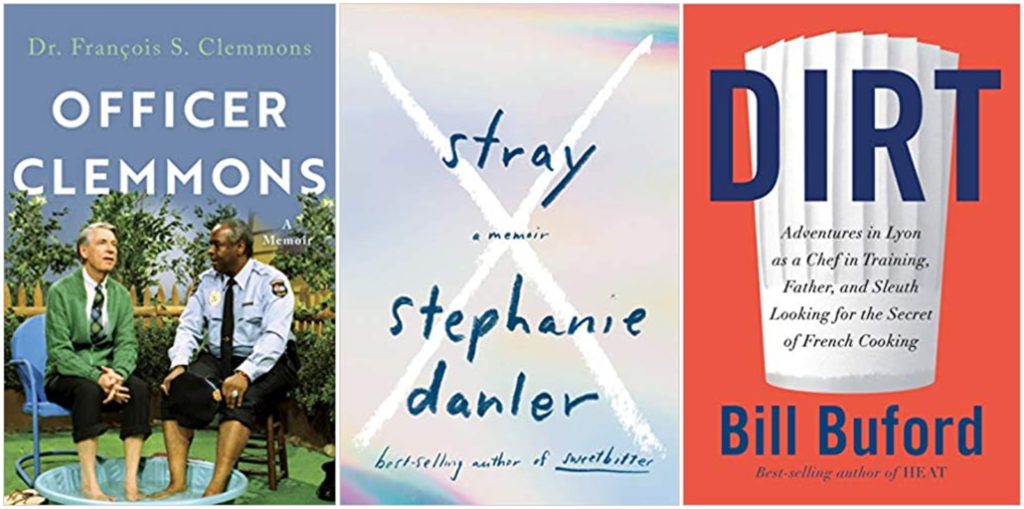 New books coming in the week of May 12, 2020
10.
Quotients by Tracy O'Neill. Jeremy Jordan and Alexandra Chen hope to make a quiet home together but struggle to find a space safe from their personal secrets. In a culture of limitless surveillance, Jeremy and Alexandra will go to great lengths to protect what is closest to them. Spanning decades and continents, their saga brings them into contact with a down-and-out online journalist, shadowy security professionals, and jockeying technology experts, each of whom has a different understanding of whether information really protects us, and how we might build a world worth trusting in our paranoid age – Publication date: May 12, 2020
11.
A Children's Bible by Lydia Millet. Pulitzer Prize finalist Lydia Millet's sublime new novel―her first since the National Book Award long-listed Sweet Lamb of Heaven―follows a group of twelve eerily mature children on a forced vacation with their families at a sprawling lakeside mansion. Contemptuous of their parents, who pass their days in a stupor of liquor, drugs, and sex, the children feel neglected and suffocated at the same time. When a destructive storm descends on the summer estate, the group's ringleaders―including Eve, who narrates the story―decide to run away, leading the younger ones on a dangerous foray into the apocalyptic chaos outside. – Publication date: May 12, 2020
12.
My Baby First Birthday by Jenny Zhang. The second poetry collection from Jenny Zhang tackles a wide range of topics – from capitalism to politics to the female body. – Publication date: May 12, 2020
13.
My Mother's House by Francesca Momplaisir. This dark novel explores race, class, and systematic violence. The story is told from the point of view of Lucien, a Haitian immigrant, his wife Marie-Ang, and their house called La Kay ("My Mother's House"). Although initially intended to be a place of peace and support for fellow immigrants, La Kay soon becomes the backdrop and witness to the evils Lucien inflicts on his wife and daughters – Publication date: May 12, 2020
14.
Braver Than You Think by Maggie Downs. As a child, Maggie Downs often doubted that she would ever possess the courage to visit the destinations her mother dreamed of one day seeing. "You are braver than you think," her mother always insisted. Over the course of one year, Downs backpacked through seventeen countries―visiting all the places her mother, struck with early-onset Alzheimer's disease, could not visit herself―encountering some of the world's most striking locales while confronting the slow loss of her mother. – Publication date: May 12, 2020
New books coming in the week of May 19, 2020
15.
The Ballad of Songbirds and Snakes (A Hunger Games Novel) by Suzanne Collins. It is the morning of the reaping that will kick off the tenth annual Hunger Games. In the Capitol, eighteen-year-old Coriolanus Snow is preparing for his one shot at glory as a mentor in the Games. He's been given the humiliating assignment of mentoring the female tribute from District 12, the lowest of the low. Outside the arena, Coriolanus starts to feel for his doomed tribute . . . and must weigh his need to follow the rules against his desire to survive no matter what it takes.– Publication date: May 19, 2020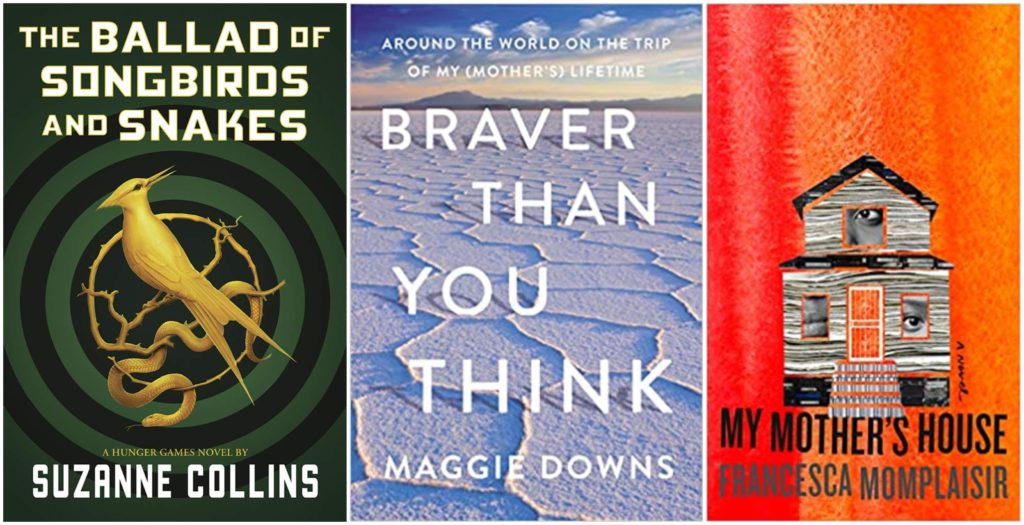 16.
Rodham by Curtis Sittenfeld. This new novel from the author of American Wife imagines an alternate universe where Hillary Rodham, rather than pursuing her marriage with Bill Clinton, carries on to carve her path as a successful politician. Playing with the "what if"—what if Hillary never made compromises for her political aspirations?—is the platform for Sittenfeld to analyze the trade-offs women have to make to build a "fulfilling" life. – Publication date: May 19, 2020
17.
The Motion of the Body Through Space by Lionel Shriver. This novel is an entertaining send-up of today's cult of exercise—which not only encourages better health, but now like all religions also seems to promise meaning, social superiority, and eternal life. As an aging husband joins the cult of fitness, he burgeons into an unbearable narcissist. Ignoring all his other obligations, he engages a sexy female personal trainer and sets his sights on a legendarily grueling triathlon. Even if he survives it, his marriage may not – Publication date: May 19, 2020
18.
Happy and You Know It by Laura Hankin. This comedy of manners is about a struggling young musician who takes a job singing for a Park Avenue playgroup of the babies of wealthy families – and their effortlessly cool moms. Claire is surprised to discover that she is smitten with her new employers, a welcoming clique of wellness addicts with impossibly shiny hair, who whirl from juice cleanse to overpriced miracle vitamins to spin class with limitless energy. Until their secrets and darker sides begin to emerge – Publication date: May 19, 2020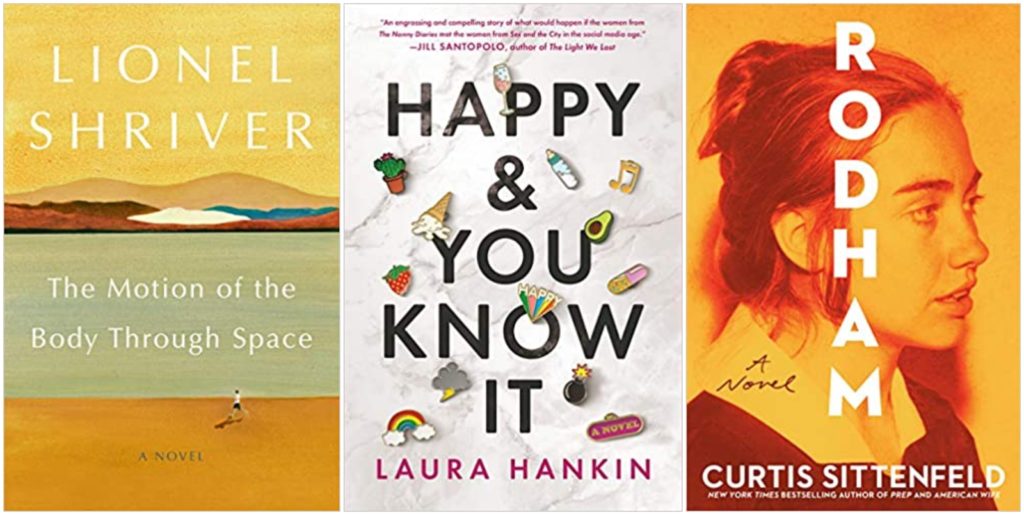 19.
Brown Album by Porochista Khakpour. This collection of essays by novelist Porochista Khakpour thoughtfully illustrates what it's like to be caught between cultures. Brown Album, which compiles more than 10 years of Khakpour's work, analyzes her identities as both an Iranian-American and as a writer. The pieces range in subject, from the process of writing a novel to the aftermath of President Trump's election, but all provide fresh insight into one woman's experience as an immigrant in the U.S. – Publication date: May 19, 2020
20.
These Women by Ivy Pochoda. This literary thriller of female empowerment parallels the year 1999, when 12 sex workers were murdered, with the year 2014, where several sex workers are being killed in the same manner, in the same Los Angeles neighborhood. With neglectful police spending little time investigating the similarities, These Women is a harrowing mystery from award-winning author Ivy Pochoda, giving a much-needed voice to those who have historically been reduced to "getting what they deserve." – Publication date: May 19, 2020
New books coming in the week of May 26, 2020
21.
All My Mother's Lovers by Ilana Masad. Intimacy has always eluded twenty-seven-year-old Maggie Krause—despite being brought up by married parents, models of domestic bliss. But when her mother dies in a car crash, she returns home to a withdrawn father and an angry brother. And five sealed envelopes, each addressed to a mysterious man she's never heard of. Maggie embarks on a road trip, determined to hand-deliver the letters and find out what these men meant to her mother– Publication date: May 26, 2020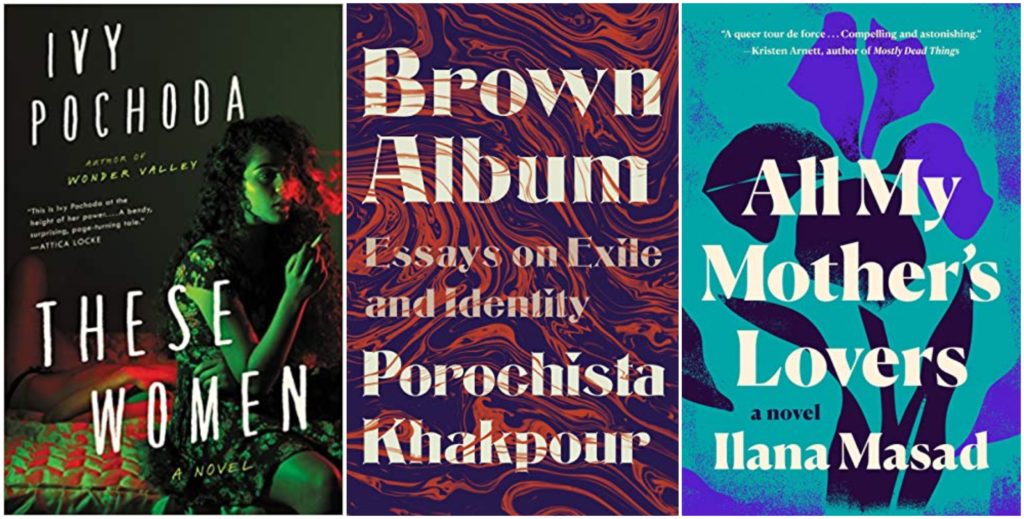 22.
Red Dress in Black & White by Elliot Ackerman. Catherine is an American living in Istanbul, where she's just decided to leave her Turkish husband Murat and take their young son with her. Catherine has fallen for a photographer who she hopes to take back with her to the U.S. In an attempt to keep his wife and son from fleeing the country, Murat gets the attention of an American diplomat. Over a single day, we track Catherine's plight – Publication date: May 26, 2020
23.
The Paper Girl of Paris by Jordyn Taylor. This debut novel follows 16-year-old Alice, who spends the summer in Paris. And receives the keys to the apartment of her deceased grandmother. The catch? It's been locked for more than 70 years. Little does Alice know that a whole world is waiting for her inside – Publication date: May 26, 2020
best new book releases in May 2020
Those are our picks for the best and most-anticipated new book releases coming soon. And an overview of options to answer the question of what to read in May 2020. What's at the top of your list?
join our community
For access to insider ideas and information on the world of luxury, sign up for our Dandelion Chandelier newsletter, here. And see luxury in a new light.