Learn How to Create a Stunning Floral Arrangement at Home
All products are independently selected by our editors. If you buy something, we may earn an affiliate commission.
Lots of people are using this time of social distancing to learn a new skill or take up a new hobby. What are the best online classes in Do-it-Yourself flower arranging? Our intrepid correspondent Jillian Tangen enrolled in a course on DIY flower arranging, and now she's sharing what she learned. Here's how to learn the techniques to create a stunning (and relatively inexpensive) floral arrangement at home. Jillian's results are really impressive! Yours can be, too.
learn how to create a stunning (an inexpensive) floral arrangement at home
We can all agree that a bouquet of fresh flowers makes your home more inviting. Whether a dramatic cascade at your entryway or a simple low arrangement on your dining table, flowers add natural beauty and cheer to your living space.
[white_box]
Join our community
For access to insider ideas and information on the world of luxury, sign up for our Dandelion Chandelier newsletter. And see luxury in a new light.
sign up now >
[/white_box]
And even though I adore flowers and how they make my home feel, I've never really attempted to put together my own arrangements.
But with a little extra time on my hands thanks to the great lockdown (and less access to my neighborhood florists as a result), I decided to take matters into my own hands, enrolling in an online floral arranging course by Farmgirl Flowers and watching countless YouTube tutorials on the basics of floral arranging.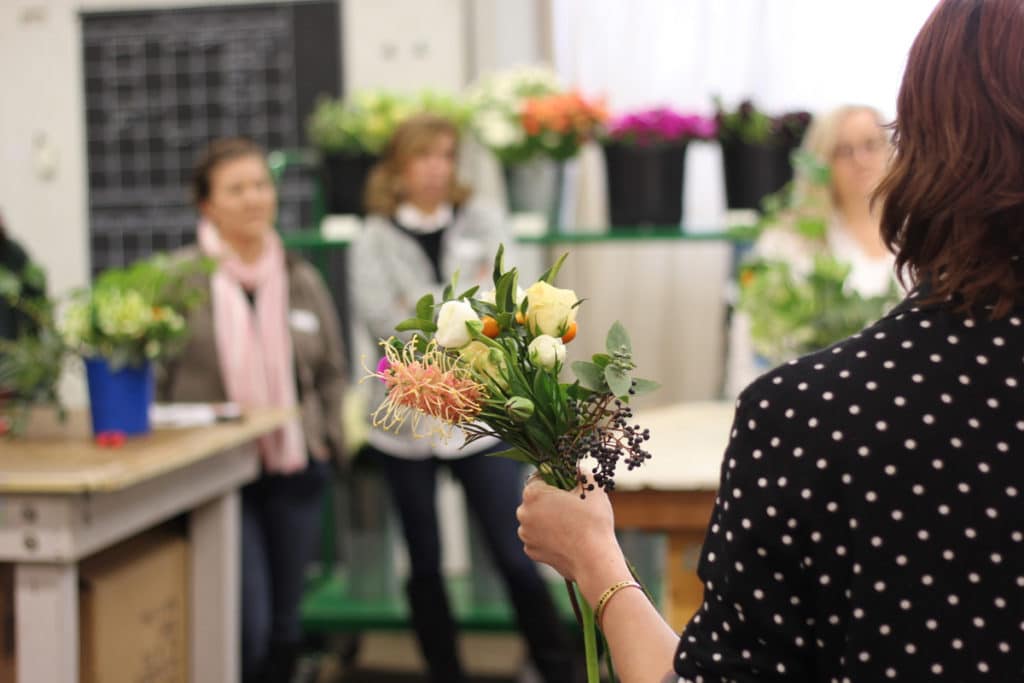 And while I'm by no means a professional florist, I was able to pick up a few basics that any aspiring amateur florist might find handy. Here's what I learned that should help you feel empowered to take DIY flower arranging into your own hands. It turns out that creating your own home floral arrangement by hand is reasonably inexpensive – and a lot of fun.
Step 1: finding the perfect blooms
According to Farmgirl Flowers there are three types of flowers you should include in an arrangement: spillers, fillers and thrillers.

Spillers are flowers that bring movement and draw your eye through the arrangement like snapdragons, jasmine and delphiniums. Filler flowers on the other hand add mass and texture without stealing the show. These are things like lemon leaf, hydrangeas and viburnum. Last but not least are the thrillers, the big focal flowers and stars of your arrangement. Popular favorites are things like garden roses, peonies, dahlias and tulips.
Farmgirl Flowers suggests using locally grown, seasonal flowers whenever possible. And while we love an exotic flower every now and then, we couldn't agree more. Not only are local grown flowers a greener alternative than imports, but they typically last longer and are fresher given they are 2-3 days old versus 7-10 days.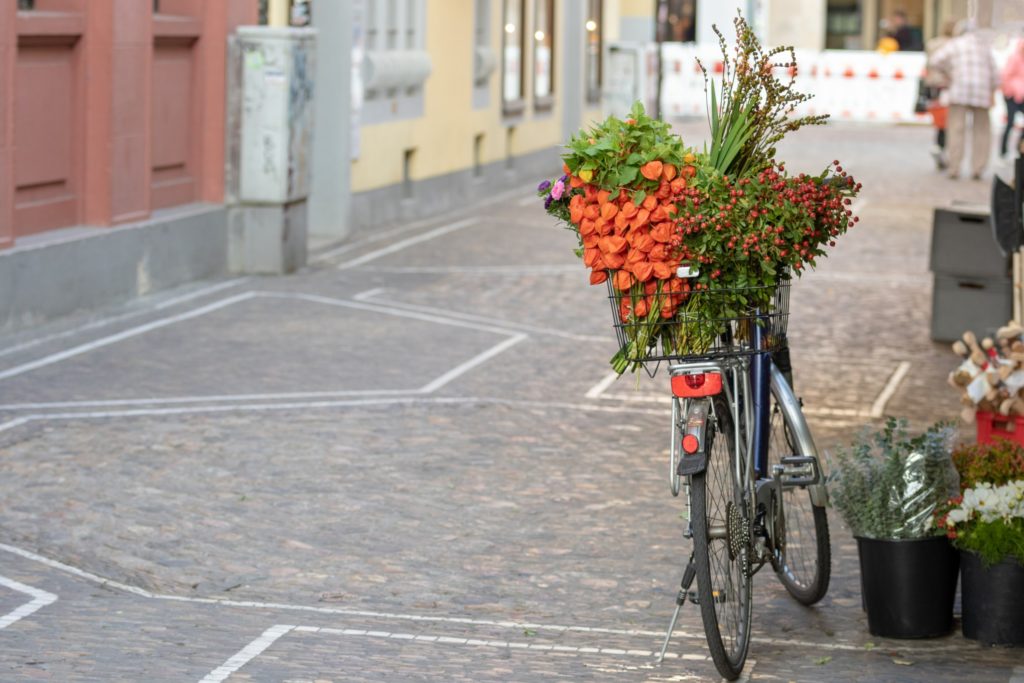 Traditionally the best places to source flowers are local flower markets. In New York, we are partial to Superior Florist and JRose on West 28th Street in the historic flower district.
There's also local farmers markets you can shop at and don't overlook grocery stores like Whole Foods or Trader Joes. Those with a bit of experience in DIY flower arranging have a few tricks up their sleeves. Like "reflexing" the petals to make corner store flowers look luxurious. And if you are lucky enough to have your own backyard, you can "shop" from there too.
[white_box]
Related Post
who are the best luxury florists in the world?
read more >
[/white_box]
But since shopping in person options are a little more limited these days there are a few places you can procure fresh stems from online. Blooms by the Box has a huge assortment of flowers and tons of resources on their website. FiftyFlowers is another popular online option. One of our favorite features is that you can shop their flowers by color to match them perfectly with your color scheme of choice.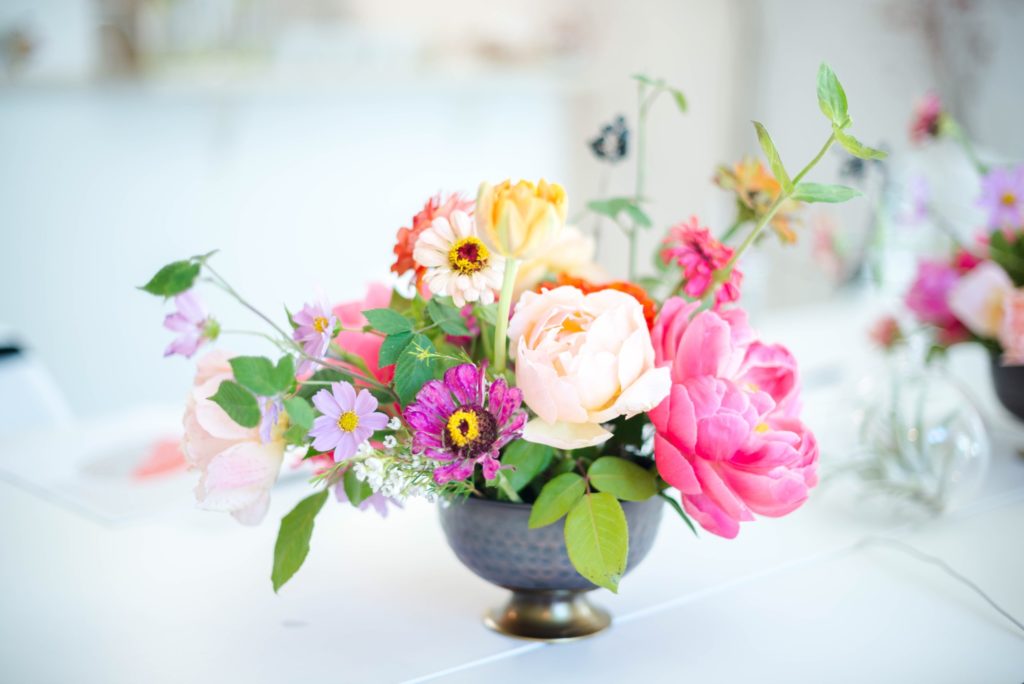 DIY brides love Flower Moxie. More than just a reliable source of wedding flowers, they offer resources, inspiration, moodboards, packages and collections to help anyone find the blooms they are looking for. Finally Global Rose ships its flowers directly from eco-friendly farms and greenhouses right to your doorstep. It doesn't get easier than that.
Before you buy, be sure to have a color scheme in mind, as well as the size of the arrangement you want to make. Create a mix of complementary colors and varieties or choose one shade for a monochrome look. And if you ever have trouble deciding on a color scheme, you can never go wrong with classic white coupled with a lot of greenery.
As far as how much to order – it's up to you, but Farmgirl suggests 40 stems (20 thrillers, 10 fillers and 10 spillers) for a standard sized full arrangement.
[white_box]
Related Post
what are the best places for a flower-arranging party?
read more >
[/white_box]
Step 2: securing the tools of the trade
Now that you know where to go and the types of flowers to look for, there are a couple other things you will need on hand for crafting your own bouquets.
First is a sturdy pair of shears or scissors – we're partial to Hay's beautiful Beak Scissors ($20). You will be using these to give your blooms a fresh cut both when you receive your flowers and after arranging.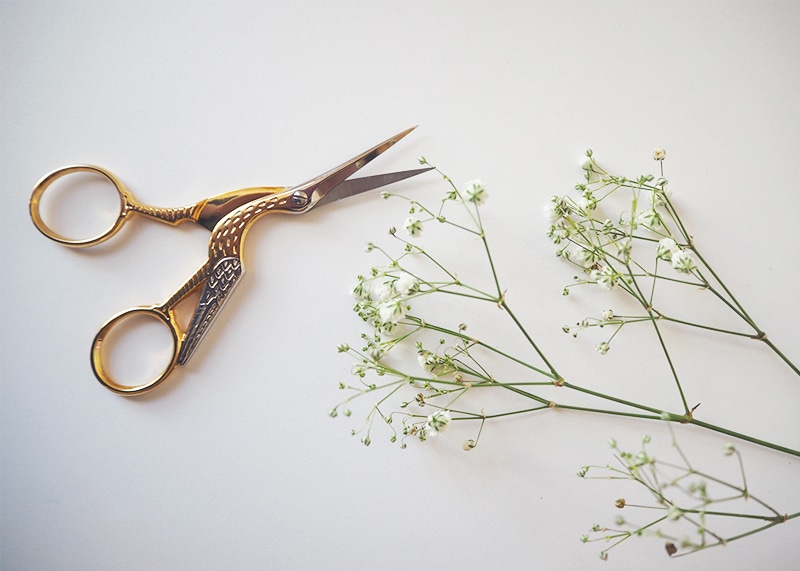 Next is a beautiful vase. Choose your vase based on the type of flowers you plan to use and the size and style of arrangement you want to create.
If you choose whites or neutrals, go for a more bold vase, while a more colorful arrangement might go better with a neutral. Be sure to also pay attention to the width of the opening at the top. The wider it is, the more flowers you will need to fill it for a tight look. Also, if you are arranging flowers for a dining table, consider a vase lower than 6" to ensure you can see your dining companions across the table from you.

We love the simple yet elegant Échasse Vase from Menu ($225) which has a wide bowl for water. The Rosenthal Fast Porcelain Vase ($90) doubles as a sculpture while L'Object's Perlée Vase ($330) adds a pop of color.
[white_box]
Related Post
the stunning flower boxes of London this spring
read more >
[/white_box]
Step 3: mastering the basic principles
Whether you picked them up at the local market, cut them from your own garden or had them delivered from a florist, always give your flowers a fresh cut at a sharp 45-degree angle. And put the stems in water right away so they do not wilt.
Before you begin any arranging, you need to trim any foliage and thorns from your stems that would fall below the waterline in your vase. Do not skip this step as it prevents bacteria from forming in the water and will in turn keep your arrangement healthier longer.
[white_box]
Related Post
the best places in the world to buy luxurious house plants
read more >
[/white_box]
To start your arrangement, select one thriller in between your index finger and thumb at a 45 degree angle. Next, add a spiller or filler. Then twist and turn your arrangement in concentric circles as you add more stems one by one.
The twisting and turning helps to not only vary the type of flowers throughout the bouquet. It also helps to keep your stems looking neat and tidy, which is especially important if you selected a clear vase.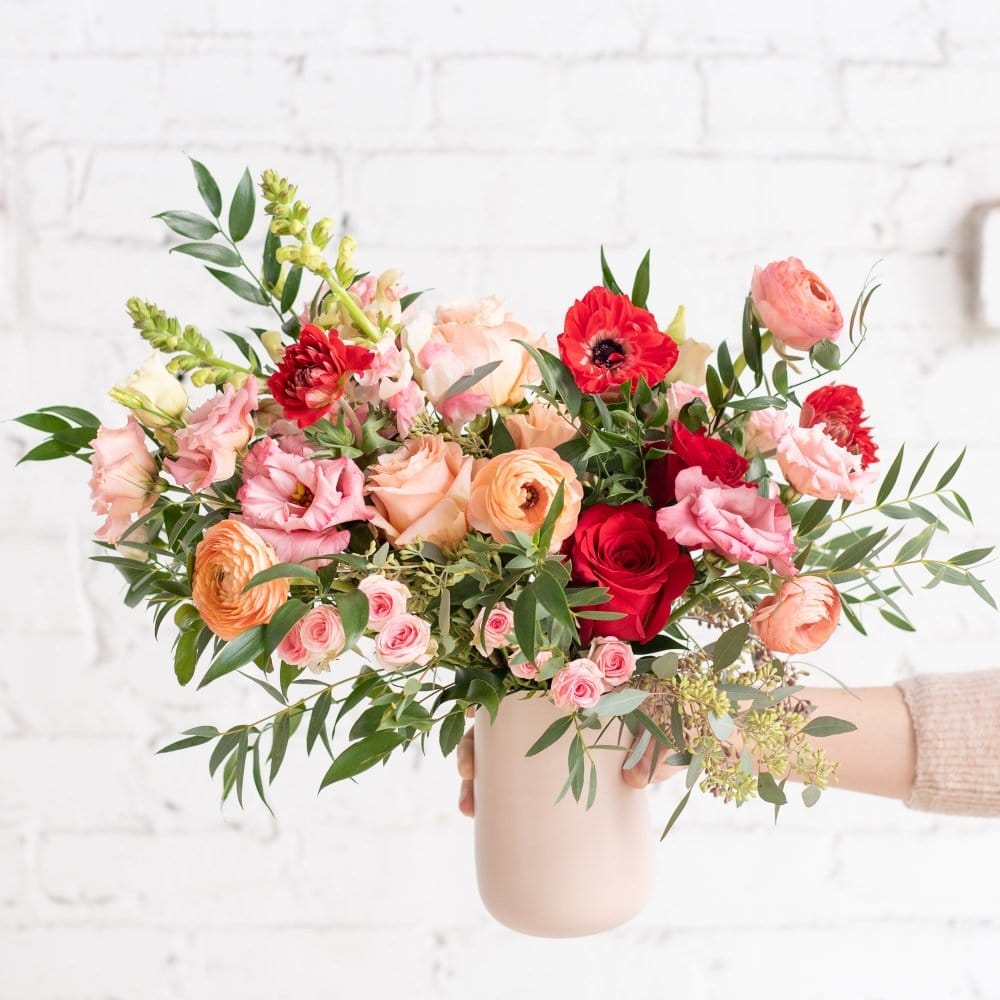 If you are keen on a more wild and rustic look, try to vary the heights of the spillers and thrillers as you add them during your turns. For a more tailored look, hug all your stems more compactly at the same height.
Finally, for the outermost layer, use more green filler, like olive leaves, to help protect your more delicate blooms toward the center.
Before placing your bouquet in the vase, be sure to again cut all of the stems of your handheld arrangement at an even length with your opposite hand at 45-degree angle. After you've found the appropriate height to cut for your vase, place your bouquet inside (be sure your vase is ¾'s full of clean, fresh water) and then fill in your arrangement with fillers on the outside and a few thriller flowers on the inside until you are satisfied.
And just like that you have your very own beautiful bouquet! A reasonably inexpensive home floral arrangement that you can take real pride in.
[white_box]
Related Post
the most beautiful luxury vases right now
read more >
[/white_box]
Final step: other useful tips
Be sure to change the water daily. If you are unable to, you can use a flower food to help keep bacteria at bay as well as provide a little nutrition too. Farmgirl Flowers uses ½ tablespoon beach, 2 tablespoons sugar, a squeeze of a fresh lemon and 1 gallon of water to make theirs.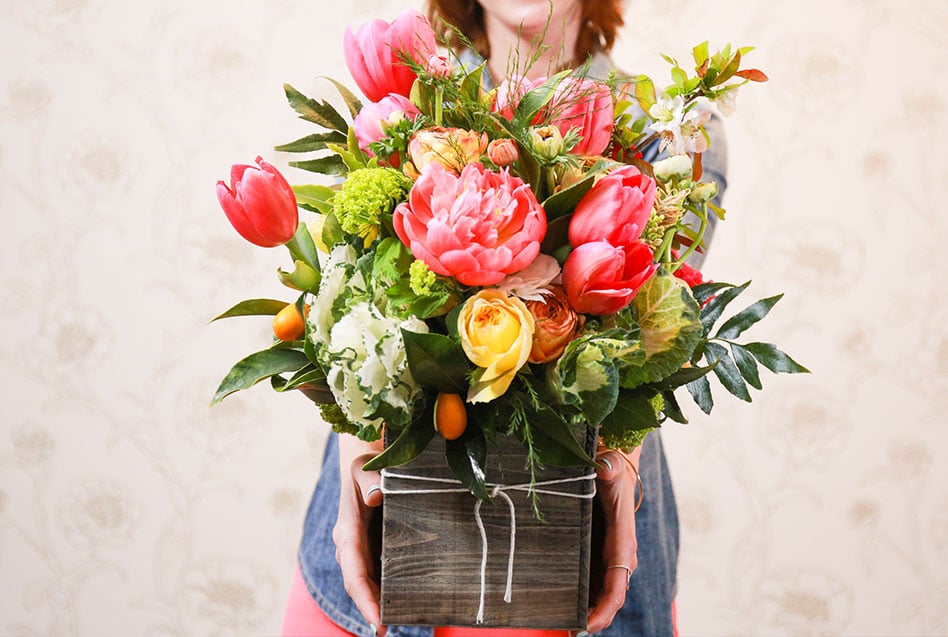 Finally, you should remove any wilted or discolored blooms and leaves as needed to keep it looking fresh and beautiful. Also be sure to keep your arrangement out of the sun and away from heat sources. You wouldn't want you to accidentally dry out your hard work, right?
learn how to create a stunning floral arrangement at home
So what do you think? Will you be joining the ranks of DIY amateur florists together with us? It's a marvelous way to furnish your space with a stunning (and relatively inexpensive) home floral arrangement.
Don't believe us? Check out this arrangement. I made it this morning with flowers from my corner bodega. Not bad, eh?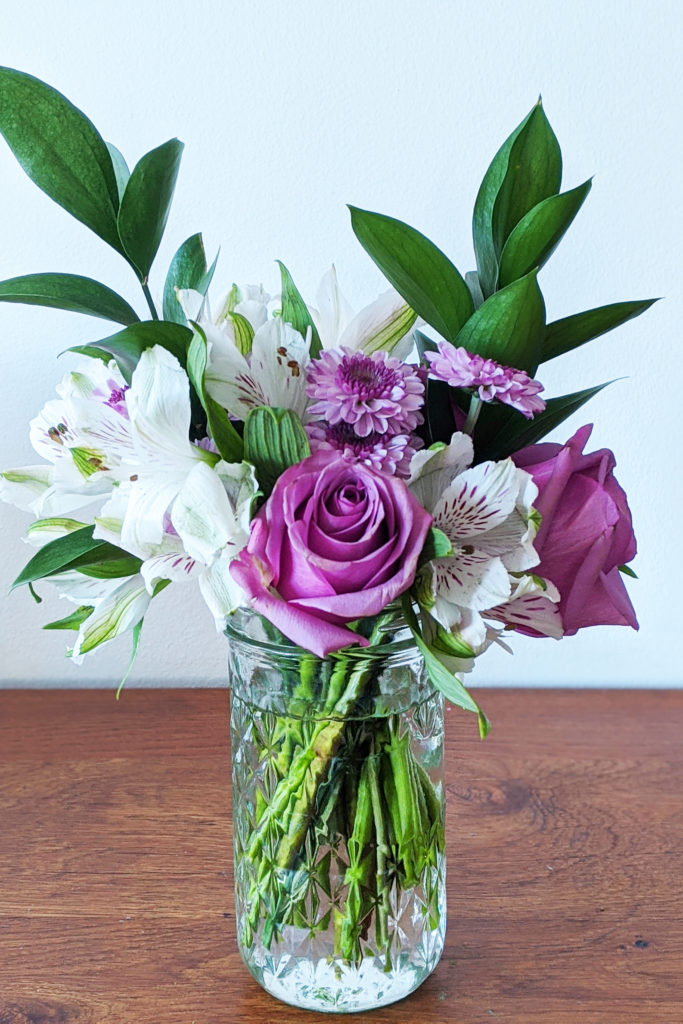 join our community
For access to insider ideas and information on the world of luxury, sign up for our Dandelion Chandelier Newsletter here. And see luxury in a new light.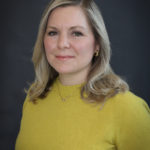 Jillian Tangen is the Head of Research at Dandelion Chandelier and a former Senior Research Analyst at McKinsey & Co and Analyst at Shearman & Sterling. She is an avid fan of Nordic design, having owned an independent lifestyle store and sales agency focused on emerging Scandinavian design. Jillian lives in New York and is married with three young children. She loves cross-country skiing, the New York Rangers, reading, travel and discovering new brands.