Clutch your pearls, dear reader. Those luminescent gems often associated with the prim and the proper are back in vogue again. First, it was Mom Jeans. Then, Dad Sneakers. And now, Grandmother's Pearls. Our correspondent Julie Chang Murphy breaks down the style hacks, and shows us how to wear pearls right now for a look that's chic and fresh.
Are Pearls passé?
Pearls have a formidable history as a status symbol. Unlike gemstones that are mined from the earth, a pearl is the only jewel created by a living organism.
Cleopatra was said to have impressed Marc Antony with her power and wealth by crushing a pearl from a pair of earrings, dissolving it in a cocktail of vinegar and gulping it down. Mic drop, ancient Egyptian style.
[white_box]
Join our community
For access to insider ideas and information on the world of luxury, sign up for our Dandelion Chandelier newsletter. And see luxury in a new light.
sign up now >
[/white_box]
Dutch Golden Age painter Johannes Vermeer immortalized a certain grace and refinement in his famous oil portrait Girl with a Pearl Earring, dated c. 1665.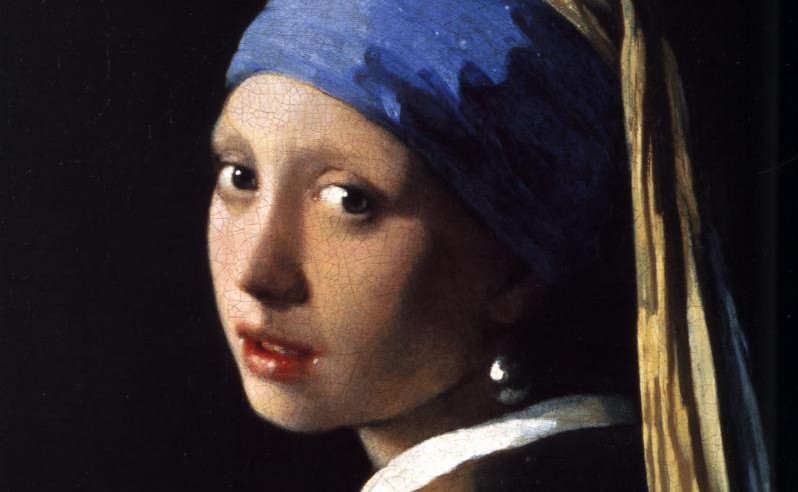 Last year, at a Sotheby's auction in Geneva, a pearl and diamond pendant that once belonged to Marie Antoinette, fetched $36 million which smashed pre-sale estimates that had valued it between $1-$2 million.
Pearls are also synonymous with 20th century icons and royalty like Jackie Kennedy, Coco Chanel, Elizabeth Taylor and Princess Diana.
Pretty good company to keep. But should a modern woman of any age invest in pearl jewelry right now? Sure, it's fine for the Duchess of Cambridge. And for brides, wedding parties, debutante balls and other exceedingly formal occasions.
But what about the rest of us in our everyday lives? Are pearls out of style today? How to wear pearl jewelry in a way that feels chic and fresh?
[white_box]
Related Post
Pearls are now for men, too, thanks to a new luxury line
read more >
[/white_box]
For spring-summer 2020, pearl jewelry were show all over the runways in many versatile looks from traditional and feminine to opulent and eclectic. Adeam, Simone Rocha, Miu MIu, Jason Wu, Khaite and Tory Burch all gave this organic jewel the high fashion seal of approval.
For those who are asking if pearls are passé, that's a sure sign that the tides have turned. And if you're ready to embrace the wave, here are the ways designers are modernizing pearls in a fresh way. Whether your style skews towards minimalist or maximalist or somewhere in between, this spring is a great time to flash those pearly whites.
What are the best ways to wear pearls right now?
1. The Single Earring
The fashion crowd has fully endorsed the spunky single earring trend for a few seasons now. It's still going strong and it's easy to see why. They're an effortless way to add some subversive edge to an outfit and when designed with pearls, it instantly looks elevated as well.
One of our favorite under-the-radar jewelry lines with an accessible price point is Avec NY, started by twin sisters, Kate and Chloe Lee. Shown in the top left corner are two of their gorgeous single earring designs in a chain ($178) and cuff ($198) in rose gold.
Another dangle option is this iconic single earring from MIZUKI ($425) with a large pearl on one end and four smaller pearls at the top of a thin 14k gold stick. With nine Akoya pearls radiating from its outer surface, the coronet is one of Maria Tash's signatures ($335). Eight of the pearls are set in a fixed position, while the bottom pearl dangles freely.
We love Saskia Diez's update on the hoop earring using a rope of pearls ($220). And Maria Nilsdotter's gothic earring featuring a pearl in the clutches of a claw ($342) brings drama to any outfit. This subtle and cleverly designed earring jacket from Yvonne Leon ($730) is designed to pair with any stud to suit your own individual style.
2. Rainbow Colors
Although pearls are usually appreciated for their pure, ivory white brilliance, the Spring 2020 runways were full of colorful accessories. These designers seamlessly incorporated the classic pearl into this bright and bold candy-colored jewelry trend.
Anni Lu's rainbow beaded necklace ($135) featuring a single baroque pearl is the casual and fun update we didn't know we needed for summer. This bubbly cluster of multicolor pearls from Marco Bicego ($2,210) looks as sweet as a handful of nonpareils. If darker stones are more your style, check out this ornate, Victorian-inspired earring set with faux pearls and crystals from Erdem ($335). It's offset by an irreverent, asymmetric design – a perfect way to add sparkle to a casual outfit.
Lelet's hair jewelry ($180) with berry colored Swarovski crystals and faux pearls are a pretty solution for post-quarantine hair. Tamara Comolli's strand of pearls ($8,790) with beads of amethyst, peridot, garnet, tourmaline and rubellite can be worn as a bracelet or necklace.
[white_box]
Related Post
the best earrings for your virtual happy hour
read more >
[/white_box]
3. The Natural World
Animal motifs creeped and crawled their way into Spring collections as varied as Balmain, Carolina Herrera, and Dior. A natural fit for a gem that's made inside of a living organism, here are some of the most striking pearl jewelry designs inspired by the natural world.
Chloé's silver-tone metal earrings ($353) are crafted to a snake-inspired silhouette that curves around the ear for a sexy and mysterious look. We love the celestial vibes of Andrea Fohrman's mini crescent moon ($850) with iridescent pearls set in 18k gold to remind us of the night sky. It doesn't get more summery than Nadia Shelbaya's precious pairing ($324) of a freshwater pearl and a natural shell single earring.
Another oceanic motif with a little more edge? Check out Nektar de Stagni's bracelet ($845) with 14k rose gold shark teeth and pearls. This show-stopping necklace ($12,999) from Mexican jewelry designer, Daniela Villegas features three keshi pearls fashioned into stunning spiders.
4. Bigger is Better
Dainty and delicate jewels are being set aside in favor of bedazzled, oversized jewelry. Whether it's giant hoops, chunky chains or statement collar necklaces. And when it comes to pearls, we'll take them supersized for a boss lady look anytime.
We'd pair this jumbo, padded bow with dangling pearls from House of Lafayette ($189) with a white blouse or a solid colored silk dress for a look that's unapologetically girly. Here are two gorgeous oversized hoops to choose from- Irene Neuwirth's gumball pearl and 18k gold hoops ($5,541) and Mizuki's flawless and refined pearl covered hoops ($2,862).
A giant finger bauble never goes out of style. This one from Givenchy ($484) features an elegant faux baroque pearl as a centerpiece with curved pavé crystals on either side. For a modern and minimal look, we love Yoko London's fabulous ring ($2,850) that looks like two pearls floating on your hand. Finally, Junya Watanabe's chunky collar necklace ($384) is the statement piece you need for the little black dress.
[white_box]
Related Post
Stand out in one of these chic statement necklaces
read more >
[/white_box]
5. Vintage Heirlooms
Jewelry, more than any other category, is imbued with emotions and sentimental value. But if you don't have a grandmother or great aunt who is passing down her heirlooms, consider these rare vintage finds that showcase the timeless beauty of pearls. What's old is new again.
It's hard to go wrong with the classic, luxe combination of diamonds and pearls. Buccelatti's multi-strand bracelet ($4,395) features dyed black and white round cultured pearls and an 18K yellow gold vintage leaf clasp with 18 diamonds. Another stunning piece with old Hollywood glamour is this necklace of semi-baroque and oval cultured pearl beads with a carved jadeite and .24 carats of diamonds ($625).
As much as diamonds and pearls go together, so too does the name Chanel. She is quoted as saying, "A woman needs ropes and ropes of pearls" and "Lace is one of the most wonderful imitations of nature. But pearls are perfect for every occasion." These two Chanel strands- one with a logo embroidered patch ($2,315) and another with the house's signature double leather-and-chain with CC logo medallions ($3,361) should be a staple in every woman's jewelry box.
For the ears, consider David Yurman's lovely diamomd and pearl quatrefoil drop earrings ($745) for a romantic date. And Valentino's shoulder bag ($475) of tulle and satin with faux pearl and crystal embellishments would be a unique and lovely piece for any evening affair.
What are the best ways to wear pearls right now?
So to answer the question: are pearls out of style? Nope, not even a little bit. Now we all know how to wear pearl jewelry in a way that's chic and fresh. Who runs the world? Girls with pearls! Grandmothers everywhere will be so proud.
join our community
For access to insider ideas and information on the world of luxury, sign up for our Dandelion Chandelier Newsletter here. And see luxury in a new light.
Crediting her training as a cultural anthropologist at Wellesley College, Julie has immersed herself in various industries in the last 15 years including fashion design, event planning, and fitness. Julie lives in New York where she loves trying every ramen and dumpling restaurant with her husband and three children. She finds joy in bold prints, biographies of fierce women, kickboxing. And spending way too long finding the perfect polish color to express her mood.