It was declared the "It" plant of the year several years ago. But it's still going strong. Is there fiddle-leaf fig fatigue? Nope. Not even a little. Why is the fiddle-leaf fig still the most popular house plant? And where are the best places to buy a luxury live or faux fiddle-leaf fig tree right now?
why is the fiddle-leaf fig still the most popular house plant?
Monsteras, spider plants, snake plants, pothos, and philodendrons – all of these varieties of house plant have passionate fans. And yet, the reigning Queen of the house plant kingdom remains the ficus lyrata – more commonly known as the fiddle-leaf fig. It has held the title of most popular house plant for more than half a decade.
Authoritative shelter publications like Elle Décor and Architectural Digest have displayed the fiddle-leaf fig in hundreds of pages of glossy editorial. "It-bloggers" on Instagram have long made it their greenery of choice.
The fiddle leaf fig was declared the 'it' plant of the year by the New York Times a while back. Need further proof? This botanical beauty is also known as the unofficial plant of the French luxury brand, Céline.
In short? Along with being the most popular house plant for several years running, the fiddle-leaf fig is a mandatory element of "the jungalow look" that's all the rage right now.
the upside of parenting the most popular house plant
What's behind all the passion for the ficus lyrata? Well, dear reader, in a world of fashionable interiors, it's the ultimate statement plant.
A fiddle-leaf fig can grow to over 6 feet in your home – if that's not a boss move, we don't know what is. Their shiny green leaves, unique shape, and graceful silhouette make for gorgeous photos.
One noted designer rhapsodized to the New York Times about the sculptural quality and elegant composition of a fiddle-leaf fig: "thin trunk; big, lush leaves; the perfect balance of volume and negative space, structure and whimsy."
It may be apocryphal, but the Wall Street Journal shares that "Fiddles" are named for their violin-shaped leaves. What could be more haute than that?
And if you're not sure how to decorate any space you call your own, a fiddle-leaf fig is the safe bet. No one is going to criticize you for poor taste for adding one to your home decor.
the downside of being a parent of the most popular house plant
Unfortunately, like all divas and belle du monde favorites, the fiddle-leaf fig is extremely high-maintenance. As a recent article on Apartment Therapy noted: "Instagram's favorite it-plant is also one of the hardest ones to care for."
What does that mean? Here are just some of the recommended care tips:
Place the plant where there's lots of bright, filtered light. Keep your fiddle leaf fig near a sunny, east-facing window.
Rotate your plant every few months when you notice it reaching for the light.
Wipe down your fiddle leaf fig tree's leaves once a week to keep them free of dust and to help the plant efficiently absorb more sunlight.
Water with lukewarm or room temperature water, not cold. These plants need thorough waterings, but they do not like to sit in water. To prevent this, let the water completely drain out from the bottom and ensure the pot's tray or saucer is dry.
Promptly correct any watering mistakes, since unchecked problems can result in holey leaves.
Fiddle leaf figs are sensitive to drafts.
You should refrain from moving them unless absolutely necessary, since any sudden changes can cause their leaves to drop.
We could go on, but why?
If none of this sounds daunting to you, then you're ready to be a plant parent to one of these gorgeous supermodel divas. Or perhaps you've got a budget squirreled away for a plant maintenance service (where for a monthly fee, they'll take care of the plant for you).
On the other hand, if it all sounds completely overwhelming, or comical, or both, no worries. We've got ideas on how to go faux.
where to buy a luxury live fiddle-leaf fig
If you're after the real deal, here's where to buy a luxury live fiddle-leaf fig, either for yourself or as a gift. The demarcation line between a luxury fiddle-leaf fern and one that's mass is simple: ideally, you're looking for a plant that's "interiorscape quality" versus "retail grade."
1. Greenery Unlimited
With their headquarters in Brooklyn, Greenery Unlimited and its sister company, Greenery NYC are the urban garden experts. You can find a live luxury fiddle-leaf fig tree on their site that stands 5′ – 7′ tall, with a nursery pot diameter of 14 inches. There are 12 pots from which to choose – we really like this Newport planter. The site offers comforting thoughts to a committed plant parent: "cared for properly, a small tree can double in size in as few as six months."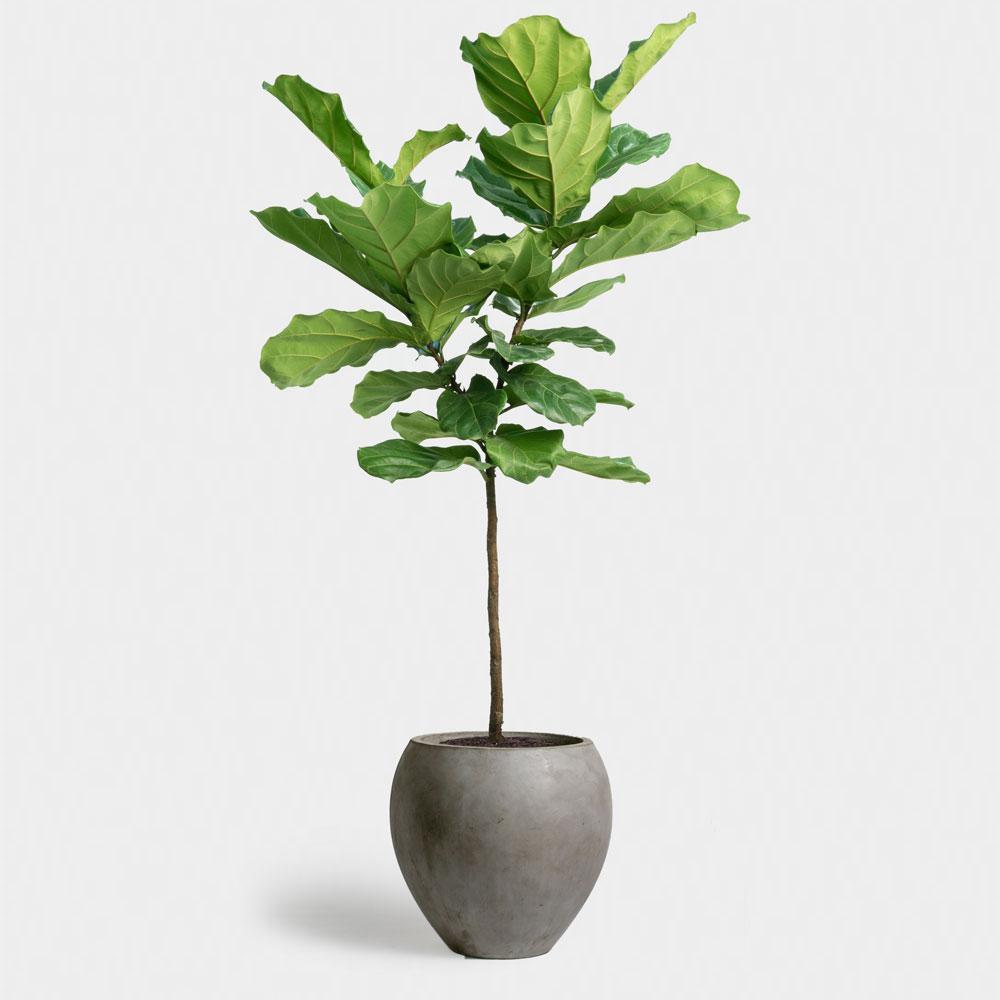 BUY NOW $344.
2. Bloombox Club
Where to buy a live luxury fiddle-leaf fig in the UK? This British site was created by a Doctor of Psychology, Katie Cooper, who believes in the life-changing effects of plant-care. Their website offers an adorable baby fiddle leaf fig in a 12 cm diameter pot.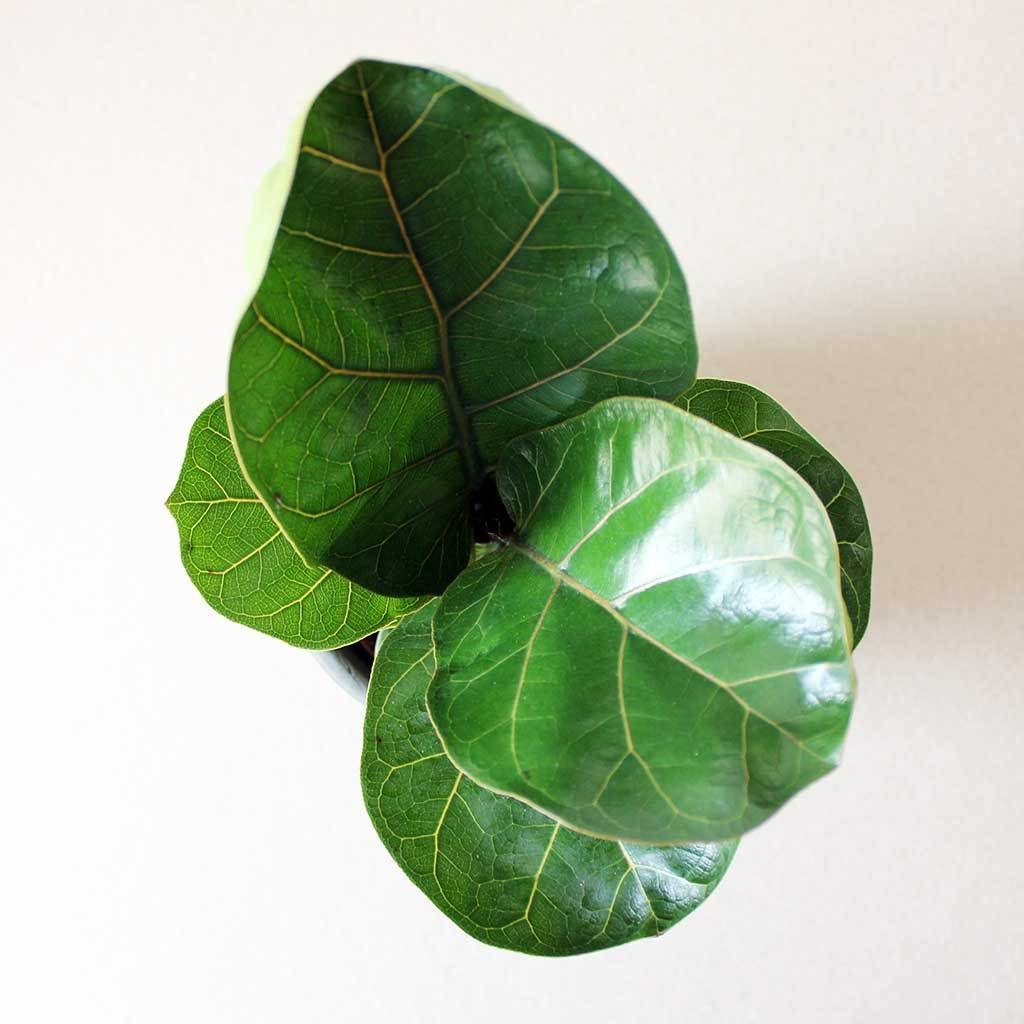 BUY NOW $18.50.
3. Bloomscape
At Bloomscape, plants are kept in optimal conditions at their greenhouse and shipped directly- instead of spending weeks in an uncontrolled warehouse. Which means that your new family member is likely to thrive. And if it doesn't? Should your plant die within 30 days, it will be replaced immediately, no questions asked.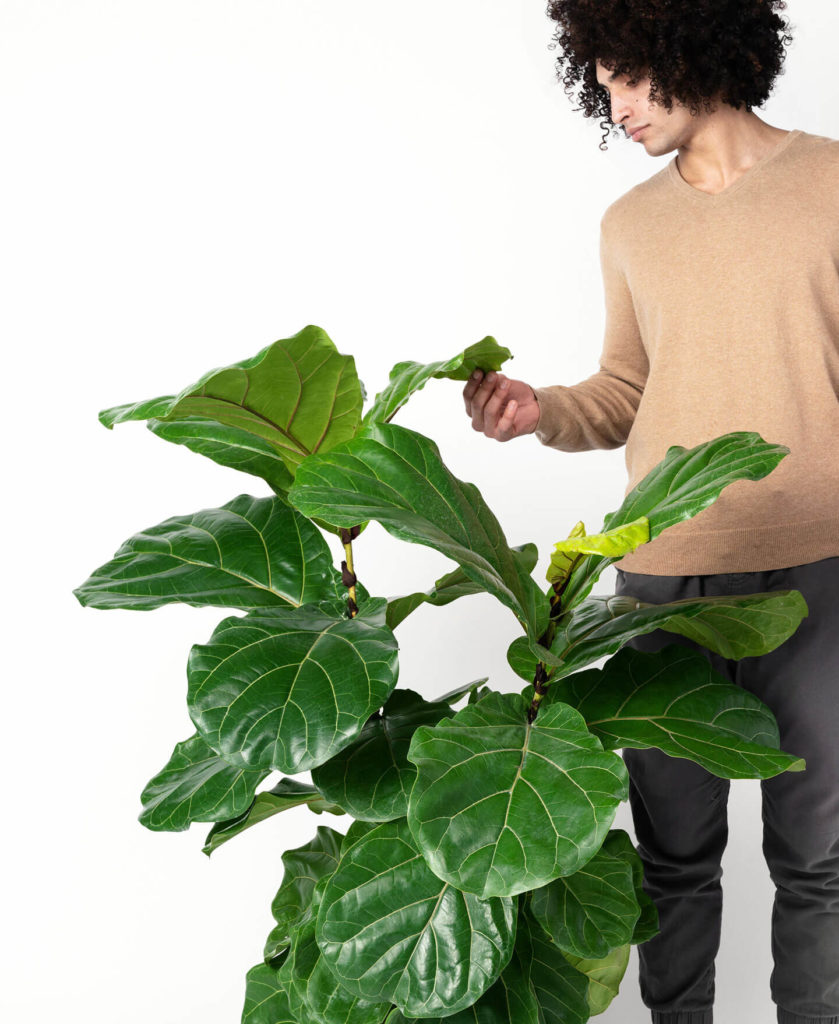 BUY NOW $195.
4. Plantz.com
While many online plant stores are currently sold out of fiddle-leaf fig trees, at this one you can order a Ficus Lyrata in a standard tree form in a 14″ pot. Its overall height will be 4.5 – 5.5 feet.
BUY NOW $195.
5. PlantVine
Located in Miami-Dade County in Florida, plants sold by PlantVine are covered by a 30 day guarantee. The company says that it even sends you a picture of your plants before they ship. This fiddle leaf fig tree is sold at a height of 4.5 to 5.5 feet, and arrives in a simple grower's pot.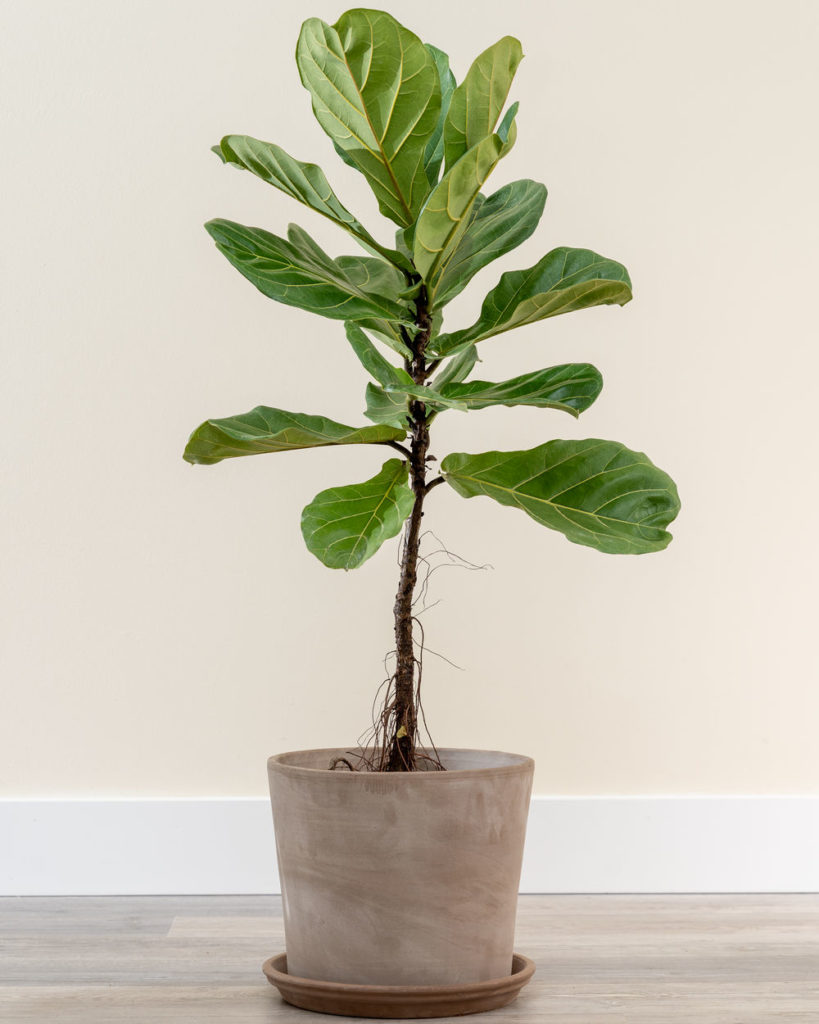 BUY NOW $232.
the best luxury faux fiddle-leaf fig trees
As with many other luxury items, there are realistic fakes and terribly-executed ones. So where is the best place to buy a luxury faux fiddle-leaf fig right now? One that makes it appear in photographs that you can live alongside this most finicky and popular house plant. After all, nobody really needs to know that your baby is actually made of silk. Especially if you drape her in magical string lights.
1. Frontgate
Handcrafted to give it the most realistic appearance possible, Frontgate's luxury faux fiddle-leaf fig stands an impressive seven feet tall. Its wooden trunk is set in a rustic wood planter with a dense, moss-covered foam base.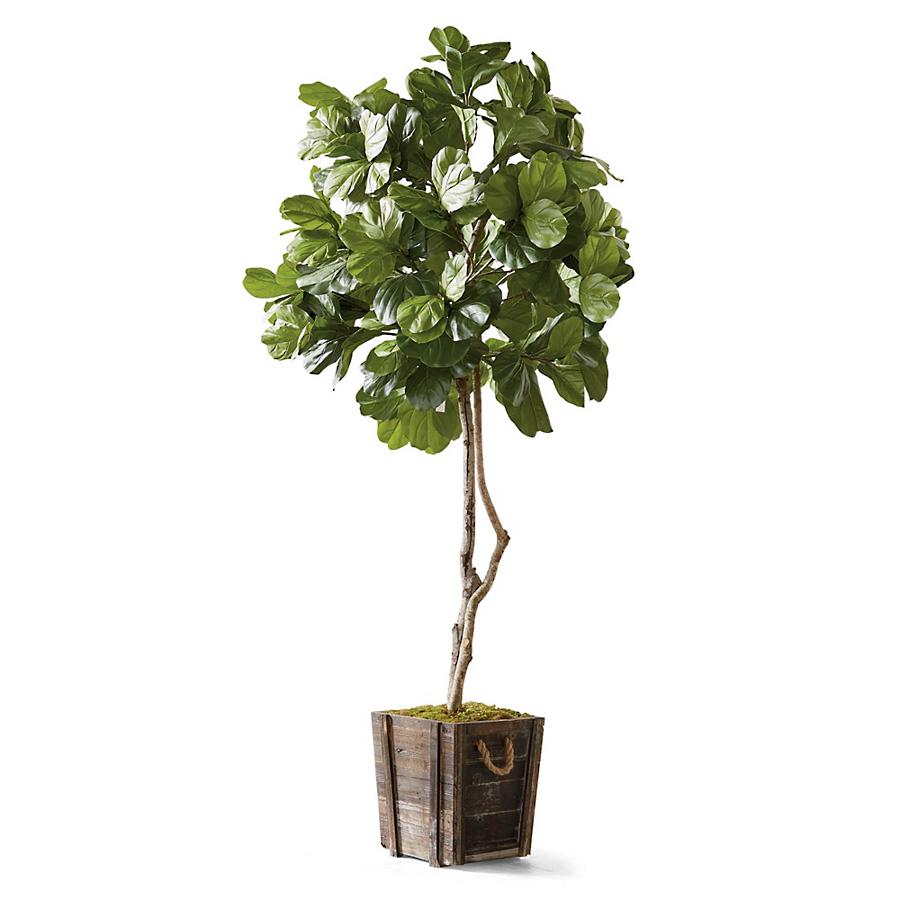 BUY NOW $799.20.
2. West Elm 5-foot Faux Tree
The designers at West Elm handcraft this tree to look as lush and lifelike as possible, with broad hand-painted leaves and bendable branches.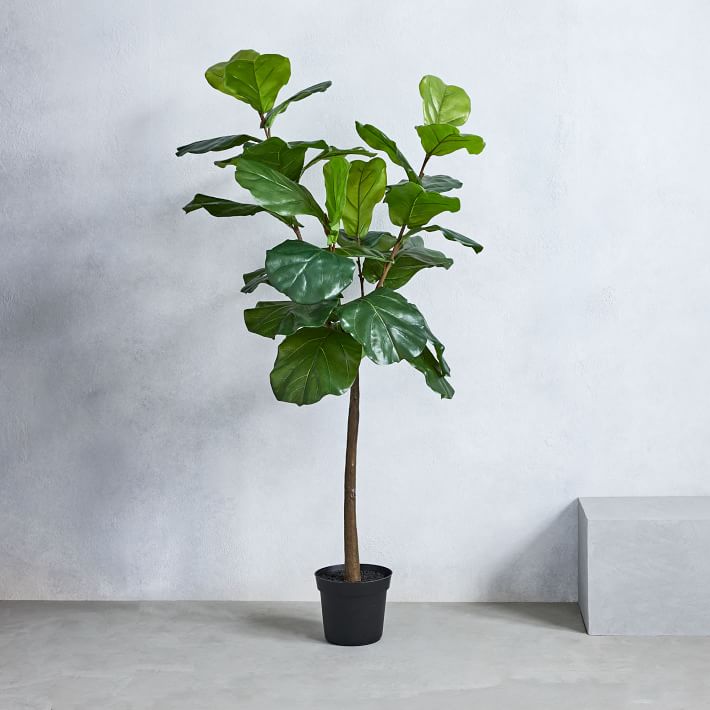 BUY NOW $200.
3. Ethan Allen
The designers at Ethan Allen deliver a faux fiddle-leaf fig with grand gestural leaves, a natural laurel wood trunk, and true-to-life branches. It sits in a round, black resin pot.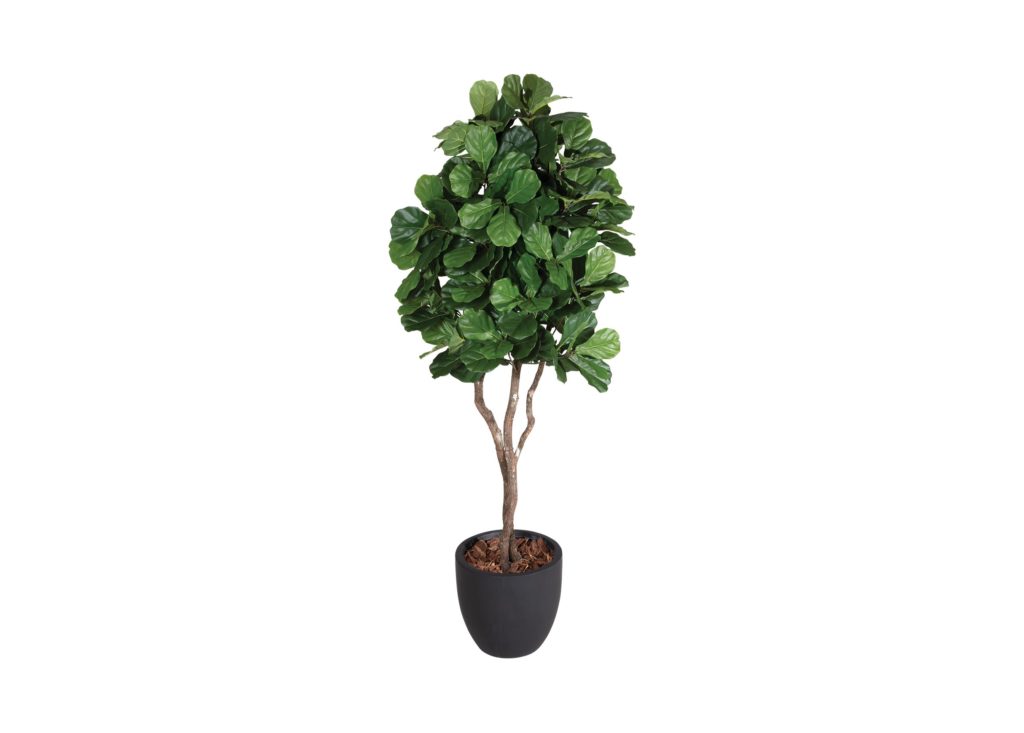 BUY NOW $1,024.
4. One Kings Lane
This towering 85-inch faux tree from One Kings Lane arrives in a rustic-chic brown basket.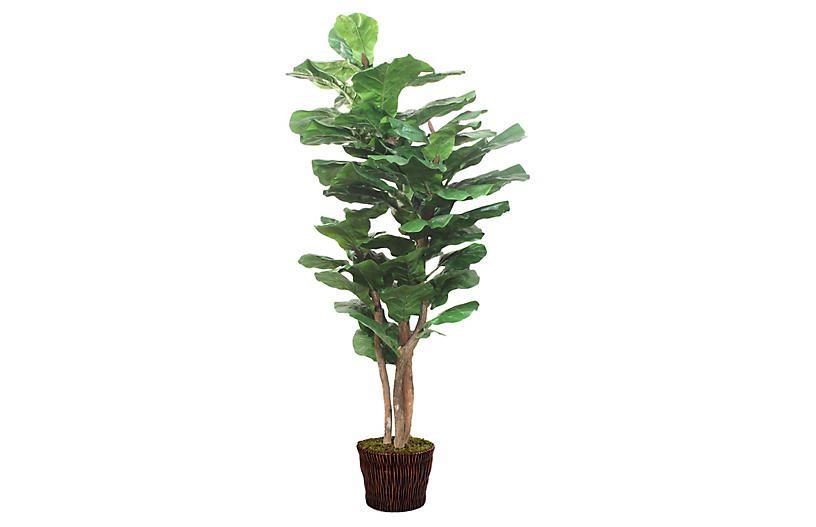 BUY NOW $1,519.
5. Gracie Oaks
Available via Wayfair, this faux verison of the most popular house plant is made with silk leaves. With the pot included, it stands 72" high.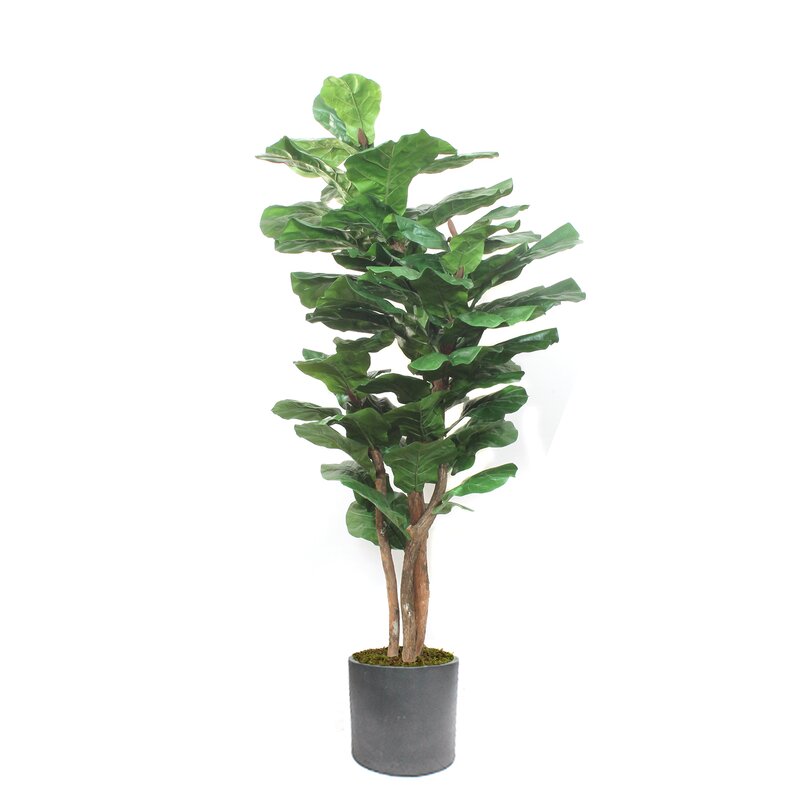 BUY NOW $1,369.99.
6. Anthropologie
Standing 6.5-feet tall, this luxury faux fiddle-leaf fig tree is ideally proportioned to fill a corner space. Providing a burst of texture and color in a midcentury modern or minimalist room.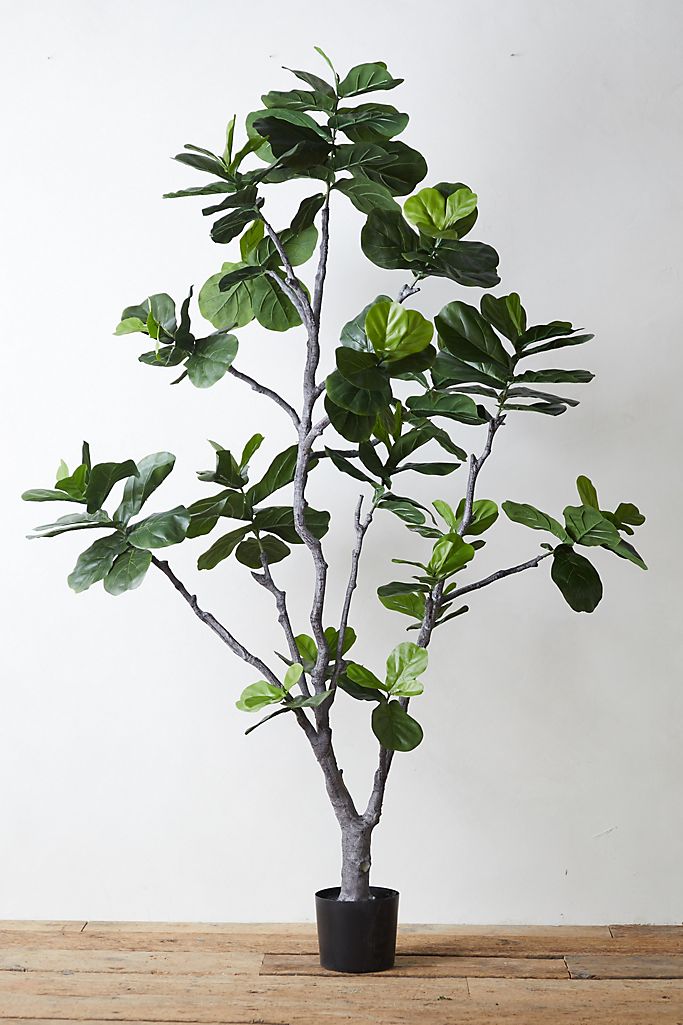 BUY NOW $848.
why is the fiddle-leaf fig the most popular house plant?
Next up? We'll share some ideas on spectacular pots to showcase your new baby – whether she's real or faux. But for now, we hope you have the information you need to decide whether or not you should join The Fiddle Club. It's the reigning most popular house plant – so you might want to get in on this. Good luck and have fun!
join our community
For access to insider ideas and information on the world of luxury, sign up for our Dandelion Chandelier Newsletter here. And see luxury in a new light.