How to Decorate with Luxury Plants, Prints and Pillows
All products are independently selected by our editors. If you buy something, we may earn an affiliate commission.
Is there a room in your home that needs a serious new jolt of energy? Or maybe a minimalist space that needs more personality? Here's our style inspiration on how coordinating plants, planters, prints, perfume bottles and pillows in unexpected and striking combinations can be an instant luxury update to your home decor.
an elegant and easy update
An easy, elegant and relatively inexpensive way to rejuvenate and refresh a tired space is with a new plant, a cool planter, a stunning print for the wall and a coordinating pillow (or two). You can also add a perfume bottle or two to the mix – some of them are like works of art in their own right.
[white_box]
Join our community
For access to insider ideas and information on the world of luxury, sign up for our Dandelion Chandelier newsletter. And see luxury in a new light.
sign up now >
[/white_box]
This is also a way to utterly transform a minimalist space. With muted neutral colors or white as your base, you can change your decor to suit your mood in about an hour with just a few quick changes.
How to Decorate with Plants, Prints and Pillows
Here are some combinations of plant, planter, artistic print and accent pillow that will instantly transform your space, based on your home decor aesthetic and your personal style. Plus a perfume bottle that suits the overall design aesthetic.
1. For the Romantic Dreamer
Inspired by Oleanders (1888) by Vincent van Gogh, which is in the permanent collection of the Metropolitan Museum of Art in New York, romantics can pair a fragrant flowering plant with a pastel pot and a softly striped pillow.
From Arket comes this pale pink terracotta 18 cm pot and matching saucer ($34). Made in Portugal, both the pot and saucer are glazed on the inside to prevent dampness on the surface upon which they're placed.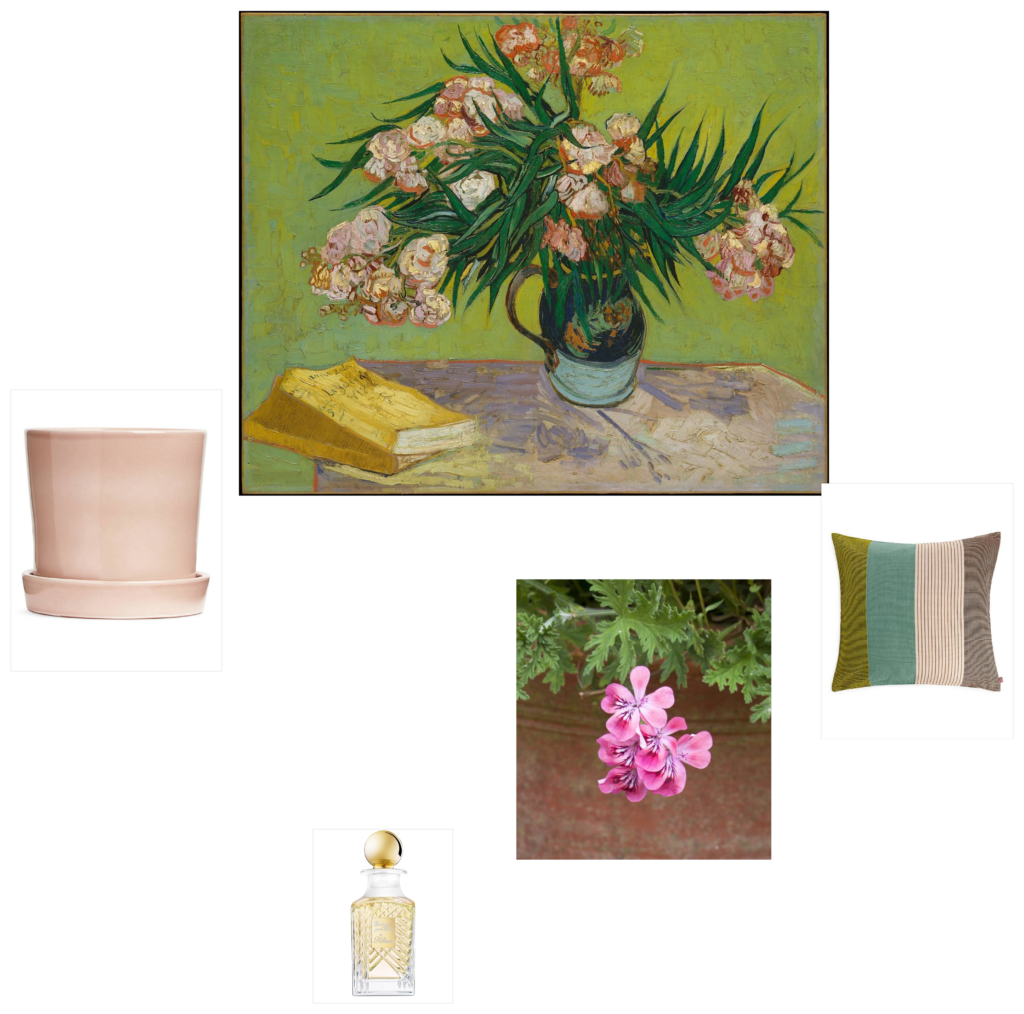 It's the perfect landing place for a "Lara Starshine" pelargonium. We read about these enchantingly-named plants recently in Vogue. They have lemon-scented leaves and feature long-lasting bright pink flowers.
This hand-woven cushion cover in cotton ($59) is part of a collaboration between Mayan artisans in Guatemala and Swedish designers from Afroart. And to add a just a bit of spice to all the sugar, a spritz of Good Girl Gone Bad by Kilian will do the trick.
[white_box]
Related Post
the best places in the world to buy house plants
read more >
[/white_box]
2. For the Busy Urbanite
While most of us are familiar with van Gogh's The Starry Night, there's another gorgeous rendering of the night sky that would be striking as the anchor for an indigo and black color scheme and a plant that's perfect for a busy urban dweller.
Starry Night (1893) by Edvard Munch, also in the collection of the Met Museum in New York, evokes the deep sapphire blue and starry pin lights of the night sky.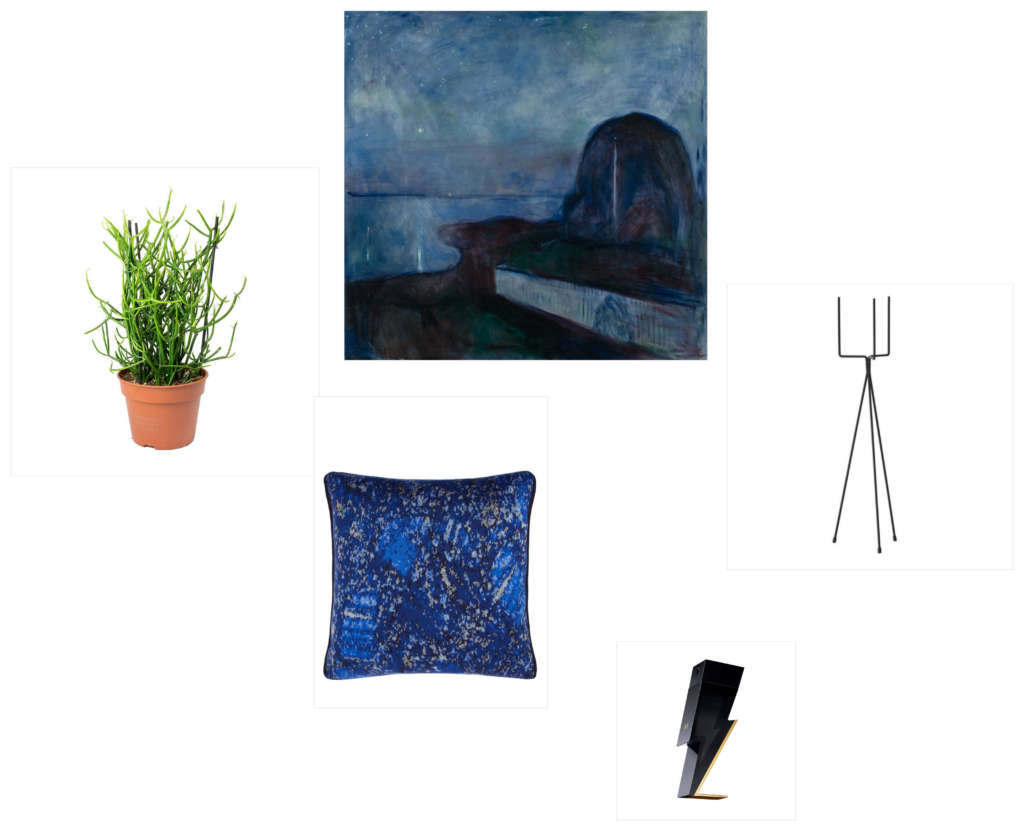 Channel the city vibe with a black iron plant stand from ferm LIVING ($45) to display plants and flowers in an upright and elegant way. The thin oblong structure transforms a house plant into a small work of art in its own right.
A pencil cactus makes a dramatic statement in this story. And despite its strong presence, it's extremely low maintenance. Our friends at Urban Stems report that this "spineless succulent thrives off little water and neglect." It's important to know, though, that the sap this cactus produces is toxic when ingested, so this species has to be kept out of the reach of children and pets. Which means that a tall plant stand is the perfect place for a pencil cactus to live.
Keep the urban energy going with this striking lapis blue throw pillow from Saved NY ($485). And we can't resist adding the new fragrance from Carolina Herrera: Bad Boy comes in a midnight bottle shaped like a lightning bolt from the blue.
[white_box]
Related Post
what are the most popular luxury interior paint colors?
read more >
[/white_box]
3. For the Design Lover
The Museum of Modern Art has many notable works, including this iconic work of Pop Art by Roy Lichtenstein, Drowning Girl (1963). You can easily find a print of it, and make it the basis for a cool design-savvy interior.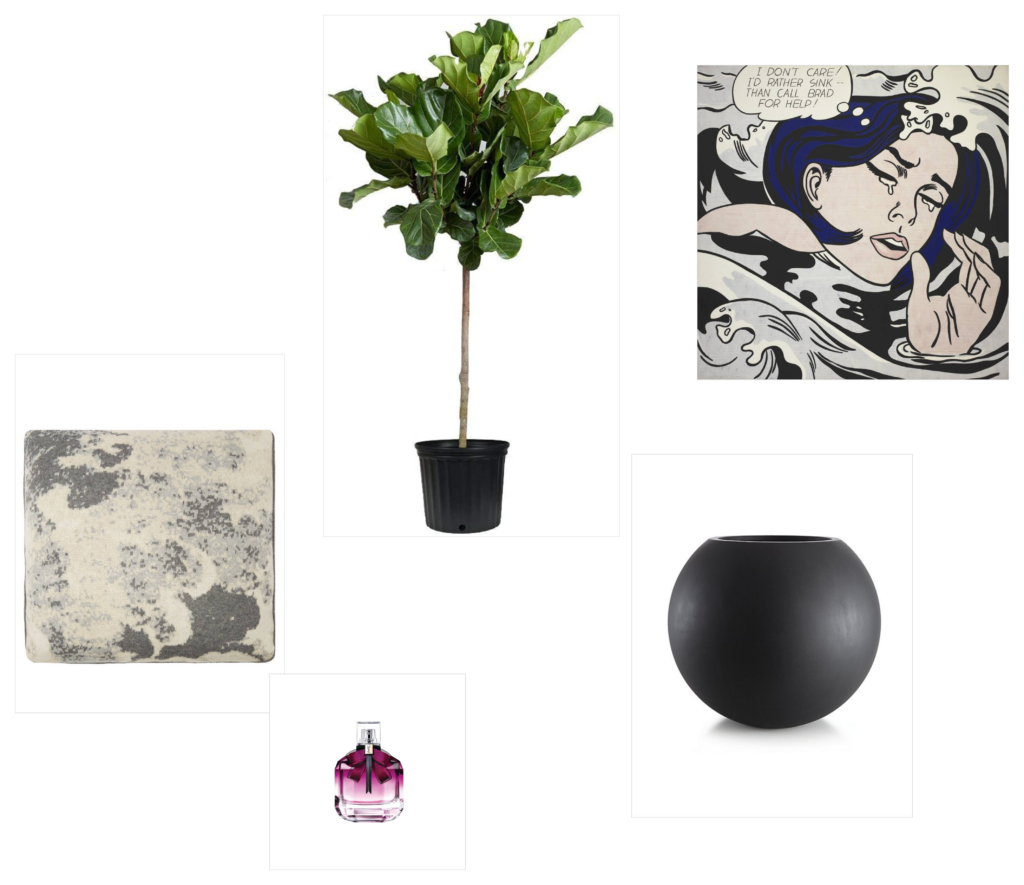 Keep the contemporary art vibe going by anchoring your new home decor with the "it" plant. The Fiddle-leaf Fig remains the indoor greenery of choice for high-end interior designers and shelter magazines like Architectural Digest and Elle Decor.
We love it in a minimalist pot like this large dark grey Sphere planter ($107.40) from Crate and Barrel. Keep the temperature of the room cool with a throw pillow like this Clouds cashmere cushion ($531) from Saved NY. And perhaps add this gorgeous bottle of Yves Saint Laurent Mon Paris Intensément Eau de Parfum.
[white_box]
Related Post
why is the fiddle-leaf fig the most popular house plant?
read more >
[/white_box]
4. For those who love power pink
Pink is still going strong as a hot color in interior design – and why not? Everyone looks good when they're awash in pink light – we say if it works, why not double down?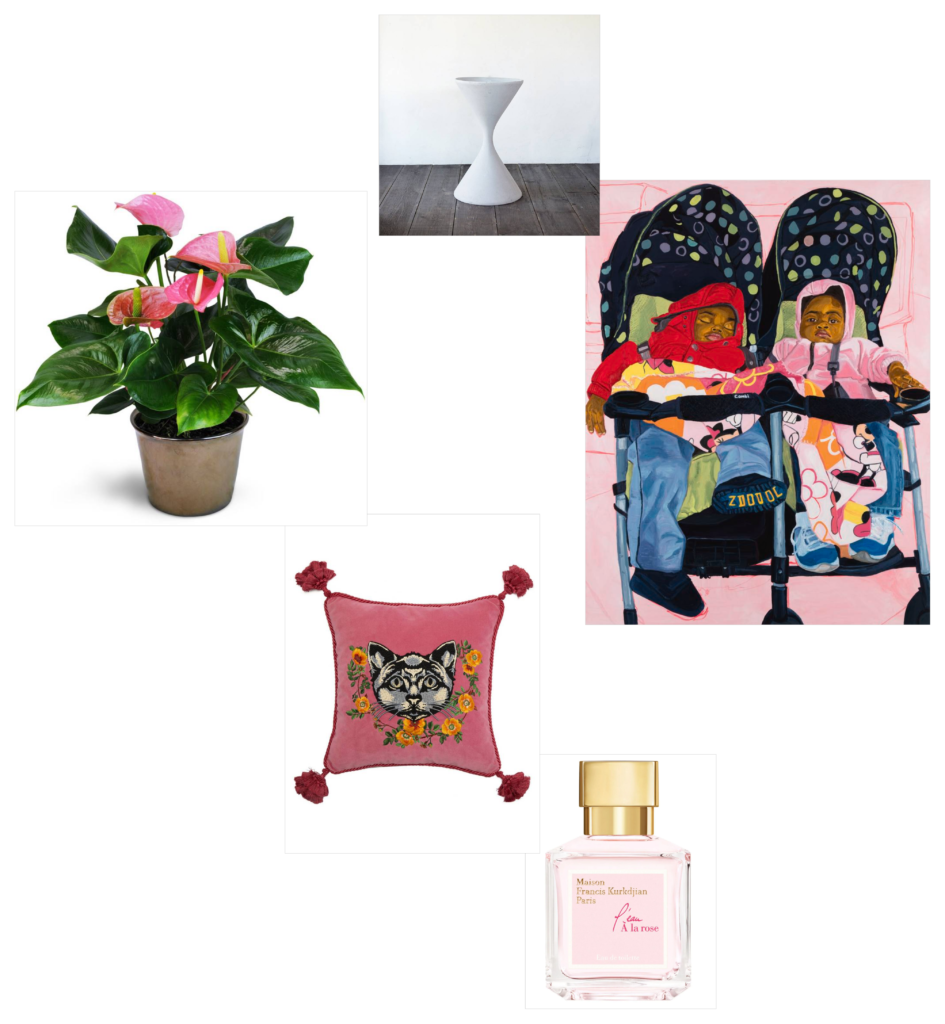 Begin with inspiration from a gorgeous painting from rising star contemporary artist Jordan Casteel. She typically paints intimate portraits of friends, lovers, and family members as well as neighbors and strangers in Harlem and New York. Her painting entitled Twins (2017) is the perfect powerful statement to stay far from the realm of predictable pink.
We found the perfect plant addition to this pink-scape: a pink anthurium ($65). It will flourish and bloom best in bright indirect light. The "blooms" are actually leaves, and according to our friends at The Sill, these are the world's longest blooming houseplant. Each bloom can last up to eight weeks, and new ones will pop up often.
We love it paired with this Gucci cat cushion ($1,150) and this sleek white Fiber Spindle planter ($898). Maison Francis Kurkdjian's L'Eau À La Rose is the perfect fragrance for this mood – it's pretty but it packs the power of 400 roses in full bloom.
5. for those who like a challenge
If a beautiful diva is your dream roommate, then your perfect plant may be the Maidenhair Fern (Adiantum raddianum). It is so named because of its shiny, dark leafstalks that resemble human hair. The small fronds and a lacy appearance give a refined, delicate air. Which is appropriate, because this is a high-maintenance princess of a plant. To thrive, it needs a shady setting and humid warm air (ideally, you must mist the plant with warm water a couple of times a day).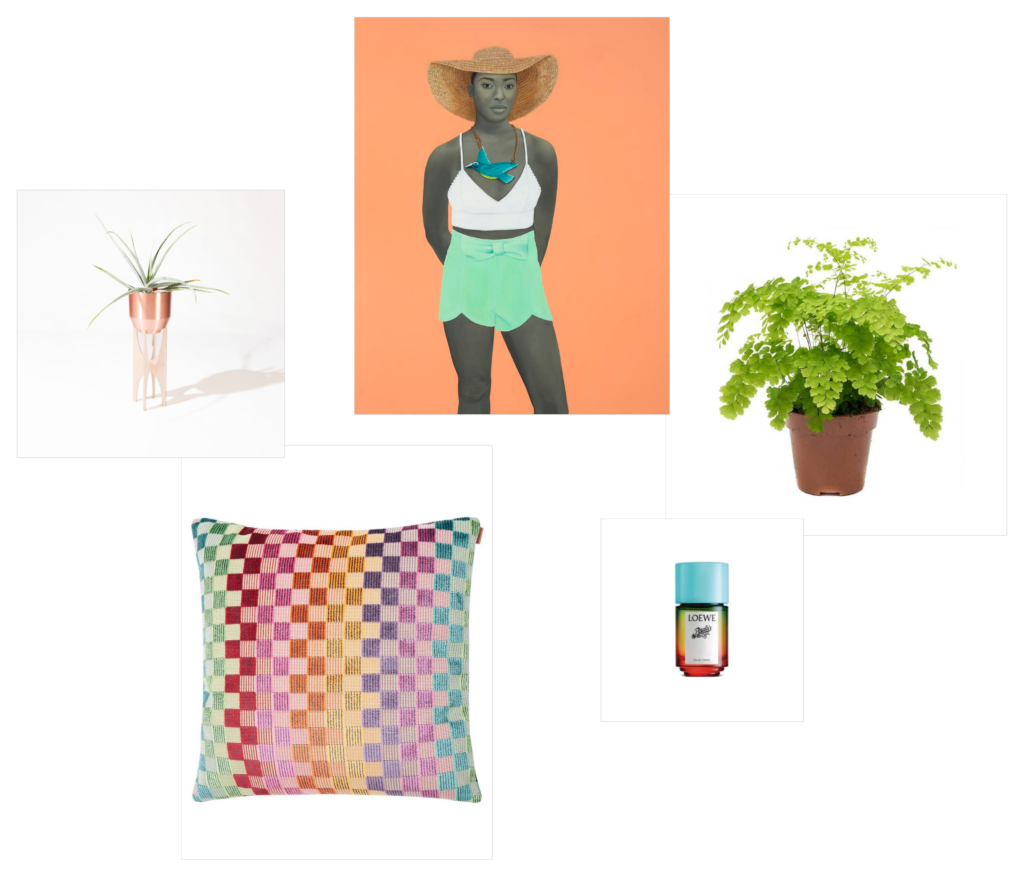 Amy Sherald painted the official portrait of former First Lady Michelle Obama. Her portrait of a chic sunbather, "All the unforgotten bliss (The early bird)," (2017) wouldFor a striking display, consider this wooden planter stand ($125) and self-watering copper planter ($215) from Yield Design.
Finish the look with a Missoni Home checked jacquard throw pillow ($285) and a spray of the hot new fragrance from the collaboration between Loewe and Paula's Ibiza.
[white_box]
Related Post
get inspired by the best interior design books
read more >
[/white_box]
6. if you feel like rolling the dice
Pilea Peperomioides, more commonly known as the Chinese money plant ($12), is a species of flowering plant in the nettle family. Its name is derived from its coin-shaped leaves. A native of Asia, the plant was introduced in Norway by a Norwegian missionary in 1946. From there, word of mouth and gifting caused it to become beloved as a houseplant all over the world.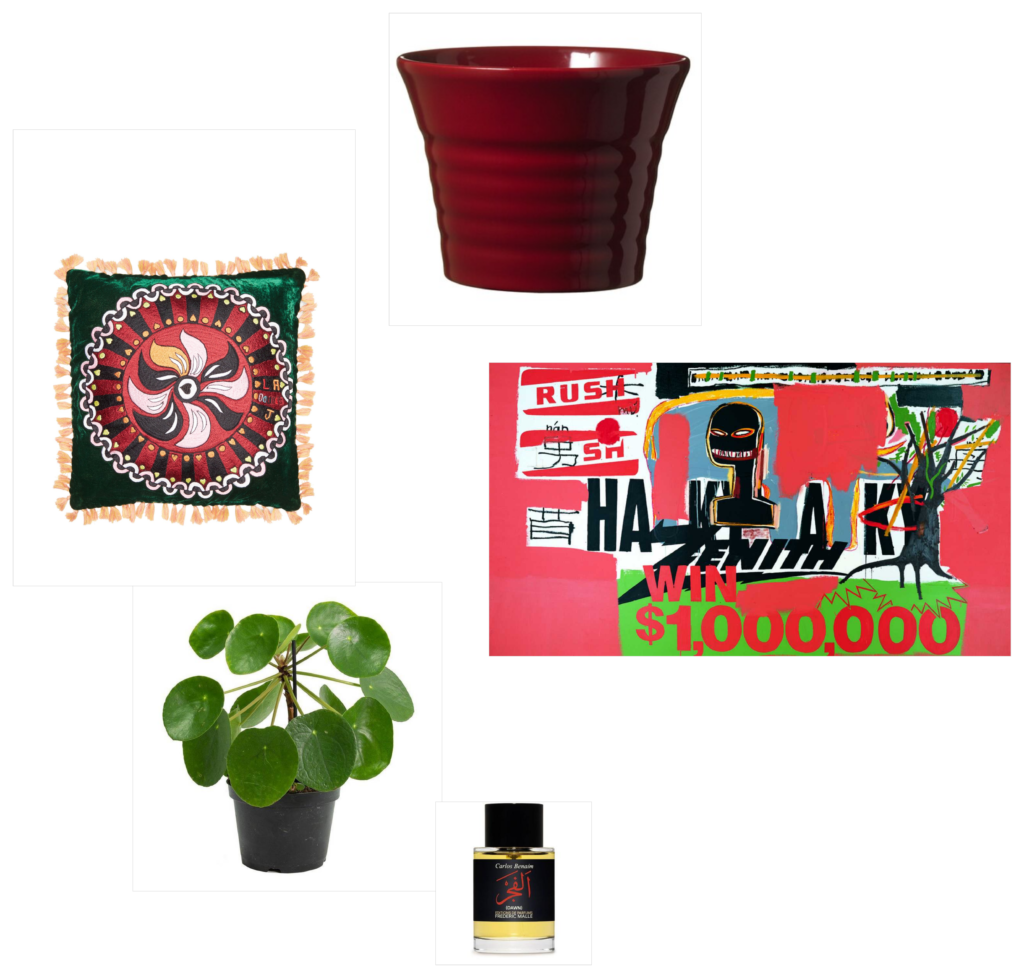 This deep Bordeaux red ceramic planter from Soendgen ($15) reflects the prosperity and good fortune associated with the color red in Chinese culture. Pair it with La DoubleJ's Artemis cushion ($273), which nods to luck and the wheel of fortune. Top it all off with a print of Win 1 000 000 dollars! (1984) by Jean-Michel Basquiat.
If you want a fragrance that embodies this jaunty bring-it-on spirit (or a striking perfume bottle to set on a side table alongside the pillow), we love the look and the scent of Frédéric Malle Dawn Eau De Parfum. It features rose, pink pepper, frankincense, and oakmoss, all of which work in tandem to make you feel fresh, rejuvenated, and ready to own the day.
7. for the first-time plant parent
If you (like us) are wary of plant parenthood, here's a gentle introduction. Because they require limited watering and care, opt to adopt an aloe vera plant (or two).
In the spirit of the quiet domestic bliss of Pieter de Hooch's A Woman Peeling an Apple, on view at the Wallace Collection in London, we're thinking that a color palette of orange, blue, ivory and a sprinkling of spice colors would be perfect.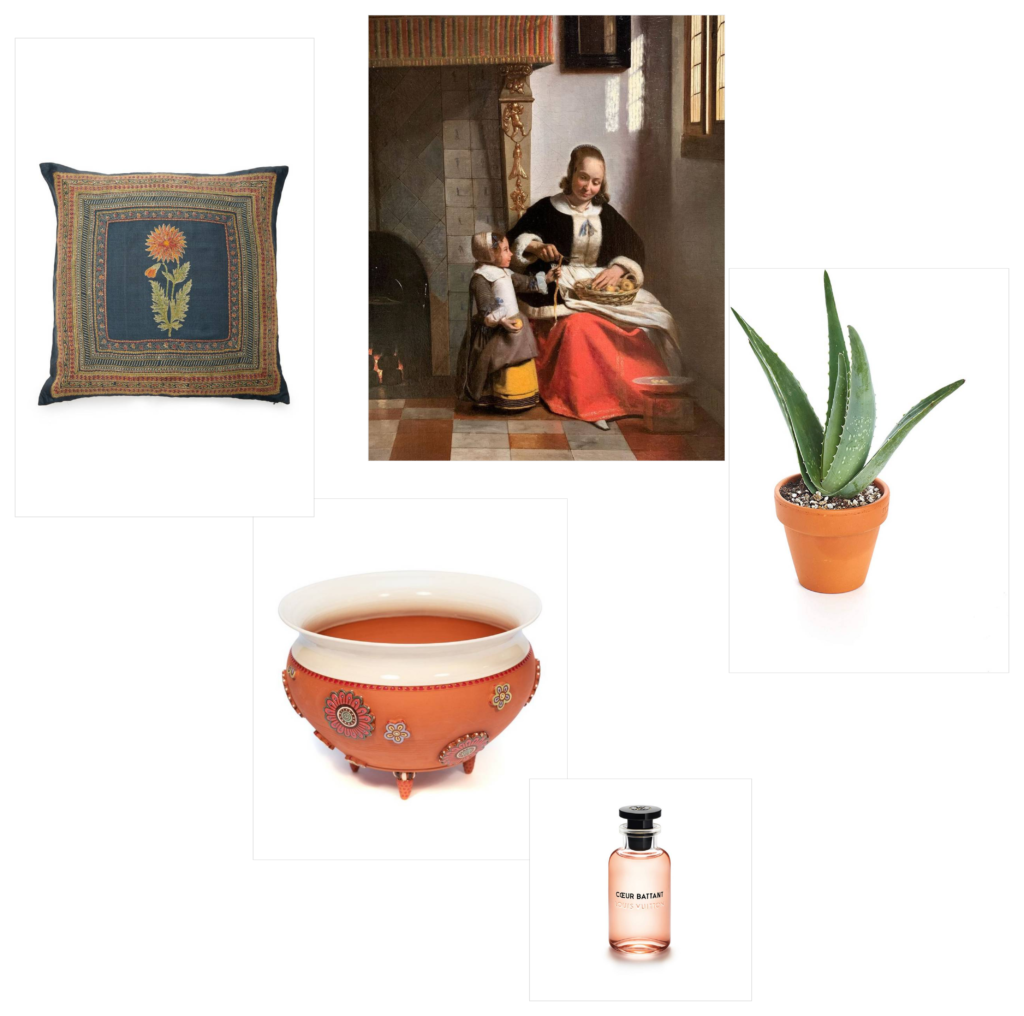 This hand-thrown and hand-painted orange and ivory planter from Daphne Verley Ceramics ($880) is the perfect home for the new family member.
Toss in a throw pillow like this dahlia-embroidered silk one ($460) from Marigold Living (we love that it has a plant to keep your aloe vera company while you're not at home). To top it all off, we love the smell of Louis Vuitton's Le Jour Se Lève – it evokes "an optimistic and stimulating breath of early morning air. It's an invitation to set off for new horizons." Perfect for a new plant parent and child.
[white_box]
Related Post
its easy to host with the best chic and practical bar carts
read more >
[/white_box]
8. To evoke dark mystery
Inspired by the rich, moody color palette of Edward Hopper's iconic 1942 painting, Nighthawks, in the collection of the Art Institute of Chicago, we love the dark beauty of a deep green plant, a bronze planter, and serpentine printed pillow.
Despite the formidable name, the sansevieria trifasciata (also known as the Snake Plant, Mother-In-Law's Tongue, viper's bowstring hemp, and Saint George's sword) is very easy to care for. It prefers limited watering and indirect sunlight.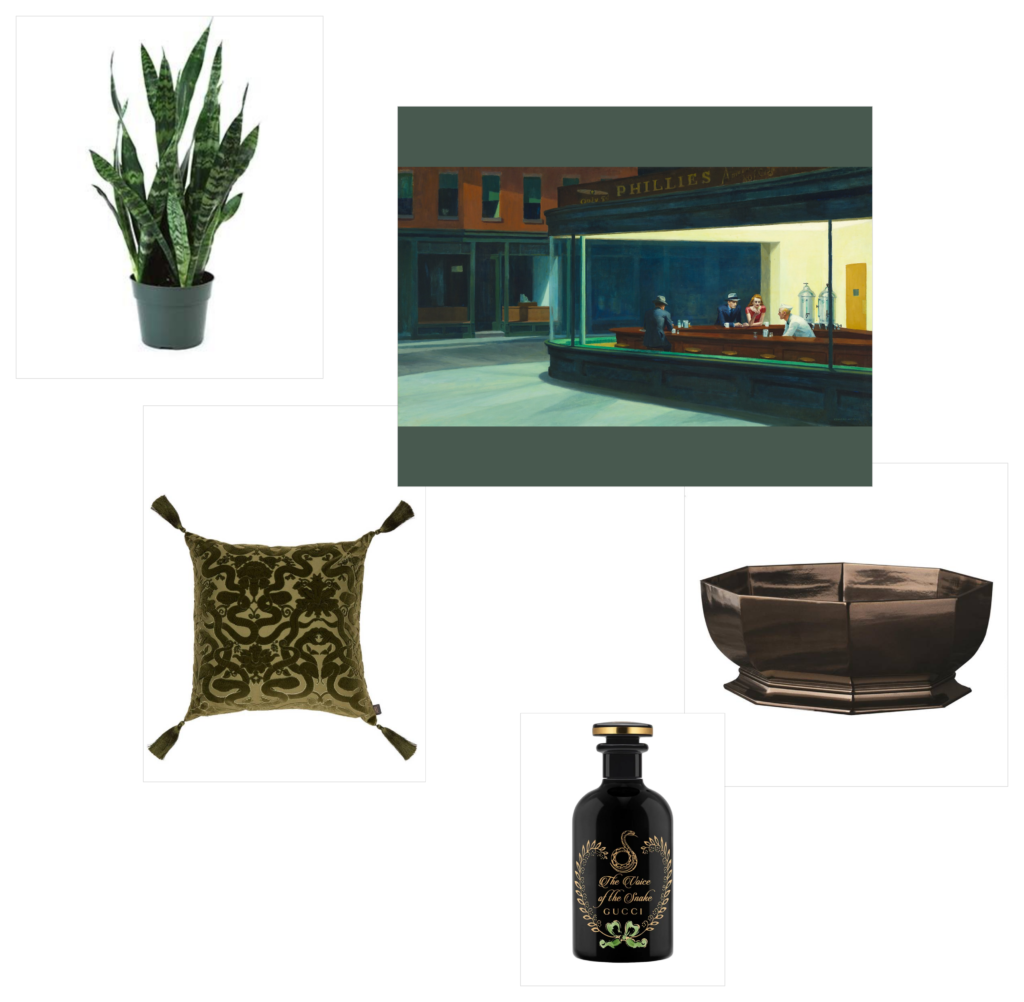 This Global Views bronze octagonal cachepot ($220) would be a fitting home.
And what better accent pillow for a Snake Plant than this House of Hackney Anaconda flocked velvet cushion ($200)? And perhaps a bottle of the new Gucci scent The Voice of the Snake, from The Alchemist's Garden collection. The deep greens will make for a striking display.
9. For the She-Shed
Frida Kahlo, Self-Portrait with Cropped Hair (1940) has a fascinating back story.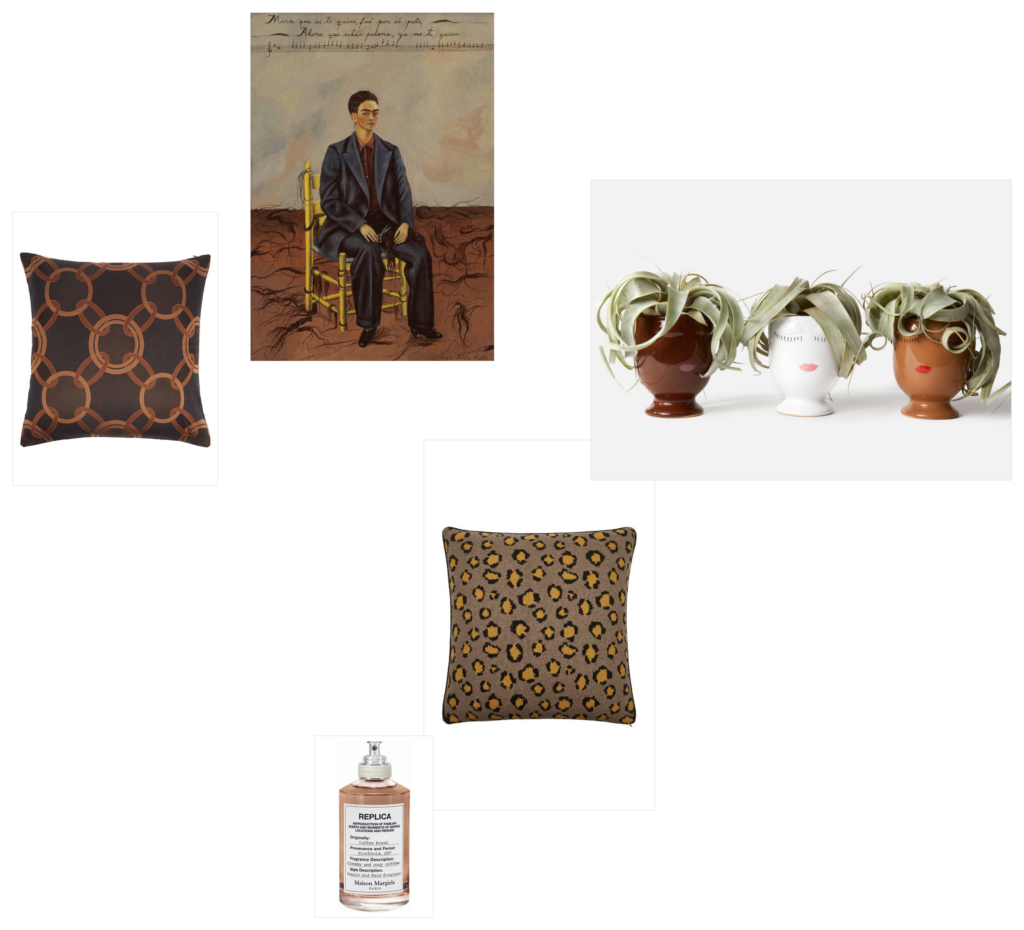 For a room that celebrates female energy, you could hardly do better than this witty trio of ceramic planters from Urban Stems. Fill each one with a Xerographica Air Plant and you've got an instant conversation piece.
Finish the look with this leopard-print cashmere pillow ($500) from Saved NY. And to keep you from working too hard, add a bottle of Maison Margiela's Replica fragrance Coffee Break. The scent is inspired by the idea of grabbing an afternoon caffeine fix in a cozy coffee shop.
elegant and easy updates with plants and more
That's it! Some inspiration for relatively affordable and pretty simple ways to transform or refresh your home decor in style: coordinating plants, prints and pillows. What's your favorite? Are you ready to get started?
join our community
For access to insider ideas and information on the world of luxury, sign up for our Dandelion Chandelier Newsletter here. And see luxury in a new light.