The Best Luxury Self-Tanning Products to Apply at Home
All products are independently selected by our editors. If you buy something, we may earn an affiliate commission.
With salons and spas only gradually opening, this summer may be one that demands DIY beauty treatments of all kinds. If you have to do it yourself, our correspondent Jillian Tangen has curated a list of the best luxury self-tanning products to apply at home, including lotions, oils and mists, mitts and face serums.
it may be a do-it-yourself summer this year
We all know that tanning, whether under the sun (or heaven forbid inside a tanning booth), is bad for your skin and your health. Fortunately there are safer ways you can obtain that sun kissed glow associated with relaxing vacations year round.
[white_box]
Join our community
For access to insider ideas and information on the world of luxury, sign up for our Dandelion Chandelier newsletter. And see luxury in a new light.
sign up now >
[/white_box]
That being said, the art of self tanning can be a tricky one – hence why many people head to the professionals for their bronze glows. But seeing as most spray tanning salons are closed these days, more people are taking matters into their own hands.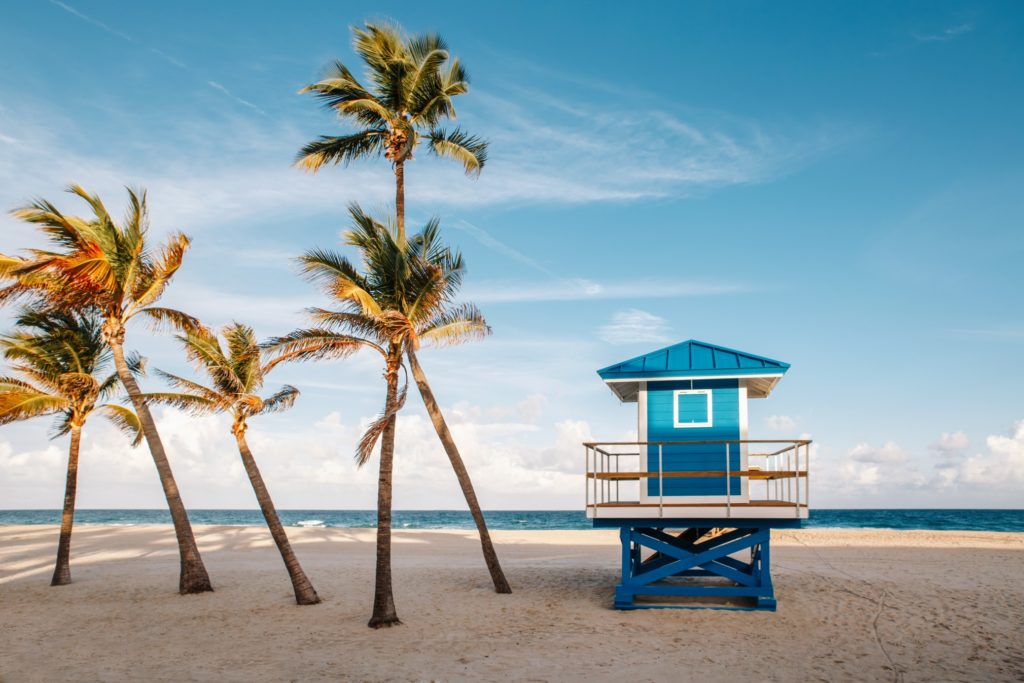 If you've been reluctant to try self-tanners in the past, we don't exactly blame you. Early self tanning formulas created unsightly streaks, featured a distinctive chemical smell, transferred color onto your clothing or worse, created the dreaded orange glow. And we can all agree that human Cheeto is never a good look.
Thankfully though, in recent years self-tanners have undergone significant advances. New formulations now result in more natural tones, more pleasant scents and less streaking thanks to mediums like lotions, creams, mousses, wipes and mists that apply and spread smoother and easier.
But with so many products on the market, which should you choose?
[white_box]
Related Post
eye and eyebrow tips to look your best in a face mask
read more >
[/white_box]
The Best Luxury Self-Tanning Products to Apply at Home
We've done the hard work for you, finding 15 of the best formulas out there. From mousses to mists to lotions, wipes and oils, these self tanners are easy to use, streak free and will leave you looking like you just came back from a tropical beach vacation even though you haven't left your house all spring. Intrigued? Read on.
lotions
If you're looking for a self-tanner with benefits, Tan-Luxe The Butter ($36) contains Cellutone Complex to firm skin and reduce the appearance of cellulite. The buttery texture is courtesy of a blend of raspberry seed oil, aloe vera and vitamin E.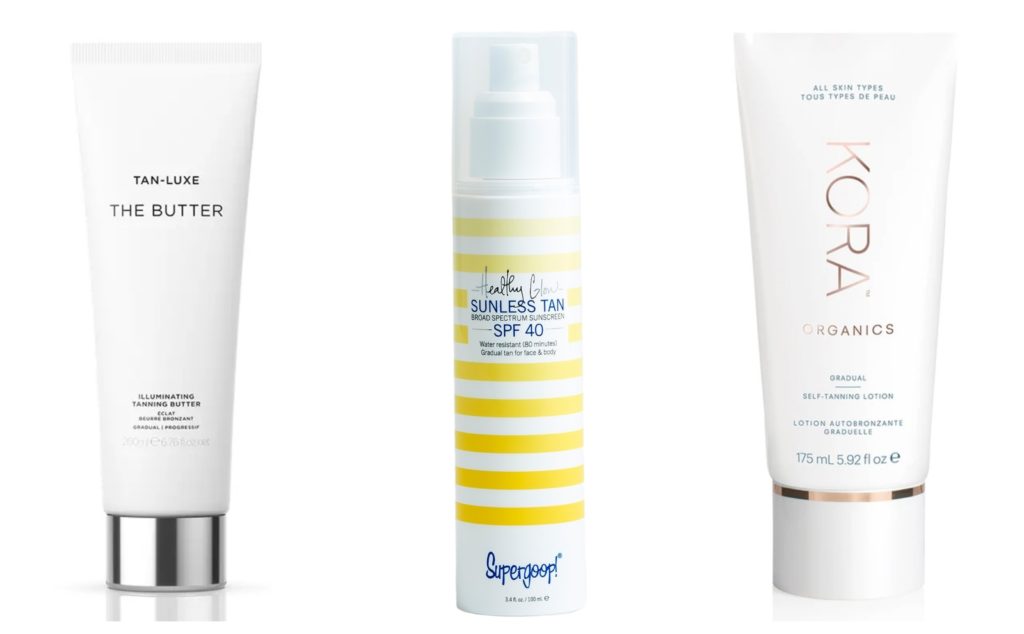 If you've ever wished you could apply SPF and self-tanner at the same time try Supergoop Healthy Glow Sunless Tan SPF 40 ($38). Not only does the formula spray on clear and develop into a golden glow over a few hours. It also contains a healthy dose of SPF 40. What's more, it can be used safely on both your body and face.
If you're conscious about wanting green ingredients, count on Miranda Kerr's Kora Organics Gradual Self-Tanning Lotion ($48). Infused with noni fruit extract, rosehip oil and sea buckthorn oil to moisturize, soften and make skin look radiant, this lotion gives a subtle glow for a natural looking tan all year round.
[white_box]
Related Post
how to care for hair at home when the salon is closed
read more >
[/white_box]
oils
Former supermodel Josie Maran knows a thing about camera ready skin and her Argan Liquid Gold Self-Tanning Oil ($39) deepens to a molten gold for a goddess- like finish. Ensuring you are ready for your close up – even if it's just on Zoom. Apply with the accompanying mitt to ensure a streak-free matted glow.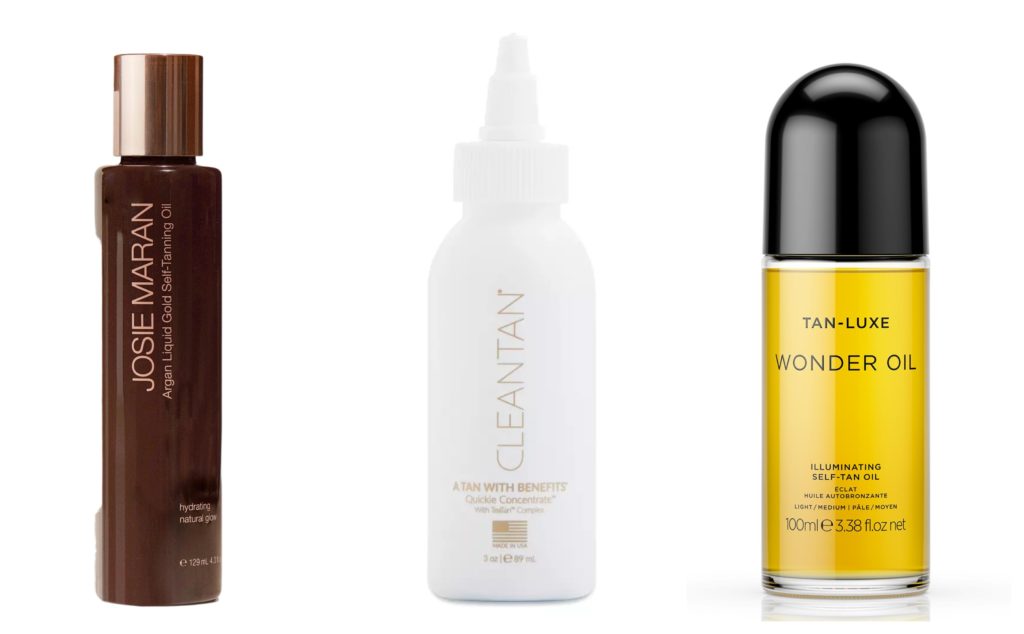 Cleantan Quickie Concentrate ($43) are drops that you add to your favorite moisturizer for an even and hydrating color boost. By using drops, Clean Tan allows you to fully customize the process by controlling not only the mechanism for delivery but also the amount of color.
Aptly named Wonder Oil ($68), Tan-Luxes' roll-on formulation not only gives you a natural looking tan, but also soothes your skin with it's blend of jojoba, argan and raspberry seed oil – and it improves elasticity at the same time. Not to mention, the packaging is uber chic.
[white_box]
Related Post
stay cool with the best summer hair accessories
read more >
[/white_box]
mists and mousses
James Read's Fool Proof Bronzing Mousse ($23) is just that – fool proof. It adds streak-free color that lasts up to seven days and it's infused with aloe vera and cucumber for hydration.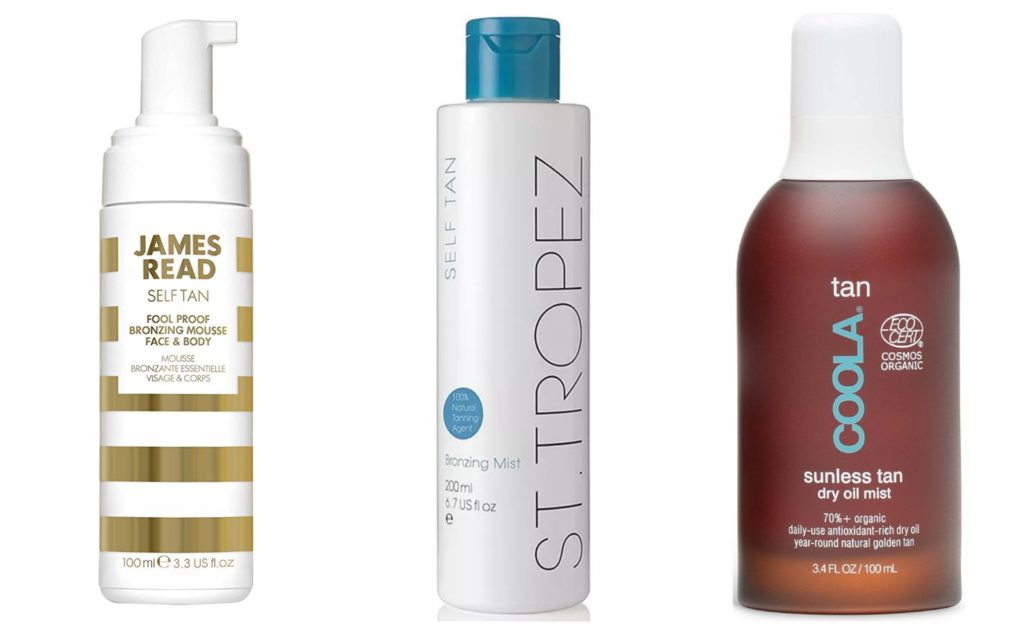 Mists are generally a safe bet for a streak-free application and an airbrushed finish for experts and novices alike. St. Tropez Self Tan Bronzing Mist ($35) is an ultra-fine tanning mist that goes on streak-free, isn't sticky or heavy and delivers a natural finish to all skin tones. It's ideal for covering those hard-to-reach areas like your back too.
Coola's Organic Sunless Tan Dry Body Oil Mist ($46) checks off all the boxes: zero mess, no strong odor, streak-free and the color is noticeable and natural after one use. It's also 100% vegan and 70% organic. Simply mist and allow the antioxidant-rich formula to work its skin-loving magic.
[white_box]
Related Post
the best luxury sunscreens right now
read more >
[/white_box]
wipes and mitts
The award-winning Tan Towel ($29) towelettes are a breeze to use for your face and body. In one towel, you have enough self-tanner to get every inch of your body, sans streakiness or blotching. In 3 – 4 hours you will have a glistening glow.

New York dermatologist Dennis Gross's Alpha Beta Glow Pads ($45) are specifically designed for use on the body (the brand makes separate ones for the face). They offer exfoliation with the help of lactic acid and willow-bark extract and deliver a bronzy hue. In addition, the wipes have other beneficial claims, too, like firming skin and slowing down hair growth.
Hautebronze Tan in a Mitt ($45) offers a no-nonsense, spill-proof method of self-tanning in the form of a hand mitt. Each single use mitt is infused with a dose of quick-drying formula that ensures tanning novices become total pros.
[white_box]
Related Post
the best luxury facials in the world right now
read more >
[/white_box]
face
Drunk Elephant's D-Bronzi Anti-Pollution Sunshine Drops ($36) deliver the sunshine's bronze color, without the damage. Add a drop or two to your favorite serum, moisturizer or sunscreen for a healthy glow accented with antioxidant-rich cocoa extract, marula oil and peptides to nourish and boost skin's elasticity.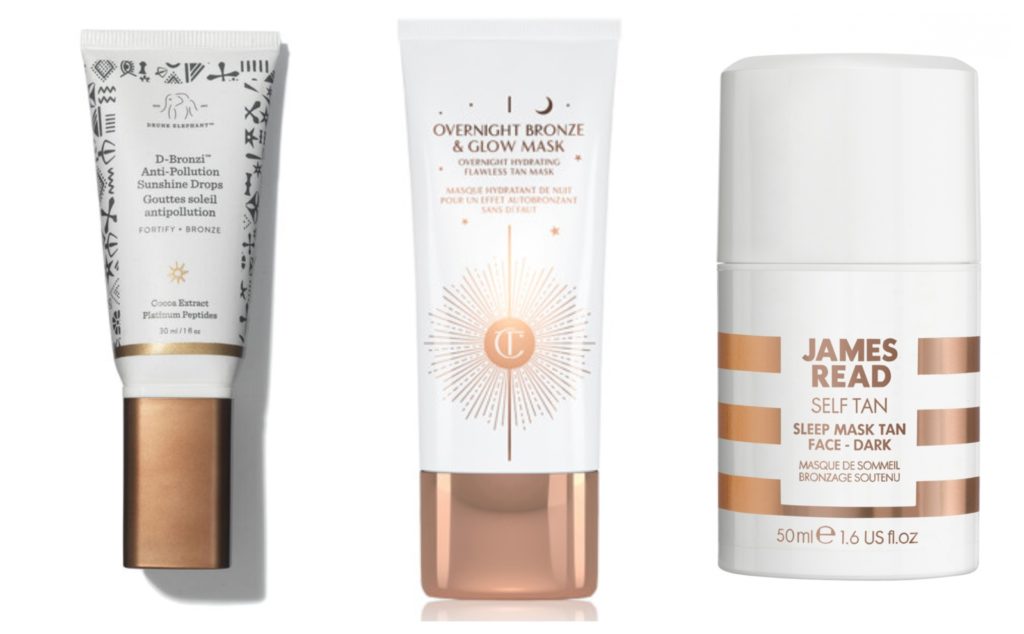 Wake up looking like you're fresh from a holiday in Ibiza, even if you're just coming from the comfort of your bed with Charlotte Tilbury's Overnight Bronze & Glow Mask ($55). Simply apply to your face before bed and it will subtly enhance your skin's natural glow overnight.
Don't let the word "sleep" in James Read's Sleep Mask Tan ($32.50) fool you. James Read's face tan lotion can also be used in the morning for a light tan that deepens as the day goes on.
The Best Luxury Self-Tanning Products to Apply at Home
That's our roundup of the best luxury self-tanning products to use yourself at home, whether you prefer a lotion, a mist or an oil.
So what do you think? Are you ready to give an at home self tanner a try or is your bronzy glow best left to the professionals?
join our community
For access to insider ideas and information on the world of luxury, sign up for our Dandelion Chandelier Newsletter here. And see luxury in a new light.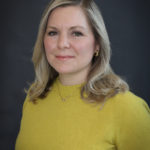 Jillian Tangen is the Head of Research at Dandelion Chandelier and a former Senior Research Analyst at McKinsey & Co and Analyst at Shearman & Sterling. She is an avid fan of Nordic design, having owned an independent lifestyle store and sales agency focused on emerging Scandinavian design. Jillian lives in New York and is married with three young children. She loves cross-country skiing, the New York Rangers, reading, travel and discovering new brands.