What is the Best Luxury Summer Loungewear Right Now?
All products are independently selected by our editors. If you buy something, we may earn an affiliate commission.
Since early spring, lots of us have been living in loungewear (which is basically a fancy word for sweatpants) while we work and try to teach our kids from home. But now we're wondering what to wear that's just as comfortable, but lighter for summer days. Our correspondent Julie Murphy Chang has answers! For work or vacation, here is the best chic luxury designer summer loungewear right now to stay comfortable and chic, in every color of the rainbow.
Luxury Loungewear for languid summer days
As the weather heats up, our cozy sweatshirts, joggers, and fuzzy socks are starting to feel a bit suffocating. Fortunately, summer need not get in the way of continuing to wear loungewear all day, everyday.
With millions of people continuing the great "working from home" experiment through the summer, there's still an understandable demand for clothing that makes us feel put together. Without the formality that comes with proper pants that dig into the waist. Or stiff blouses that constrict our ability to lie down while responding to an email. You know what we mean.
[white_box]
Join our community
For access to insider ideas and information on the world of luxury, sign up for our Dandelion Chandelier newsletter. And see luxury in a new light.
sign up now >
[/white_box]
One thing that we've learned from our loungewear habits earlier in the season is that color makes a noticeable difference in lifting our moods. Gray sweaters might be a timeless staple. But when it's a ruby red or marigold, we can't help but feel more alert and cheery.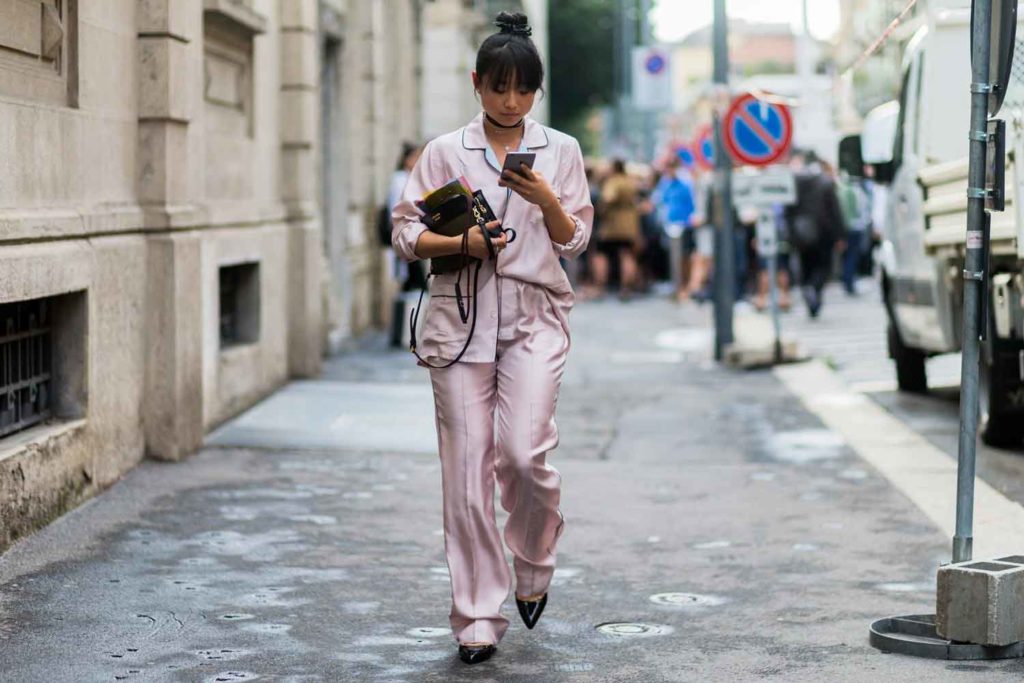 With that in mind, we've organized our summer luxury loungewear edit by color, so you can stand out while staying in.
[white_box]
Related Post
What to Wear to be Summer Chic in the Month of June
read more >
[/white_box]
What is the best luxury summer loungewear right now?
1. Sunrise Colors
Start the day off inspired by the warm tones of sunrise: fiery red, glowing pink and orange and effervescent yellow.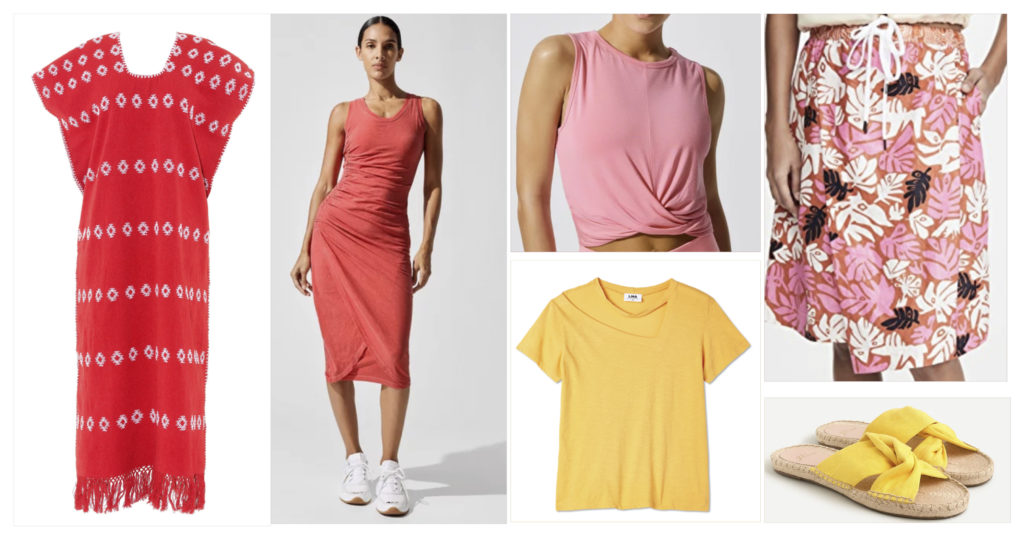 Pippa Holt's kaftans are hand-woven on a backstrap loom by Mexican artisans and we love how this this ankle skimming kaftan in bold red ($799.68) and white elongates the frame. For something a little more body conscious, Sundry's gathered tank dress ($198) has a weathered fabrication for a laid-back look that looks elevated at the same time.
Sometimes all you need is a bright top with a twist- like this drapey Alo Yoga tank ($54) in a sweet pink, or an edgy and asymmetrical cutout tee ($90) in a golden yellow. Pair with Marni's tropical print shorts ($690) made with a summery linen and cotton blend and J.Crew's perfect espadrille slippers ($98).
[white_box]
Related Post
what are the best beach books of summer 2020?
read more >
[/white_box]
2. Sky, Sea and Land Colors
Blues and greens give us a feeling of comfort and help us feel grounded throughout the day.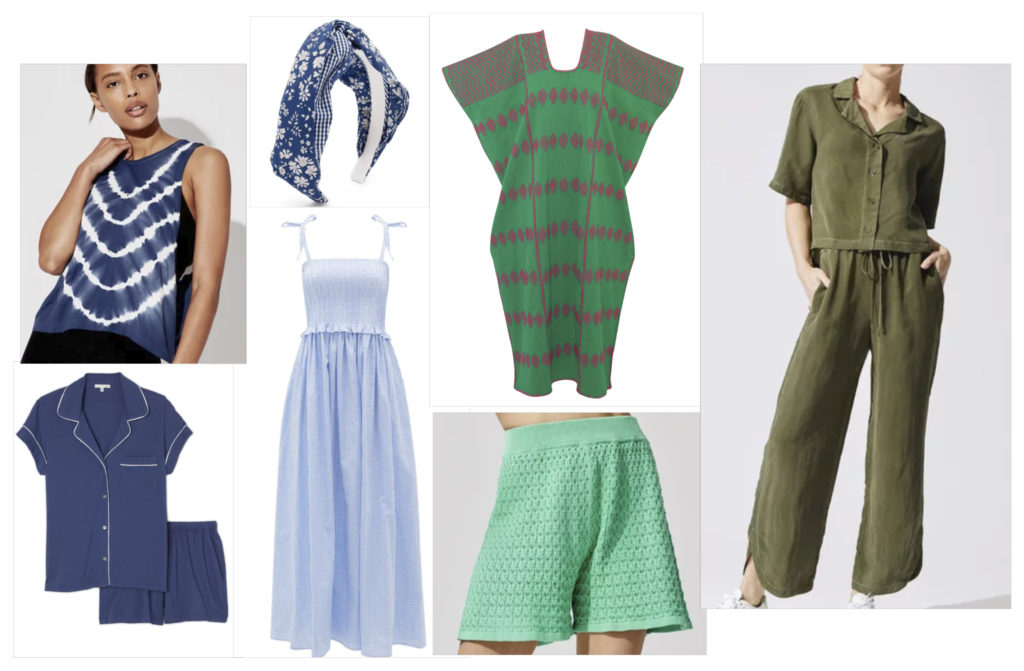 This shibori tie-dye tank from Spiritual Gangster ($78) has a silky, seamless construction for extra comfort. If you're the type to still be in pajamas after lunch, check out Skin's buttery-soft jersey pajama set ($148) that might even pass for a proper top on Zoom? There's a reason we lived in smocked dresses as kids- they're so breezy, freeing and pretty! This gingham dress from Loretta Caponi ($444) takes us right back. Tame that haircut you gave yourself with this retro-inspired headband ($121) that looks like an expertly knotted head scarf.
We couldn't resist another Pippa Holt kaftan ($855.21) in one of our favorite summer color combos of all time- Kelly green and watermelon. These sea foam shorts from Mr. Mittens ($380) are super lightweight and knit with softness and breathability in mind. For a chic, monochrome look, look no further than Stateside's Camp Shirt ($140) and Curved Hem Pant ($140).
[white_box]
Related Post
The Best Road Trips to Take in the States This Summer
read more >
[/white_box]
3. Purple Mountain Majesty
Whether it's lilac, plum, amethyst or wine, purples are simply enchanting and give a dose of the magical to the everyday.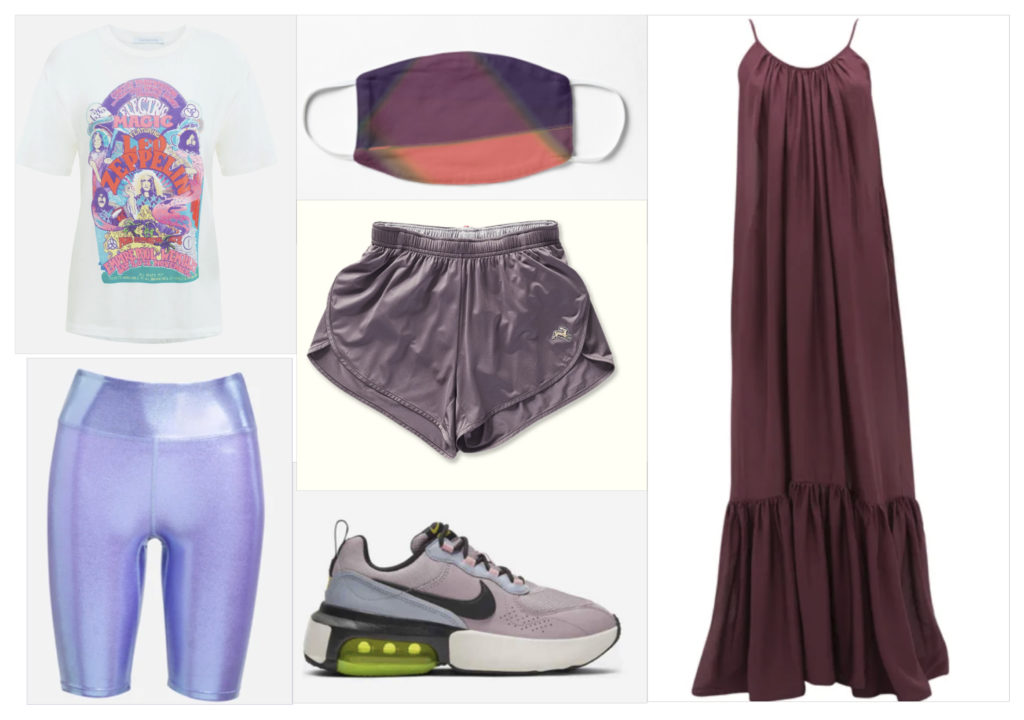 Channel summer music festival vibes with this vintage Led Zeppelin tee ($78). And why not be a little extra and try out the biker shorts ($88) trend in shimmering, iridescent lavender? Face masks are here to stay so you might as well buy one that shows your aura like this one with a geometric prism design ($12.49).
Tracksmith's split shorts ($52) are good for a run to break up your day or a run to the fridge- your call. If new sneakers are in order, check out Nike's Air Max Verona ($120) in an edgy purple and neon yellow colorway. If dresses are your thing, Kalita's lustrous silk dress ($711) has a relaxed sensuality that encapsulates lazy summer days.
[white_box]
Related Post
the best playlist right now for a summer road trip
read more >
[/white_box]
4. Sandy Shores
Neutrals have an effortless sophistication that it's no wonder that shades from sand to espresso have been all over the runways.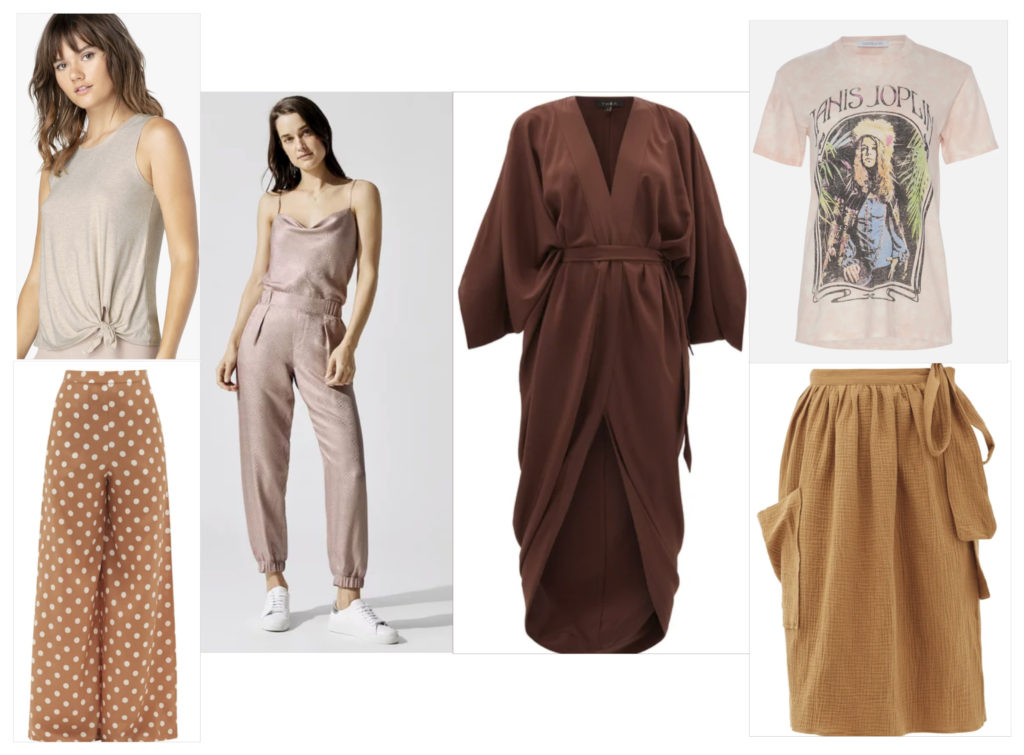 The relaxed fit of this desert colored space dyed tank ($66) goes with anything but would look especially fetching with Zimmerman's whimsical polka dot pants ($450). What's better than cool silk on a hot day? The causal silhouette of ATM's tank ($250) and jogger ($350) is given a luxurious upgrade with a reptile jacquard silk fabrication that is subtle and timeless. Another silky number is Thea's Grecian inspired dress ($579) with breezy, billowy sleeves and a curved slit hem for a bit of casual allure. Or channel the ultimate cool chanteuse, Janis Joplin, in this vintage inspired tee coordinated with Loup Charmant's organic bubble-gauze skirt ($350).
[white_box]
Related Post
How to Host the Perfect Outdoor Party at Your Home
read more >
[/white_box]
5. Stars in the Night Sky
Crisp, brilliant white against a milky black sky are especially underrated amongst the more bold summer colors. But their clean and sharp sensibility will always look stylish.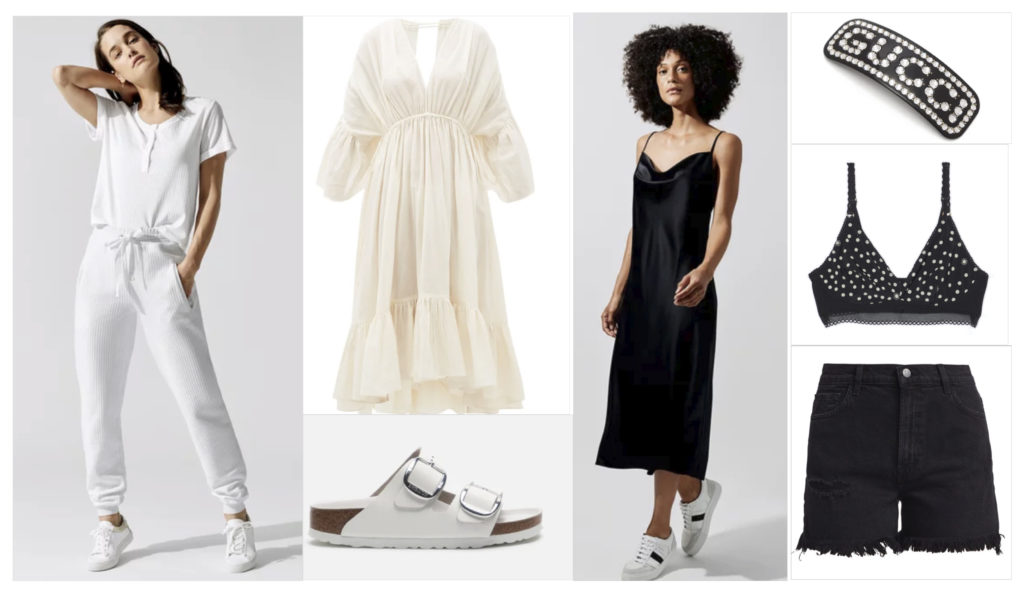 The Range's super soft and slightly sheer henley ($135) will certainly be our go-to top all summer. With matching white sweatpants ($250), you can't go wrong. Loup Charmant's ivory dress ($450) is draped perfection and looks wildly romantic like a maiden frolicking through the pastures. Sturdy white birks ($150) are a staple at this point, indoors or outdoors, with their anatomically correct footbed.
The 90's are back so time to start another slip dress collection! We love this bias cut dress ($148) with an artfully draped cowl neck that transitions easily from summer days to nights. Ditch the wireless bras in favor of Stella McCartney's easy, around-the-clock soft cup bra ($90). Similarly, black denim with the right amount of stretch is another game-changer. JBrand ($178) makes the best! Top it all off with a Gucci barrette ($750) for a bit of glam.
What are the best summer luxury loungewear right now?
There you have it- luxury summer loungewear for work or vacation in all the colors of the rainbow to take you through the dog days of summer! What's your favorite?
join our community
For access to insider ideas and information on the world of luxury, sign up for our Dandelion Chandelier Newsletter here. And see luxury in a new light.
Crediting her training as a cultural anthropologist at Wellesley College, Julie has immersed herself in various industries in the last 15 years including fashion design, event planning, and fitness. Julie lives in New York where she loves trying every ramen and dumpling restaurant with her husband and three children. She finds joy in bold prints, biographies of fierce women, kickboxing. And spending way too long finding the perfect polish color to express her mood.