How to Decorate with the Best Faux or Live House Plants
All products are independently selected by our editors. If you buy something, we may earn an affiliate commission.
Plant love is spreading, and the Great Lockdown has made many of us even more keen to decorate our work and living spaces by adding greenery. Some are ready for plant parenthood – and some (that would be us) are not quite there. Either way, there are easy solutions at hand. Our correspondent Julie Chang Murphy has a primer on how to best decorate your home or office with either faux or live house plants and other greenery.
decorate with plants to enliven your home or office
Working from home can often be a mixed blessing – our feeling about it depends quite a lot on the day (and whether or not we're also home-schooling). But many companies are considering making the switch more permanent.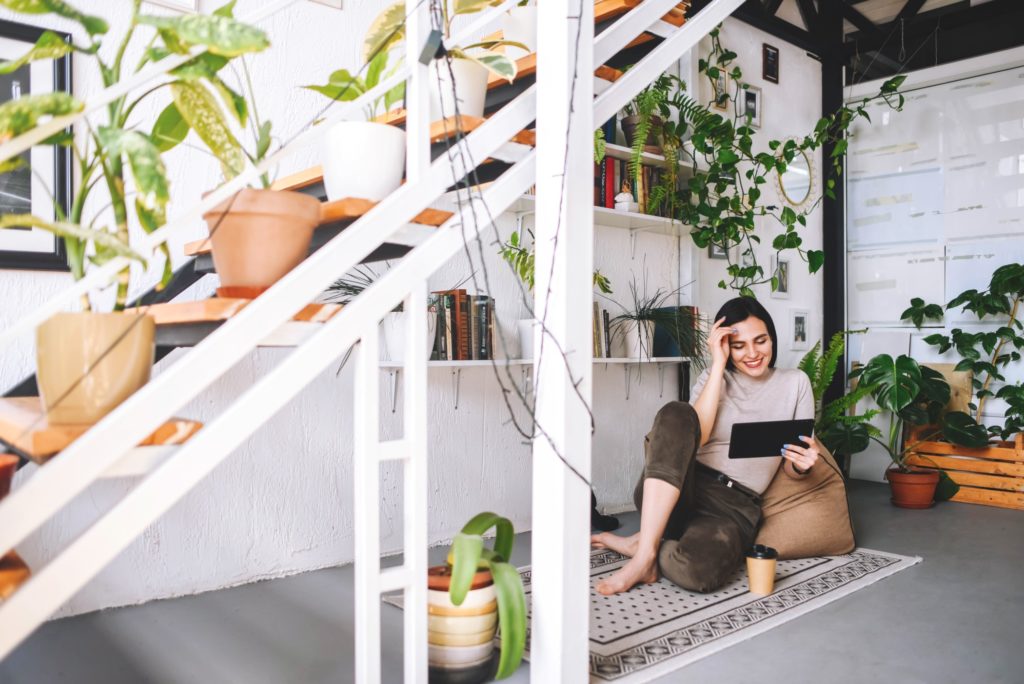 So we've been sourcing ways to make our homes and offices as comfortable and productive as possible. From ergonomic furniture to stylish decorative accessories, there are many design solutions out there to make working and living in the same space as visually engaging and comfortable as possible. And ironically, one of them is making our indoor space more like the outdoors.
[white_box]
Join our community
For access to insider ideas and information on the world of luxury, sign up for our Dandelion Chandelier newsletter. And see luxury in a new light.
sign up now >
[/white_box]
It's plants to the rescue in more ways than one! Multiple studies have concluded that plants can significantly lower anxiety and improve concentration and productivity. Plants increase the "thermal comfort" of a room by increasing humidity.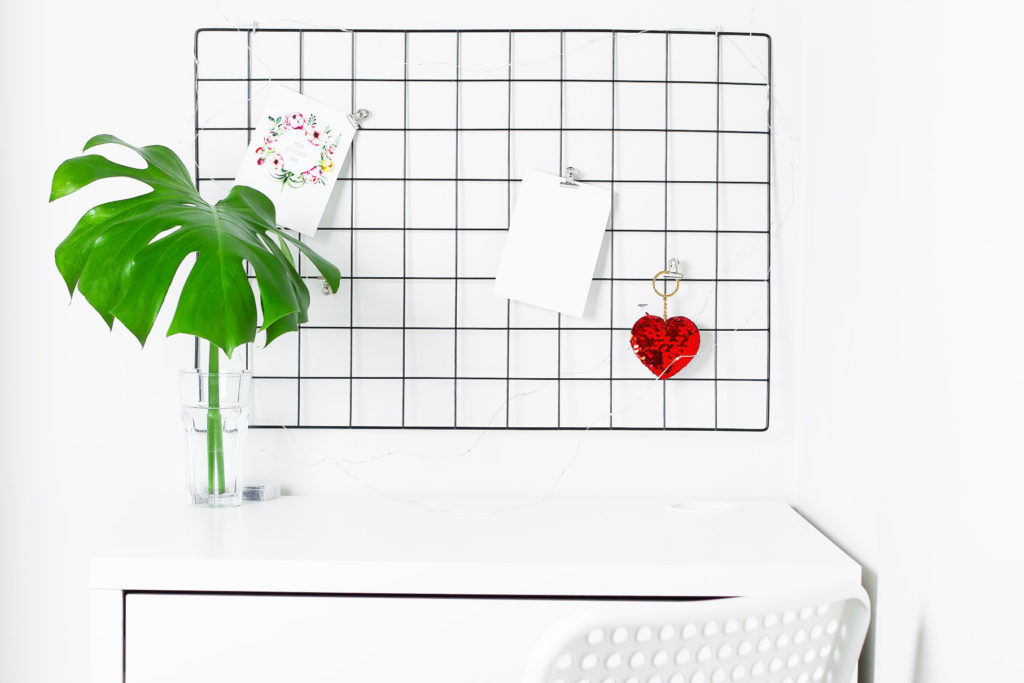 Typically, if humidity falls below the 30% minimum level, it can cause fatigue and respiratory problems. They also naturally filter indoor toxins like mold, benzene and formaldehyde which can be found on our carpets, flooring and furniture. Taking care of plants lowers blood pressure and heart rates (which help when dealing with virtual meetings that could have been an email.) And finally, plants can boost creativity and promote serenity by stimulating the senses.
[white_box]
Related Post
How to Decorate With Luxury Plants, Prints, and Pillows
read more >
[/white_box]
Instead of a 3rd cup of coffee, maybe all you need is some greenery. Ahead are five elegant and straightforward ways to start or add to your indoor jungle.
How to decorate with faux or live house plants
1. Go Vertical
Inspired by trees, you can bring a sense of light, height and drama to your office with an endless configuration of plants on existing shelving. This Golden Pothos in minimalist and modern pot ($65) is one of the easiest houseplants to maintain and can tolerate all light levels. It's trailing vine looks gorgeous cascading over books. Add a touch of decorative whimsy to the shelves with this potted Tillandsia Air Plant ($55) in a golden elephant. These low-maintenance plants require very little upkeep and love bright, indirect sunlight.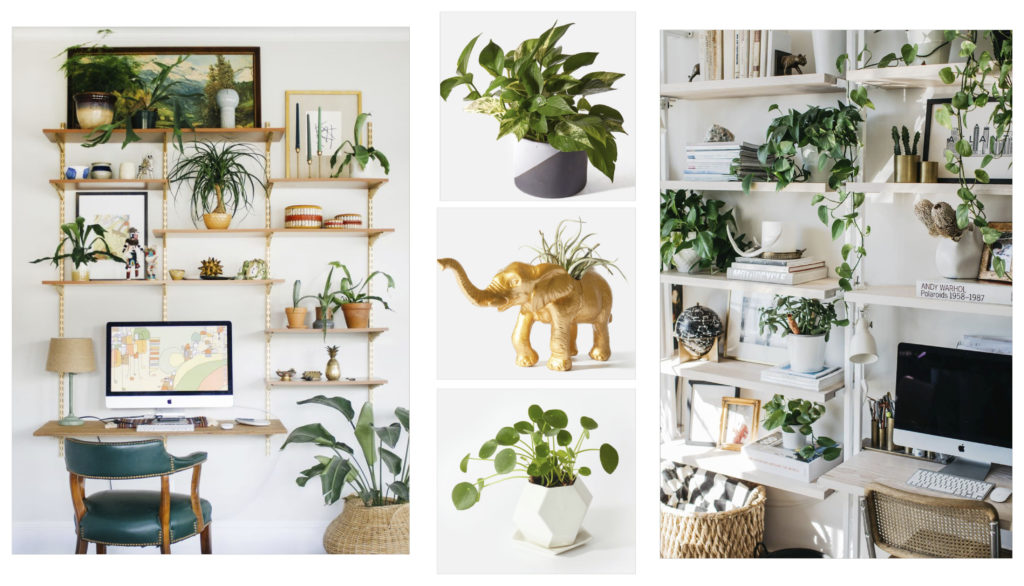 The Pilea (also known as a Chinese money plant) enjoys worldwide popularity but its simple rounded lines go particularly well with mid-century modern and Scandinavian inspired interiors. The plant comes in a geometric vessel ($90) which is handmade from a women-led ceramic design studio based in Kansas City.
2. Get on the Floor
If you have had to carve out a work area in an existing room, consider using large floor plants to create helpful separations between a desk and the couch. The thick, fleshy leaves of the Snake Plant ($119.99) can reach up to 4ft tall and have striking stripe patterns that add dimension to any decor. For good office feng shui, check out the Money Tree ($150) which is said to bring positive energy and good luck to the owner. It is a no-fuss plant with a tropical feel, perfect for making an office less staid and stuffy.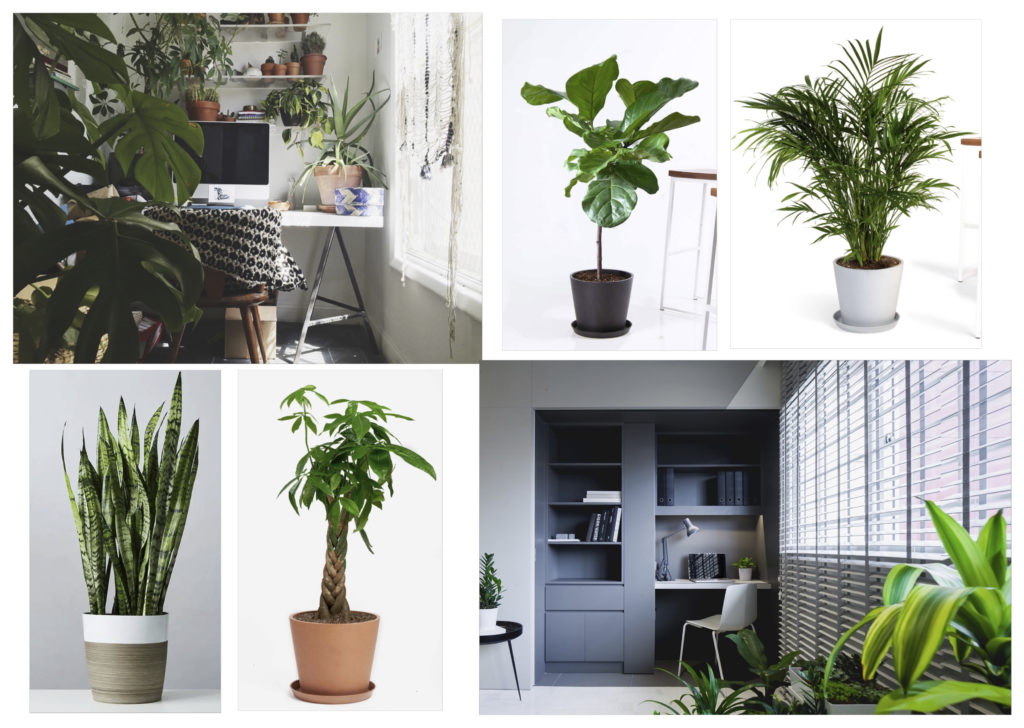 With careful watering and care, The Fiddle Leaf Fig ($195) will make a beautiful and sculptural addition to your office. It's generous leaves are a natural partition but would look equally well in a brightly lit corner. The Cat Palm ($195) is designated as a clean air plant by NASA and its attractive, fluffy palm would be perfect for disguising cords and unsightly electronics.
[white_box]
Related Post
the best places in the world to buy luxury house plants
read more >
[/white_box]
3. Hanging Around
An easy solution for those short on space is to introduce hanging plants. If you're the messy type, hanging plants can add impact without taking up all that valuable real estate for unopened mailings and strewn papers. The String of Pearls succulent ($29) thrives on neglect (spare watering, partial sunlight) but looks as luxurious as a long, multi-layered Chanel pearl necklace.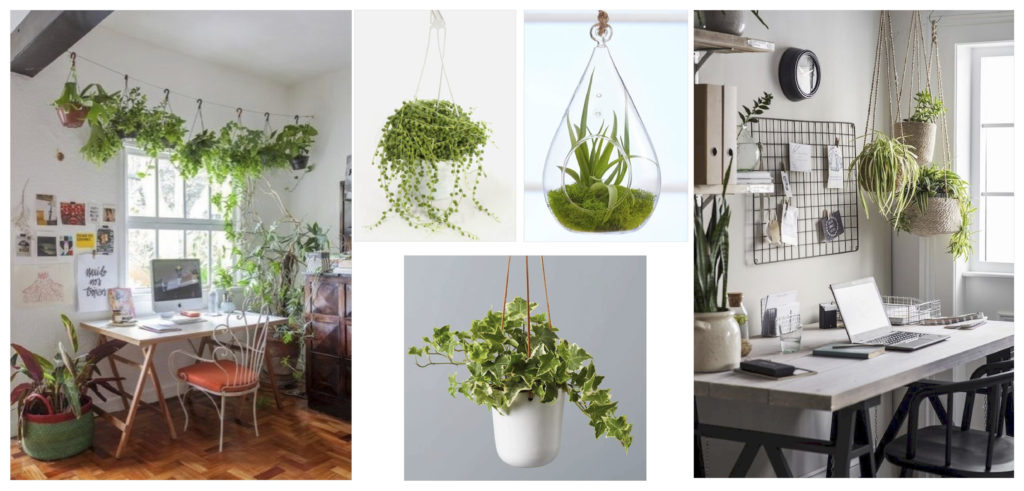 This adorable teardrop terrarium houses an Air Plant ($24.99) which is known for reducing room dust. We envision a few hanging at different heights for a glittering waterfall effect. If you want to be one and done, the English Ivy hanging plant ($44.99) with its variegating gold, green and grey leaves can grow up to 9ft per year; it is all you need to add a leafy vignette to your work space.
4. Table it
For the clutter-phobes that enjoy a clean and open desk area, a small plant can add some organic warmth and balance. The attractive Stromathe ($68), native to the tropical Americas, adds enchanting color and lots of dimension to the work area. Or consider these 3 mini Echeveria succulents ($55) which do double duty – adding greenery and a decorative accent to the tabletop.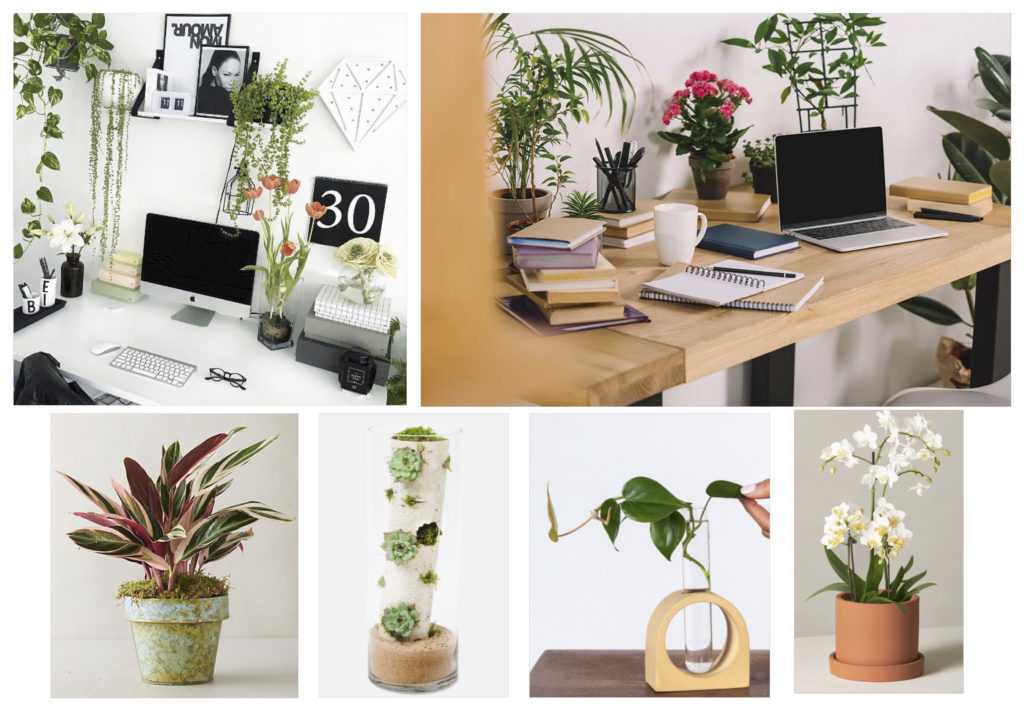 This gorgeous, geometric stand ($35) is handmade by the talented design team at Speckl Goods in Grand Rapids, MI. Display a single stem in the glass test tube or use it to propagate a favorite plant. Looking to add a floral touch? Often called the beginner orchid or 'moth orchid', this houseplant ($98) will typically bloom about once a year, for up to three months. It thrives in bright indirect light and requires watering about every week with 3-4 tablespoons of water.
[white_box]
Related Post
Why is the fiddle-leaf fig the most popular house plant?
read more >
[/white_box]
5. Off the wall
You've lived long enough to know that you just can't keep plants alive. But you still want to bring some nature inside. Not to worry! That's what art is for. This set of watercolor eucalyptus leaves ($18.66 to $74.69) adds a feeling of serenity especially when you don't need to remember the watering schedule.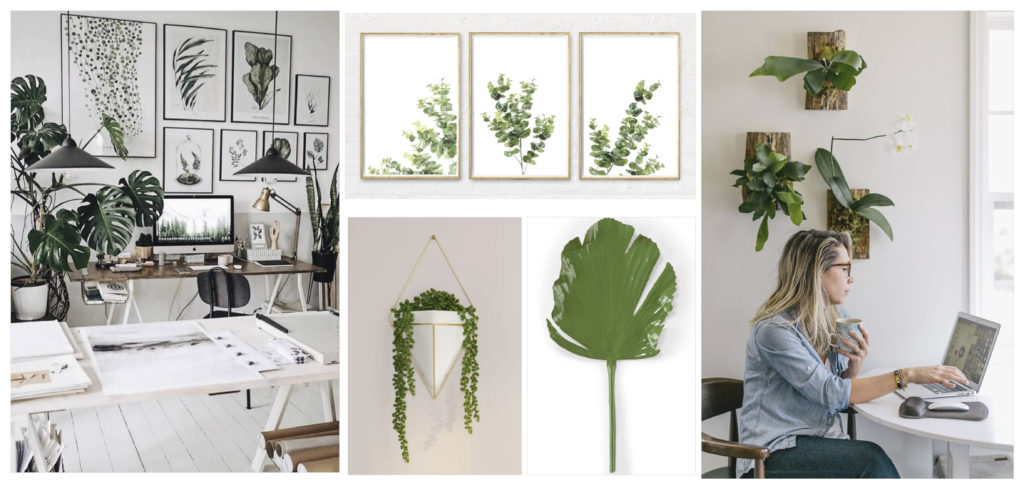 Umbra's casual and modern Trigg Hanging Planter ($25) can be stuffed with some faux foliage and none would be the wiser. And these glossy metal palm leaves ($103.50) add some eye-catching shine to flat walls.
How to decorate with faux or live house plants
Those are our quick tips and decorating inspiration on how to best decorate your luxury home or office with either faux or live house plants. On your marks, get set, grow! Let us know which plants are your favorite!
join our community
For access to insider ideas and information on the world of luxury, sign up for our Dandelion Chandelier Newsletter here. And see luxury in a new light.
Crediting her training as a cultural anthropologist at Wellesley College, Julie has immersed herself in various industries in the last 15 years including fashion design, event planning, and fitness. Julie lives in New York where she loves trying every ramen and dumpling restaurant with her husband and three children. She finds joy in bold prints, biographies of fierce women, kickboxing. And spending way too long finding the perfect polish color to express her mood.