Style Inspiration for an Easy Luxury Kitchen Makeover
All products are independently selected by our editors. If you buy something, we may earn an affiliate commission.
Mandatory social distancing was the nudge we needed to finally clean up and de-clutter at home. Now that the underbrush has been cleared out, we find ourselves with the insatiable desire to redecorate. Our ace correspondent Julie Chang Murphy is sharing mood boards to guide us; she previously tackled bathroom makeovers. This time, she's got savvy advice and inspiration on how to achieve an easy do-it-yourself makeover of a luxury kitchen, with no structural change or professional contractor needed. So grab a hammer, and let's go!
Easy Luxury Kitchen Makeovers
We do a lot of entertaining in our home. And right before every gathering, my husband and I plan out every detail- from the timing of hors d'oeuvres; the placement of the beverages; and the modification of the playlist.
It's all to ensure that our guests have a delightful time. But frankly, our secondary goal is to get them out of the kitchen!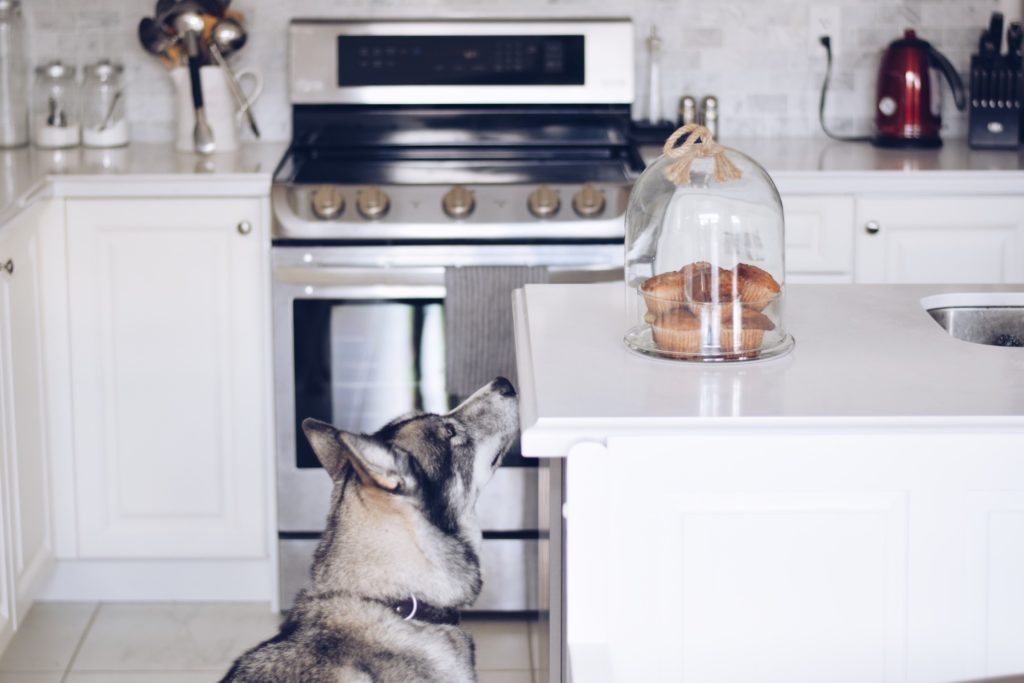 Why does this happen? With an entire home to enjoy (and couches and chairs to sit on), why does everyone opt to stand around the kitchen island like some adult version of ring-around-the-rosy?
[white_box]
Join our community
For access to insider ideas and information on the world of luxury, sign up for our Dandelion Chandelier newsletter. And see luxury in a new light.
sign up now >
[/white_box]
Somehow our strategies to lure people out of the kitchen and into the rest of the house never worked. So we have learned to embrace the fact that the kitchen is where the action is. It is the heart of our home.
But after cooking three meals a day during The Great Lockdown, we have to admit that our kitchen could use a refresh before we feel confident hosting again.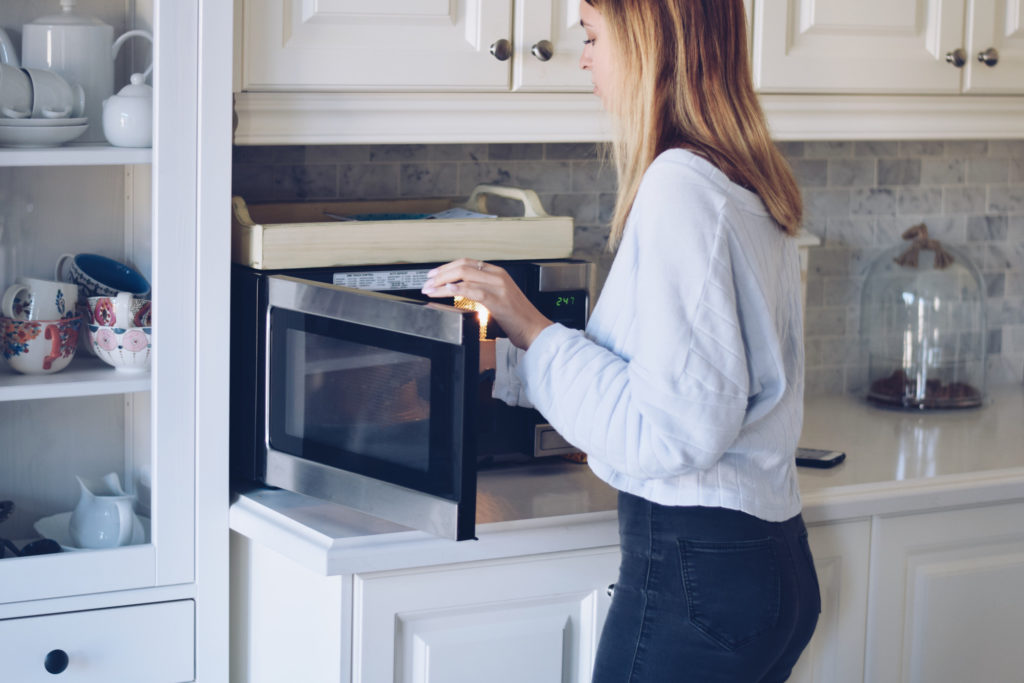 The problem? A kitchen renovation can easily be one of the most expensive you can undertake. And if you're renting in a standard builder-grade kitchen, there's little opportunity to customize, or to do any major structural change.
Luckily, we've come across a few easy upgrade ideas that won't cost you a year's worth of college tuition. And many of them can be temporary, so that you can change it up after a season or two.
Style inspiration for an easy luxury kitchen makeover
Here are the top 10 creative ways to make your kitchen even more luxurious without a major structural renovation.
1. Cabinetry
Dated kitchen cabinets can dominate (and degrade) the look of a kitchen. You can, of course, sand and repaint the facade of your existing cabinets. Another trendy update is taking out the upper cabinets altogether, and replacing them with open shelves for a minimalist Scandinavian-chic look. Inserting glass panels in cabinet doors can also create a lighter and airier kitchen.
Another clever idea we came across that even the most DIY-allergic person can do is to use gorgeous and eye-catching removable wallpaper to wrap around or behind the shelving. It creates a vibrant, colorful, mural-like effect. Shown below are swatches from Chasing Paper. We love the graphic quality of the Crossing Lines pattern for a city apartment – and the swirling Agate for a seaside retreat.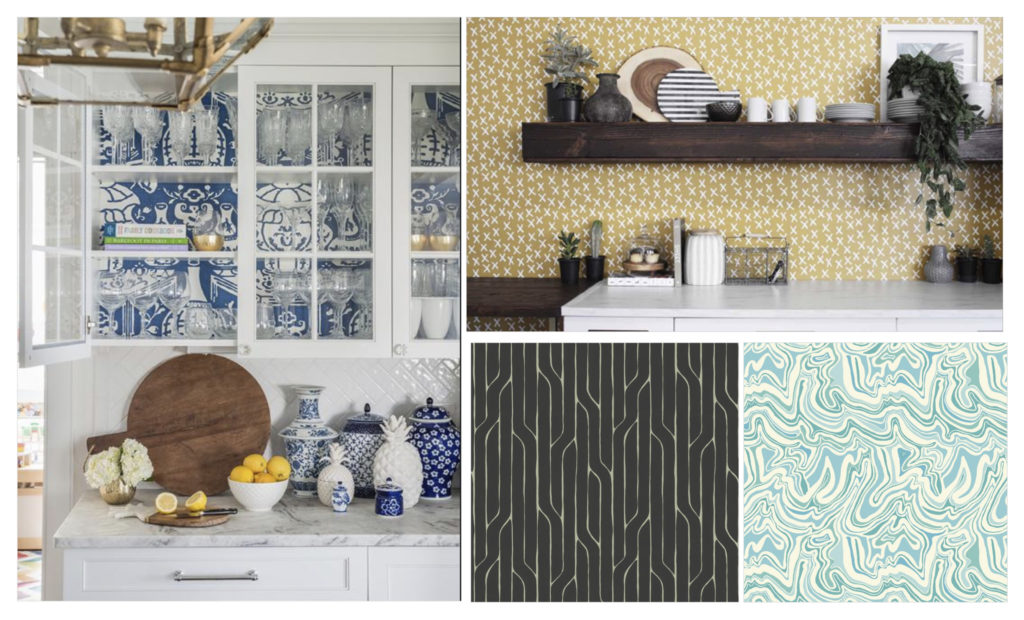 If your issue is that your current cabinets are fine, but just uninspiring, then check out these ready-made overlays. They allow users to add some texture and customization to flat door kitchen cabinet faces. They come in panels and strips featuring various shapes and designs that are lightweight, can be painted, and are easy to attach to furniture, doors, walls and even glass.
2. The Backsplash
We could search through the incalculable number of backsplash tiles options all day long. Vintage penny round, elegant Carrara marble or artistic, painted mosaics- we love them all.
And then there's the choice of grout color: which can make or break your entire look.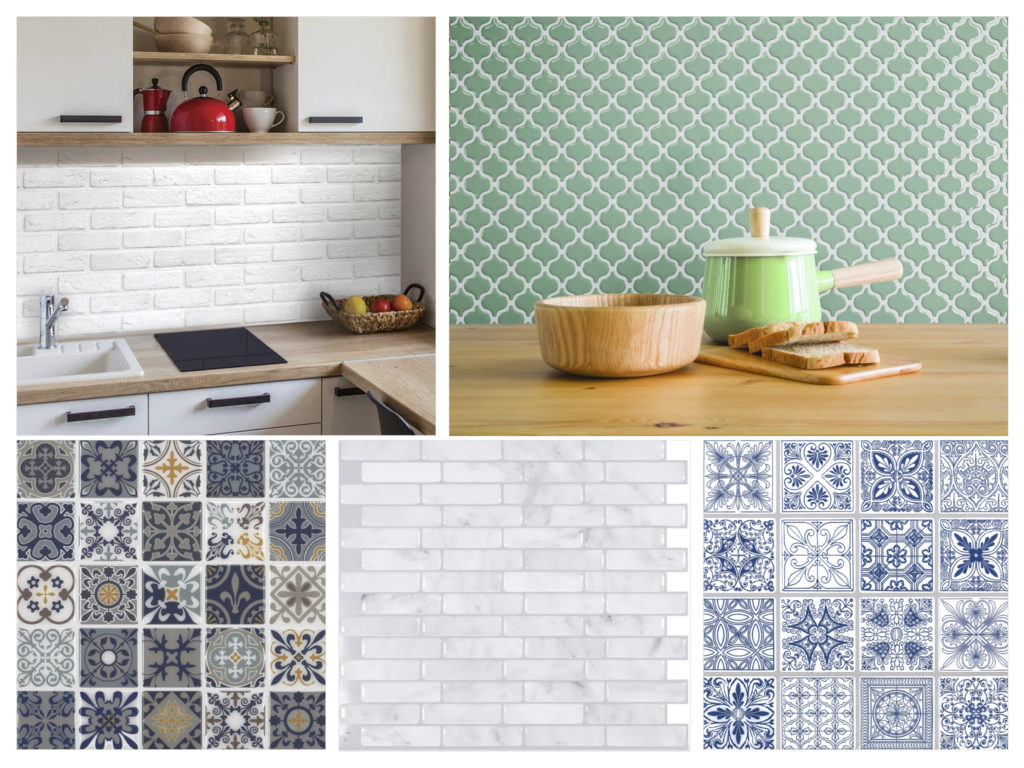 One of the upsides of having limited time, resources (and patience!) is that it cuts down on the tyranny of choice. These peel and stick-on tiles from Smart Tiles and Tic Tac Tiles actually work. And the best part is that you can go right back to using your kitchen without waiting through the inevitable renovation delays.
3. The Hardware
Can changing out knobs and pulls really make a difference? We think so! Think of it as being similar to the power of jewelry to complement an outfit. The right metal finishes can add instant luxury.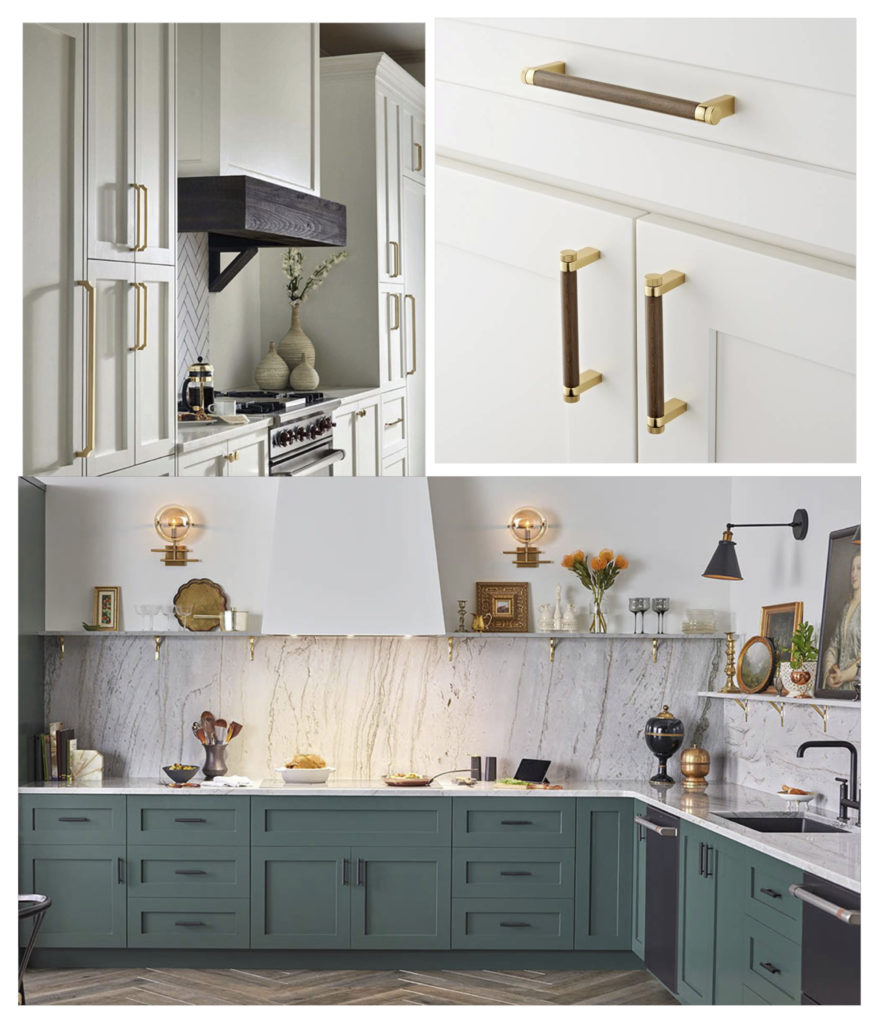 This year, we are seeing matte black metal hardware, oversized hardware and hardware using mixed materials like these from Rejuvenation and Build, as the biggest trends.
[white_box]
Related Post
How to Decorate With Luxury Plants, Prints, and Pillows
read more >
[/white_box]
4. Lighting
Lighting is one of the easiest and most stunning ways to upgrade a kitchen. It's a one-and-done purchase with no sanding, repainting or even peeling and sticking required.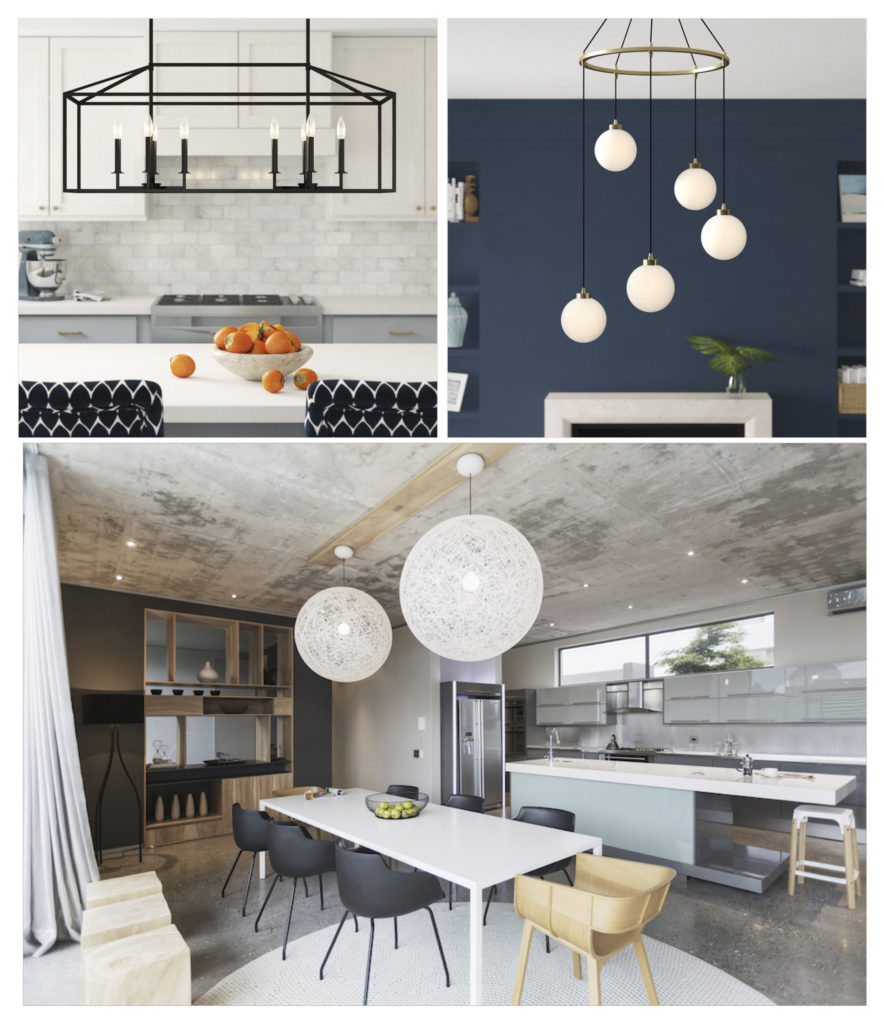 Aside from adding obvious illumination and warmth to the kitchen, it can be a source of texture, dimension, and movement. To make a statement, go with oversized globes. Or geo-shapes always look modern and chic. For a touch of whimsy, consider a cascade of light.
5. Colorful appliances
If you're in the market for a major appliance, consider making a bold color choice over the standard stainless steel to give your kitchen an instant point of view. Depending on the design and color, it can transform a bland kitchen into one with a retro country vibe, a chic European look or give it a sleek, contemporary finish.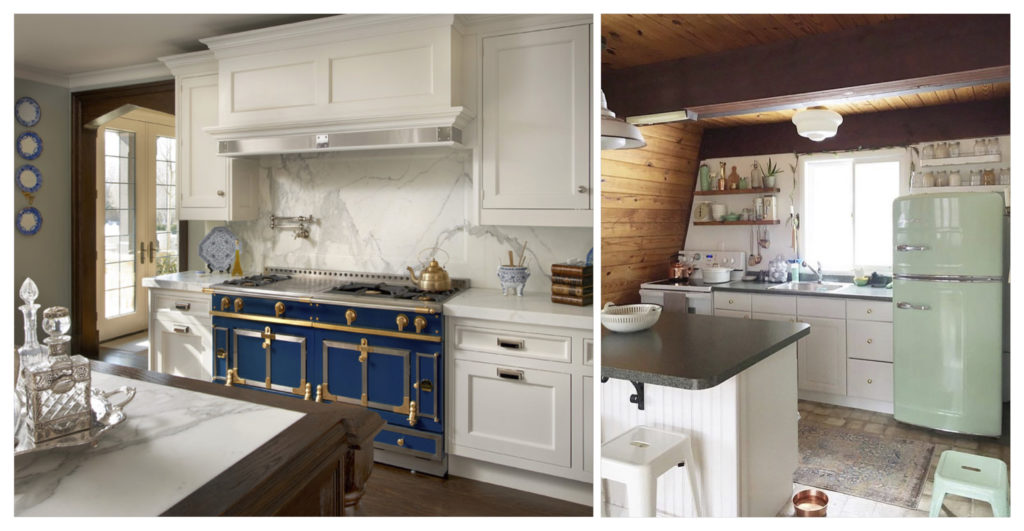 We're in love with these vintage inspired Smeg refrigerators and of course, will forever lust after the distinguished La Cornue stoves.
6. Statement Rug
Ugly floors? No problem. Just sweep it under a rug. Not only can they add beautiful pattern and color, but also, contribute to that warm, lived-in feeling. Still, not any rug will do.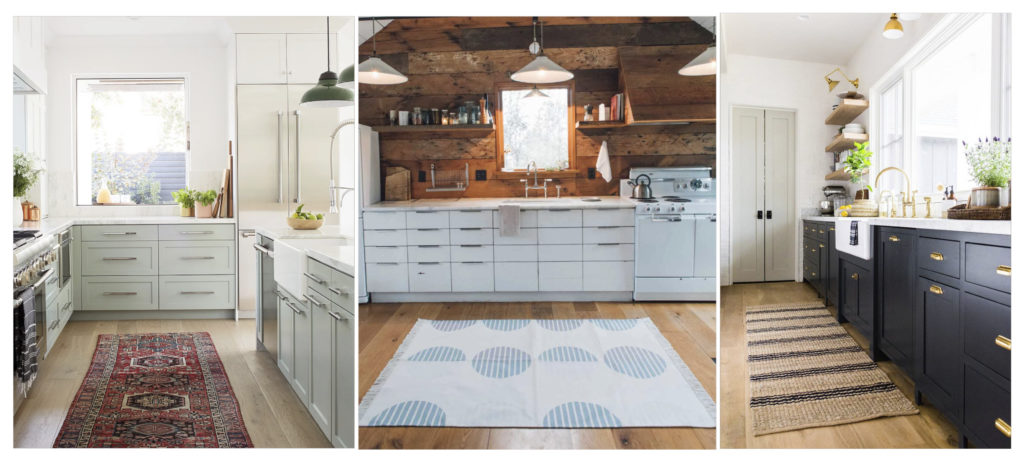 For this high-traffic and messy area, consider a vintage Kilim rug, flat weave dhurrie or jute which are durable, easy to clean and harder for people to trip on.
[white_box]
Related Post
How to Host the Perfect Outdoor Party at Your Home
read more >
[/white_box]
7. Seating
It's hard to change out a bulky table and counter top but switching out chairs can elevate the tabletop situation. A farmhouse table can instantly become chic with mid-century modern chairs. Or replace that matching dining set with a coordinated mix of padded, upholstered chairs and painted chairs for a casual and relaxed vibe.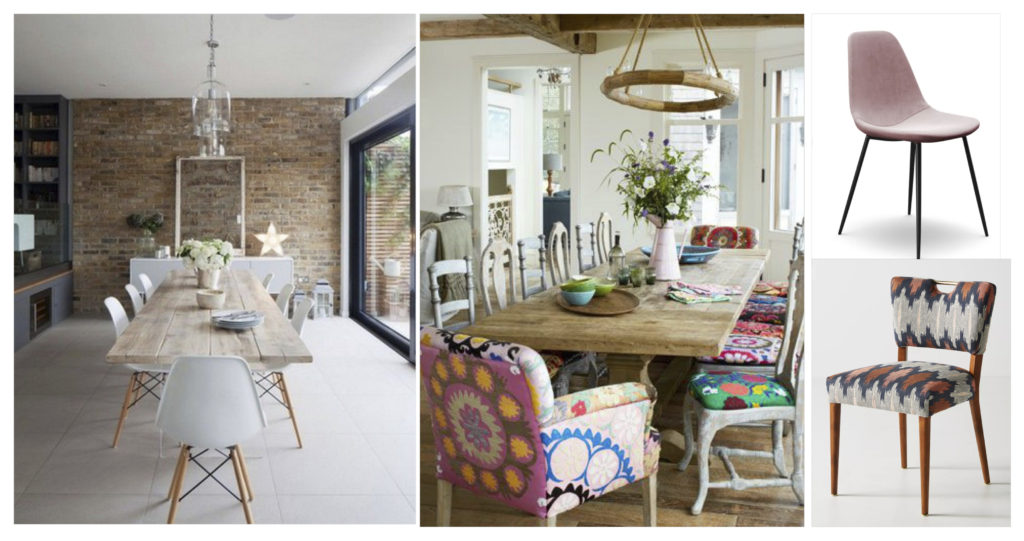 Drawing inspiration from these photos, we love this velvet upholstered chair in a modern silhouette which comes in five sophisticated shades or this textured dining chair that makes any kitchen more homey.
8. Plants
Paint the walls green…with plants. Taking inspiration from living walls and vertical gardens, there are many attractive displays for the average person to add greenery without, you know, constructing an elaborate irrigation system.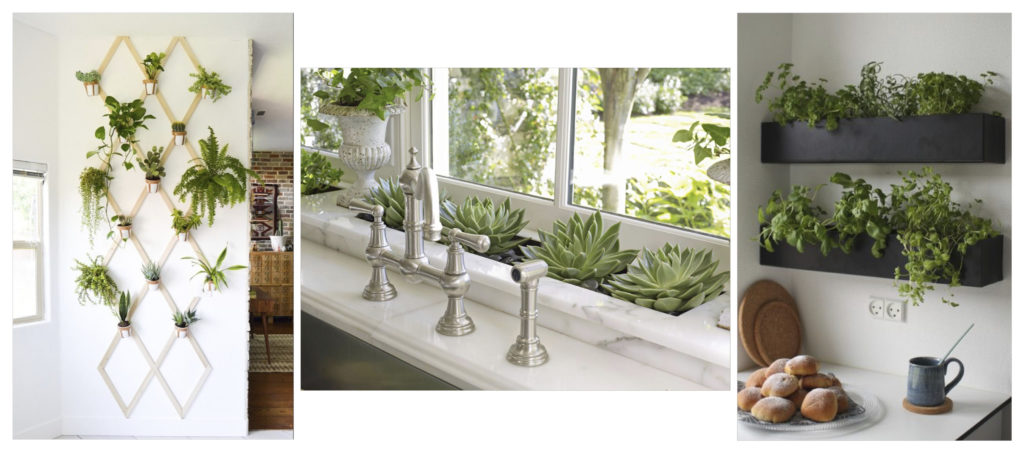 Consider it living and breathing, three-dimensional art for your walls. You can even go the faux route with this succulent wall planter from Pottery Barn.
9. Faucet
Professional looking faucets add style, credibility and functionality to a home kitchen. At the Kitchen & Bath Industry Show held in January in Las Vegas, every major brand presented "chef kitchen" style options, as well as those with smart features.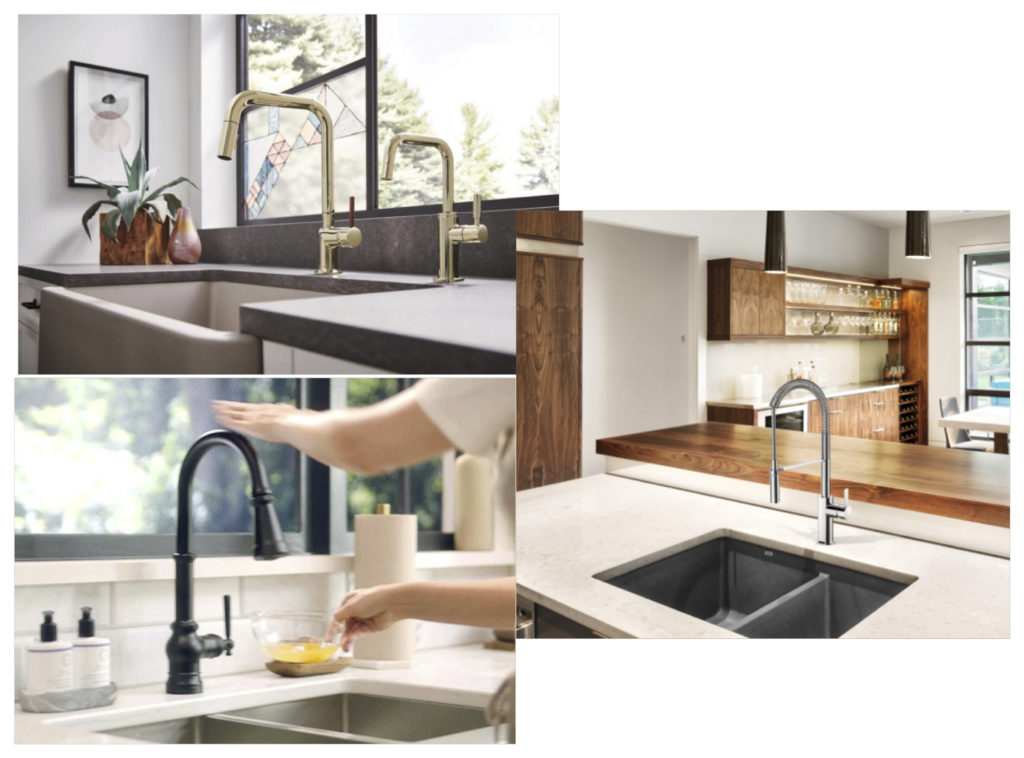 Users can interact with the faucet through voice commands to turn the faucet on or off or to dispense precise measurements and temperatures. Talk about an upgrade!
[white_box]
Related Post
Get Inspired With These Easy Luxury Home Bath Makeovers
read more >
[/white_box]
10. Art
With the popularity of open layouts, the kitchen has turned into a virtual extension of the living room. As such, it's time to rethink the place of artwork to make this functional space into an inviting one.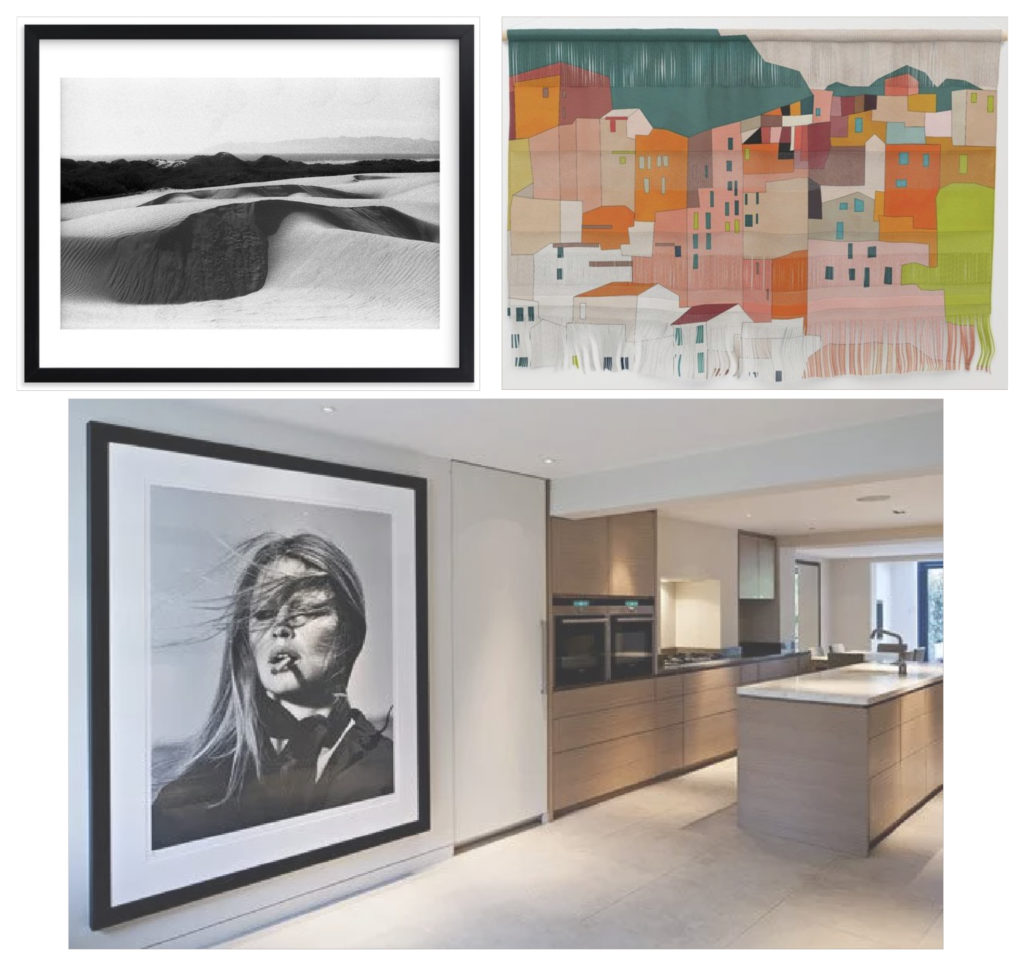 We especially love the use of oversized photography to bring a sense of modern luxury. Or even a textile, which can elevate any space by adding dimension and a natural element.
Style inspiration for an easy luxury kitchen makeover
There you have it! 10 ways to elevate your kitchen into a luxurious hangout without going through the headache of a renovation. What's next on your home improvement list?
join our community
For access to insider ideas and information on the world of luxury, sign up for our Dandelion Chandelier Newsletter here. And see luxury in a new light.
Crediting her training as a cultural anthropologist at Wellesley College, Julie has immersed herself in various industries in the last 15 years including fashion design, event planning, and fitness. Julie lives in New York where she loves trying every ramen and dumpling restaurant with her husband and three children. She finds joy in bold prints, biographies of fierce women, kickboxing. And spending way too long finding the perfect polish color to express her mood.