The Most Private Luxury Hotels and Resorts Right Now
All products are independently selected by our editors. If you buy something, we may earn an affiliate commission.
A private entrance and easy social distancing are the new infinity pool at luxury hotels and resorts. The must-have (or at least very highly desirable) guest amenity that could make all the difference in whether we feel good about booking a visit or not. Which luxury hotels and resorts provide the highest levels of privacy, social distance and open spaces for a COVID-19 era vacation? Our ace correspondent Jillian Tangen has the answers. Here are the most private luxury hotels and resorts in America right now.
separate entrances and social distance are the new top luxury hotel amenities
We are all well aware by now that summer vacation is going to be a lot different this year. Instead of big BBQ's, music festivals and trips overseas, summer 2020 is going to be all about staying closer to home; hygiene; social-distancing. And wide-open spaces.
[white_box]
Join our community
For access to insider ideas and information on the world of luxury, sign up for our Dandelion Chandelier newsletter. And see luxury in a new light.
sign up now >
[/white_box]
To help you navigate this new reality, we've already featured some of our most famous national parks, nature inspired journeys and the best road trip ideas . We've shared our favorite luxury destinations within driving distance. And we've even investigated how to rent a luxury RV.
For our next edition of Summer 2020 2.0, we investigated what some of the country's most luxurious hotels and resorts are offering to guests. And it turns out, this year the ultimate form of luxury is simple – extra privacy.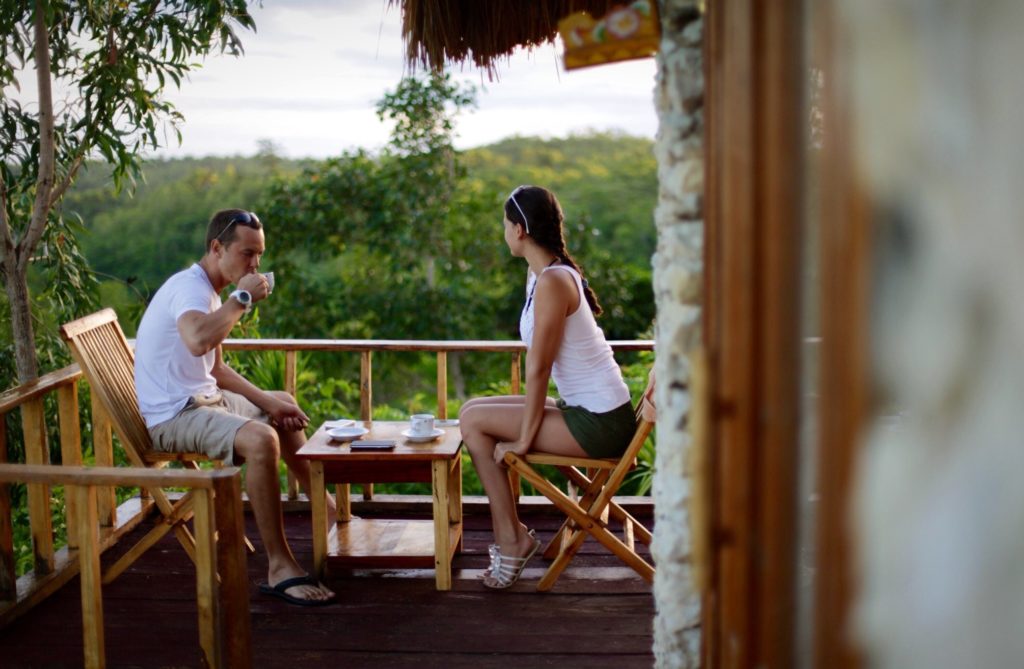 In addition to the standard 5-star fare like plunge pools, fine dining and of course, upgraded health and cleanliness programs, luxury hotels are offering guests even more seclusion than ever. There are options like buy-outs, private villas and residences, and new enclaves or extended grounds. All but ensuring guests have minimal to no contact with other guests.
what are the most private luxury hotels and resorts for a COVID-19 vacation?
From the Adirondacks to the hills of Santa Barbara, we found 12 luxury hotels across the US doing just that. So not only will you be able to get away, but also stay out of harm's way in the most glamorous manner available – privately.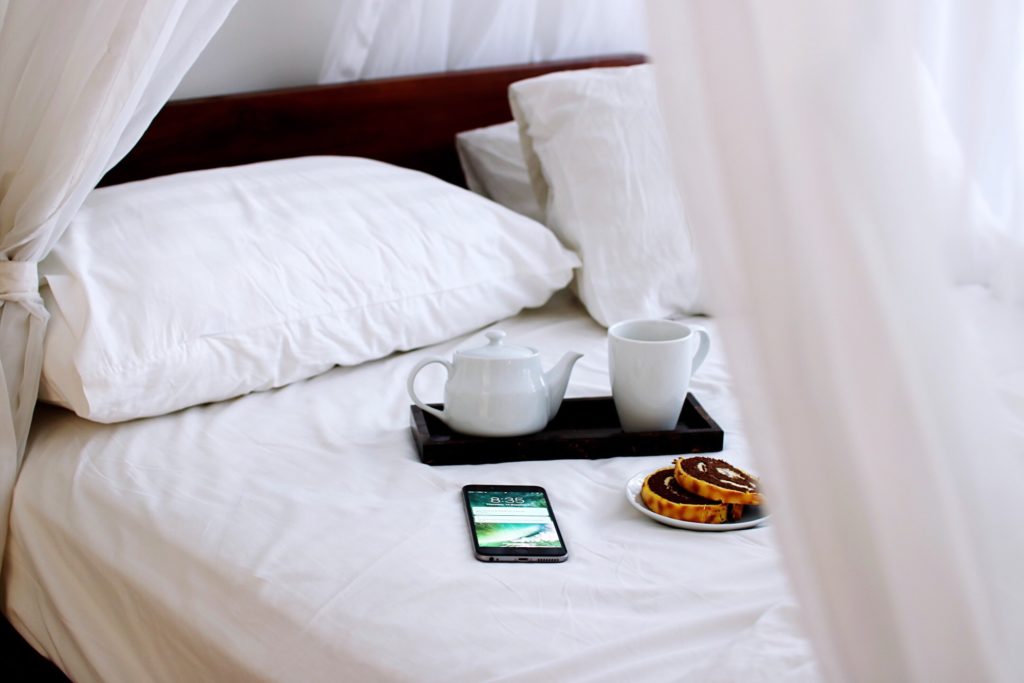 northeast
1. inns of aurora
Set in the scenic Finger Lakes area of upstate New York is the Inns of Aurora, a collection of five historic, centuries-old properties owned by American Girl founder Pleasant Rowland. In light of the current situation, the hotel is offering guests a chance to privately rent three of their five inns: E.B. Morgan House, with seven guestrooms; Rowland House, with 10 guestrooms; and the brand new Zabriskie House, with 11 guestrooms.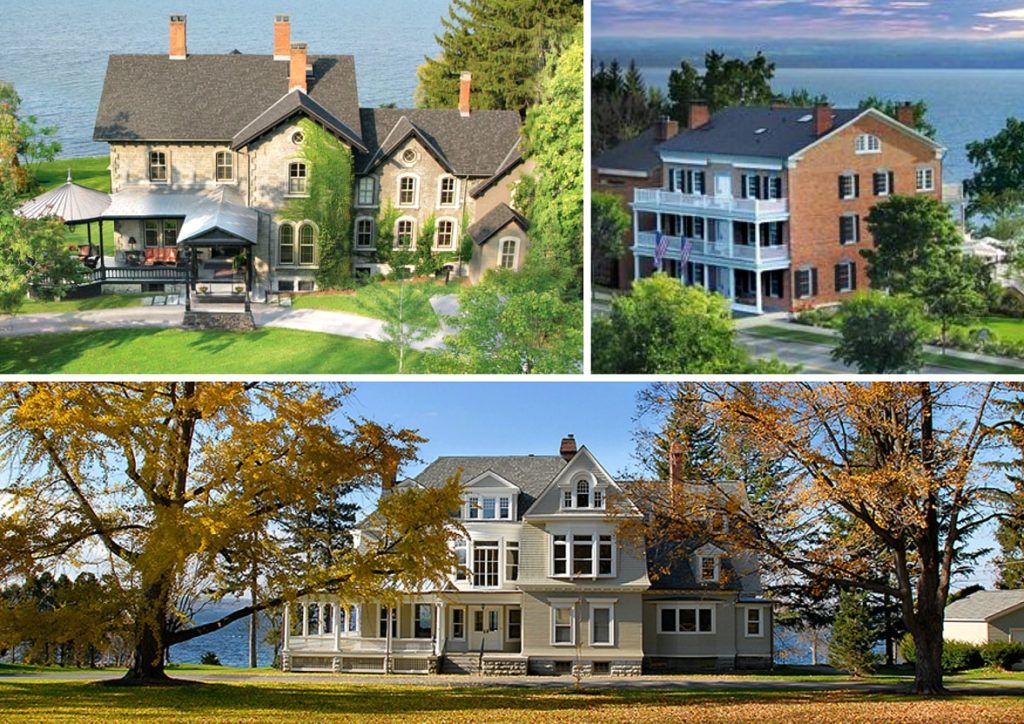 Each house comes with a private fire pit, lakefront area and dock access. You will have access to kayaks, paddleboards, yoga kits, lawn games, picnic blankets, binoculars, art kits and more. Guests can also opt for a pair of Hunter Boots to be placed in-room upon arrival and borrowed throughout their stay for activities. These activities include hiking and fishing with the resort's resident Outdoorsman.
[white_box]
Related Post
how to rent the perfect RV for vacation this summer
read more >
[/white_box]
2. the point
Originally built as a Great Camp for William Avery Rockefeller II, The Point is a luxurious lakefront estate in New York's Adirondack Mountains. As the first Relais & Chateaux property in the United States, the estate features just 11 rooms spread out around a Great House.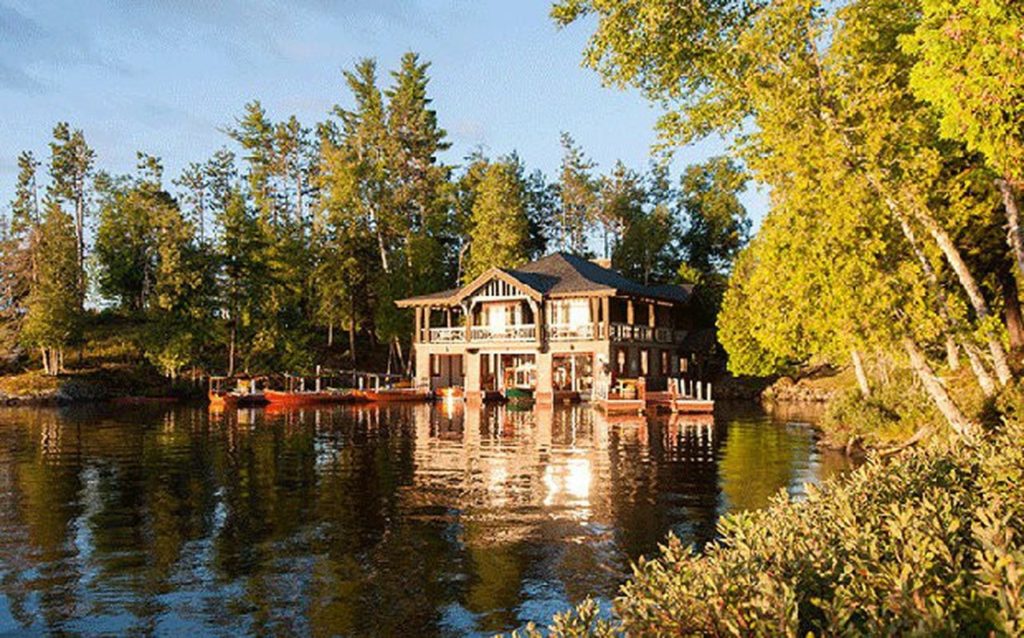 There is of course always the option to buy out the entire hotel. If you choose not to you will have no problem feeling as if you're the only ones here as you explore the 75-acre property. Spend your days canoeing, kayaking and hiking followed by private dining options throughout the resort.
3. the roundtree
For those who prefer the beach to the wilderness there is the brand new luxury hotel called The Roundtree in Amagansett. The property consists of 10 rooms and suites as well as five stand alone cottages. The private cottages, which range from one- to three-bedrooms, have separate living areas with gas fireplaces and private terraces. The three-bedroom cottage is the largest accommodation available. It is ideal for families thanks to its full kitchen, separate dining area, two full bathrooms and lofted third bedroom with two twin beds.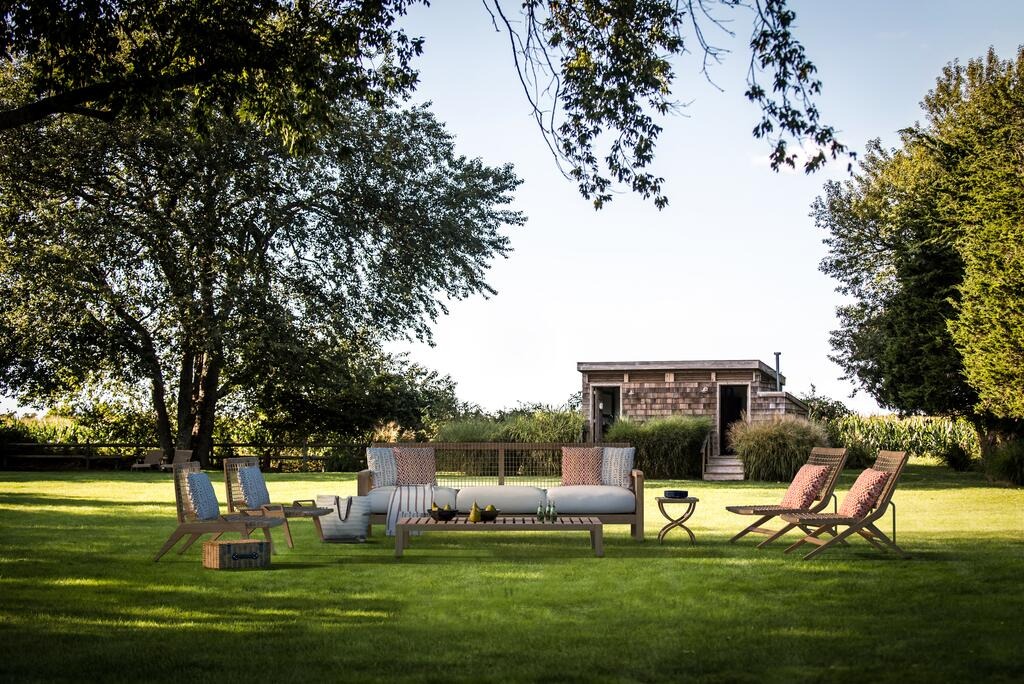 All rooms and cottages are outfitted with Frette linens, fluffy Matouk towels andGrown Alchemist bath products. There is complimentary minibars stocked with refreshing drinks and local snacks. And being just a mere one-mile away from the beach, they provide guests with adorable white cruiser bikes. It is perfect for pedaling your way there.
4. falling rock at nemacolin
Set on 2,000 acres in the Allegheny Mountains of Pennsylvania, Nemacolin Woodlands Resort is now offering just 40 guests an opportunity to restore, reset and relax in their own private oasis – complete with butlers and private activities. Once guests have made a reservation, their butler will be in contact to create a customized itinerary of sequestered activities. It can include anything from shooting clay targets during a one-on-one session at the resort's Shooting Academy, to watching movies solo in the resort's theater to having private use one of the resort's tennis courts, museums or shops.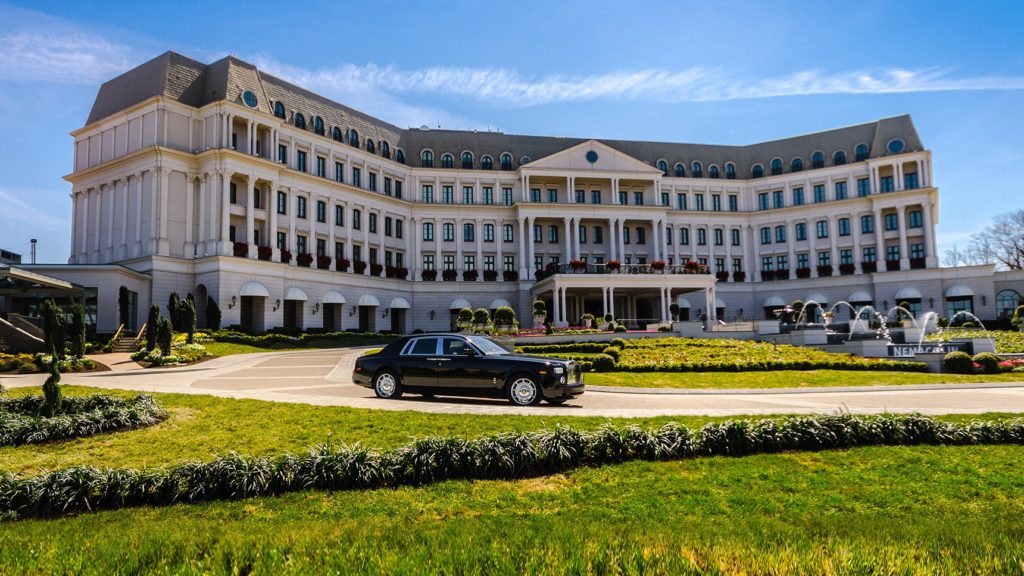 At arrival, Nemacolin guests will receive an amenity packet designed for the coronavirus era. It is complete with a mask, a bottle of hand sanitizer and a variety of sanitized snacks and drinks.
south
5. montage palmetto bluff
The Montage Palmetto Bluff is set within the 20,000 acre Palmetto Bluff community, surrounded by miles of riverfront, woodland and marshland offering guests easy access to activities like biking, boat rides, golf, walking under cover of ancient oak trees, and kayaking, canoeing or paddle boarding through bird sanctuaries.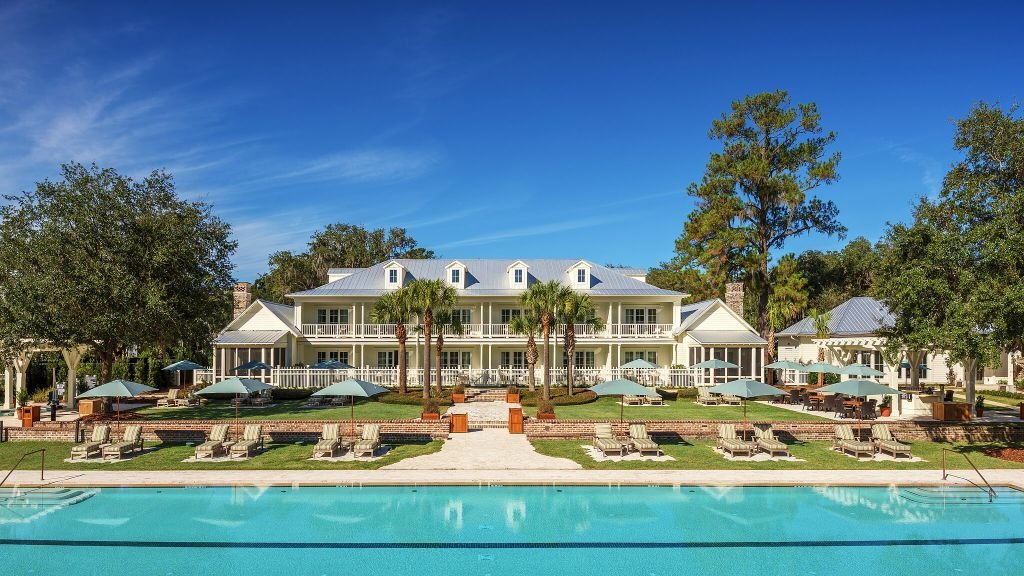 The resort is set up like a small town, making it ideal for guests who want to keep their distance. Accommodation options include two-bedroom resort cottages and larger private residences with two- to five-bedrooms. Both are fully-equipped kitchens and other facilities that make it easy to stay put.
6. little palm island resort & spa
Take your isolation to a private beach getaway. Located 29 miles from Key West, Florida's southernmost point, the 4-acre Little Palm Island Resort & Spa is a nature-lover's paradise, with sailing, snorkeling, skydiving, dolphin watching and ecotours all on tap.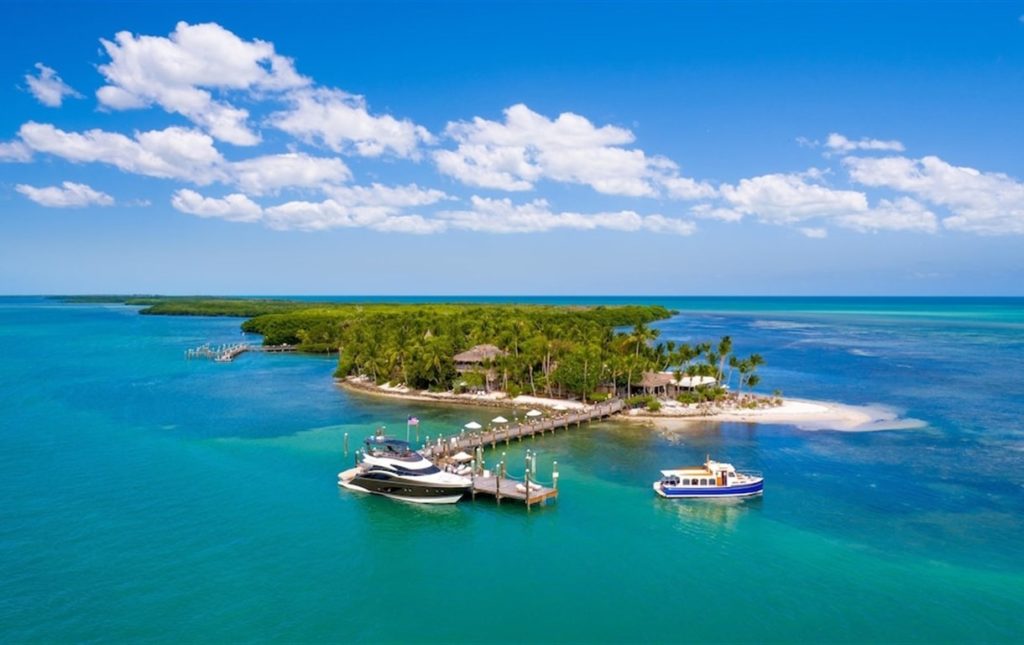 Guests can rent one of thirty private bungalows. They can also opt to have the entire island to themselves. These rates start at a cool $250,000 for a 3-night minimum stay.
[white_box]
Related Post
how to take a luxury vacation to the top national parks in the U.S.
read more >
[/white_box]
7. jl bar ranch, resort & spa
Texas Hill Country's, JL Bar Ranch, Resort & Spa in Sonora is a luxury destination with hiking, horseback riding and skeet shooting on 13,000 acres. With only 32 rooms, a new villa with butler service, home theater and room for 12 guests, the ranch provides plenty of diversion.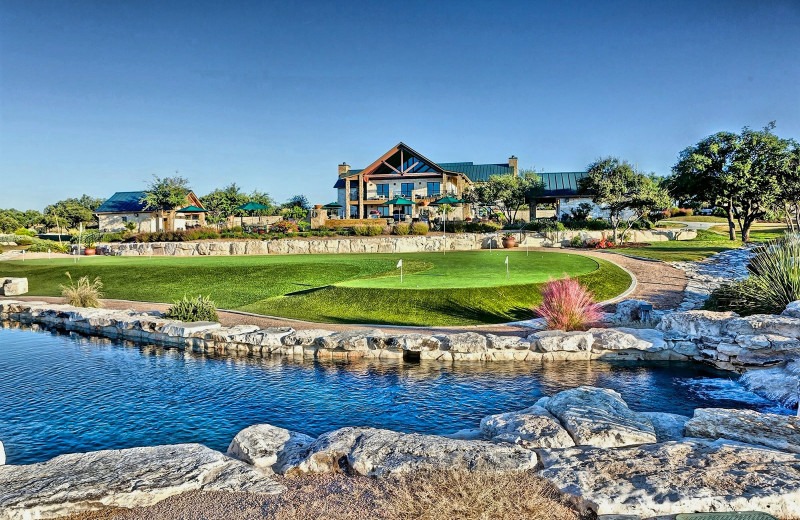 New this year on the ranch is Archer's Nest Villa. It is a six bedroom private home rimmed by a stand of 100 year-old live oak trees. It comes with a private butler, private pool, home theatre, gourmet kitchen (chef can be arranged), personal gardens and both indoor and outdoor dining rooms.
8. the lodge and cottages at primland
Escape to the 12,000 acre Lodge and Cottages at Primland. Located in southern Virginia's Blue Ridge Mountains it's not only remote and beautiful, but chock-full of activities. It will keep resort-goers from getting bored while social distancing.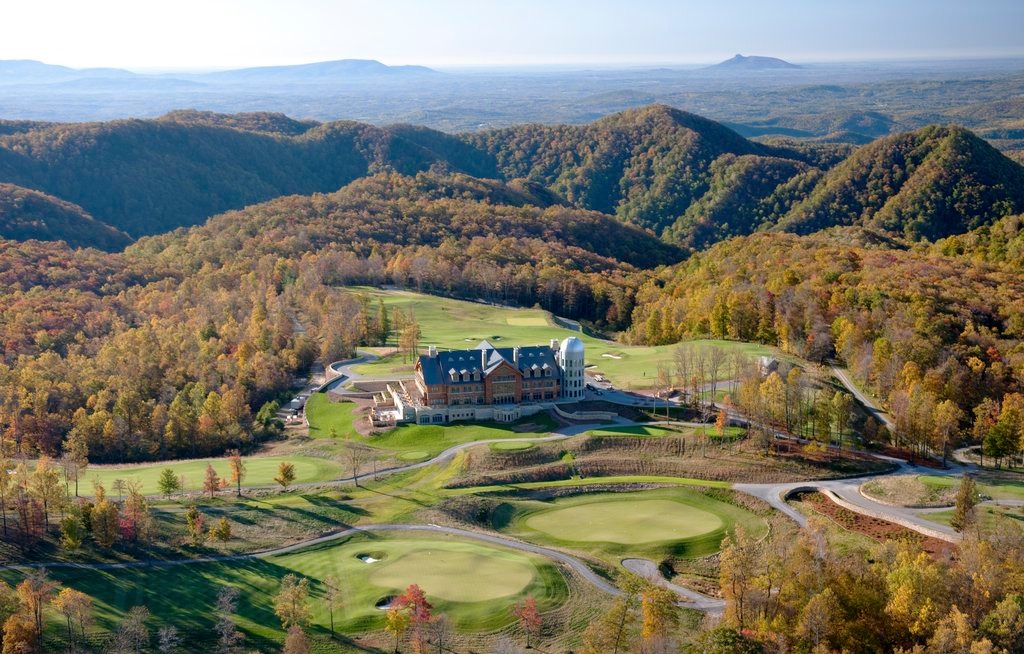 There's golf, sport-shooting, hiking on the Old Appalachian Trail, biking, archery, air rifle, horseback riding, fly-fishing, clay shooting, stargazing at the on-site observatory, tree-climbing and even tomahawk throwing.
west
9. the ranch at rock creek
Located in the heart of the Montana wilderness is The Ranch at Rock Creek, the only five-star guest ranch in Montana. The ranch offers an authentic 19th century Western homestead adventure coupled with lavish all-inclusive amenities across 29 different cabin/home options.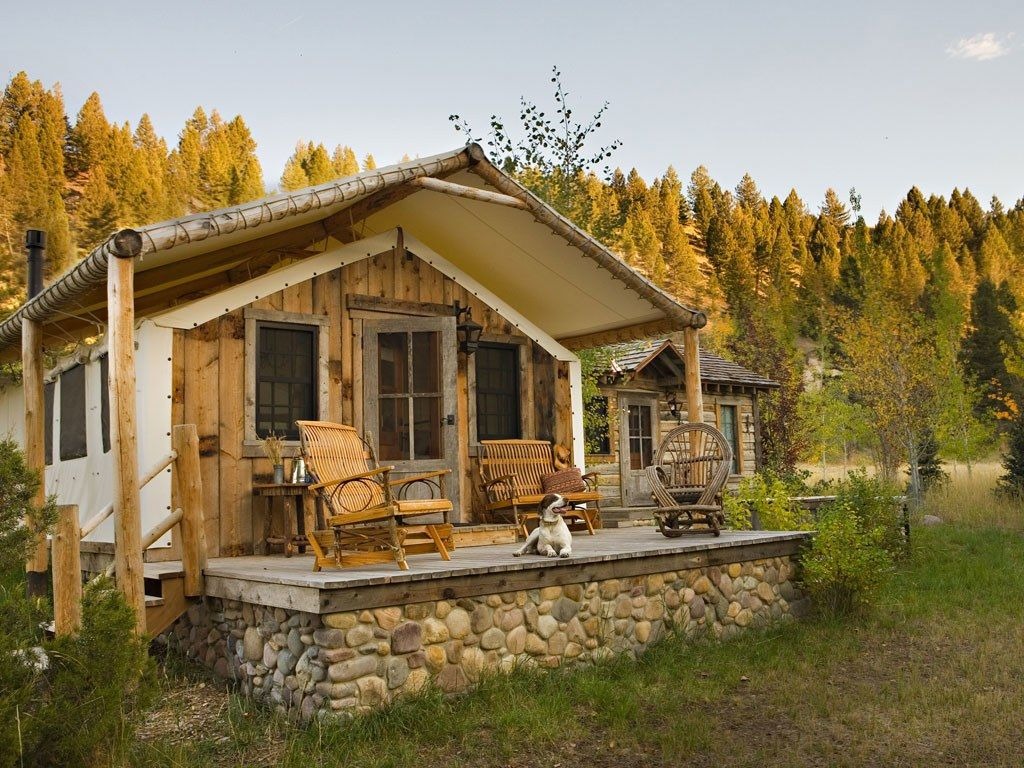 Among them is the Sweet Grass Cabin. It features two master suites. Each of which features a king bed, a claw foot bathtub, a private full bath and a gas stove, a kitchenette, dining table, wood-burning stove and an outdoor patio. Here you can relax to the sounds of nearby Rock Creek in a private cedar soaking tub. And depending on the season you will find fly fishing, sporting clay shooting, geocaching, hiking, biking, bowling, snowshoeing, and horse-drawn sleigh rides, ice skating, sledding and horseback riding to fill your time between soaks. Cowboy take me away, indeed.
10. camp sarika by amangiri
Camp Sarika by Amangiri opens July 1st with a camping experience sure to be unlike anything you've possibly ever experienced before. Nestled in the midst of 1,483 acres of wilderness in the middle of the Utah desert, the camp holds a maximum of 30 guests in 10 tented pavilions. You will have all that space nearly to yourself.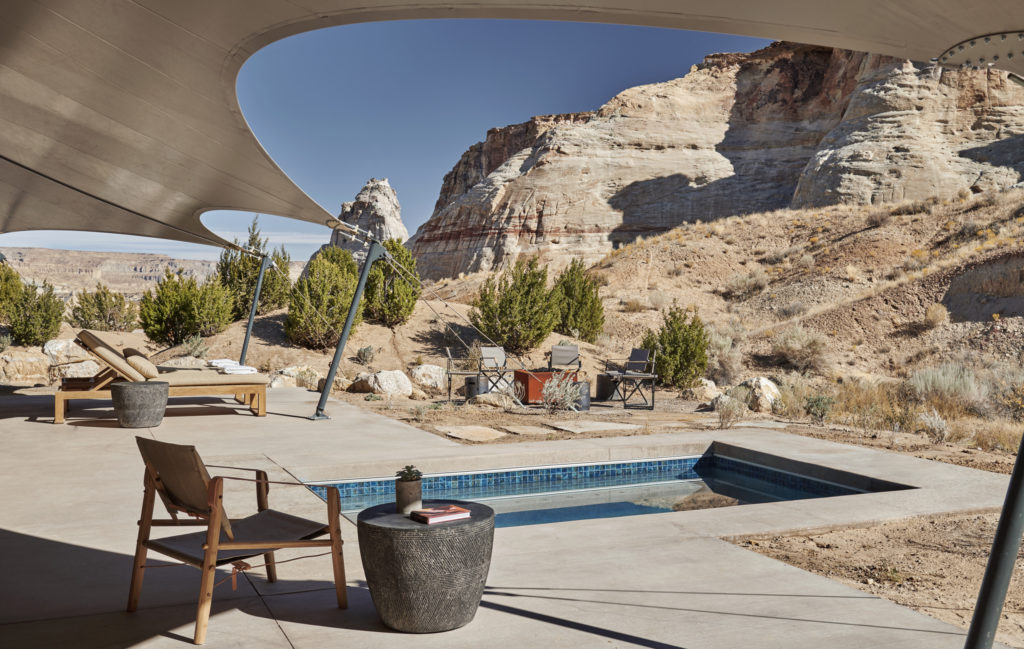 The encampment itself sits on 136 acres of land just a short 30 minute hike from its sister resort, Amangiri. The upscale tenets were designed by San Francisco- and Johannesburg-based international design and development services firm, Luxury Frontiers. Each comes with a private plunge pool and sun deck. Then there's of course the five nearby national parks including Zion, Grand Canyon, and Bryce. Here you can hike, try your hand at canyoneering or go horseback riding.
[white_box]
Related Post
the best chic weekend escapes within driving distance
read more >
[/white_box]
11. belmond el encanto
The historic Belmond El Ecanto in the Santa Barbara Hills will surely make you feel a world away this summer. The property provides seven pristine acres to spread out and enjoy along with several private bungalows for personal space.
For dining, they've arranged a socially distant al fresco dining room. There are large lounging spaces by the zero-edge pool which also help to maintain a comfortable distance. For activities there's plenty of options for hiking, as well as an option to charter a sailboat. You can also explore the world-famous Channel Islands National Park, or even try your hand at surfing at Rincon Point.
12. caldera house
Already a celebrity favorite, drawing such guests as Mandy Moore and Gigi Hadid, the eight suite Caldera House in Jackson Hole, Wyoming is set to reopen for guests June 25th. The hotel features four two-bedroom suites and four four-bedroom suites. It has two restaurants, a spa, fitness and yoga studios, and a kids' club.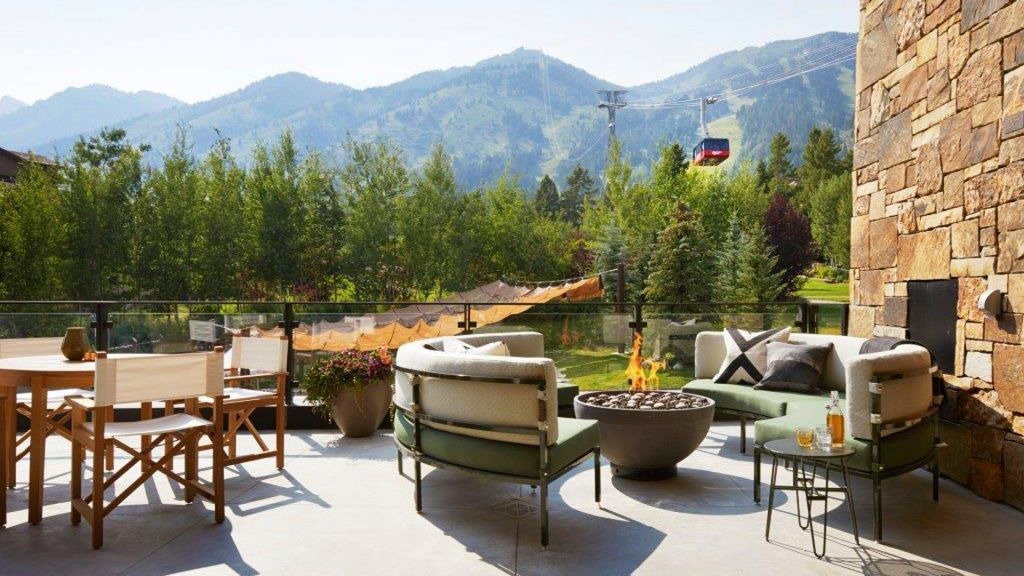 For those guests who opt to buyout the entire place (which, with additional beds, can sleep up to 60), they will receive roundtrip airport transfers. They will also receive a dedicated concierge and complimentary daily breakfast and snacks. And when you are ready to venture out, the team can arrange for things like zip lining or equestrian activities at Diamond Cross Ranch. Summer buy-out rates start at $26,000 per night.
There you have it – 12 luxury hotels and resorts across the US. Now you can enjoy Summer 2020 a little more privately. The only problem we see is choosing just one destination! Safe travels, dear readers.
join our community
For access to insider ideas and information on the world of luxury, sign up for our Dandelion Chandelier Newsletter here. And see luxury in a new light.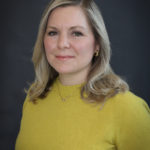 Jillian Tangen is the Head of Research at Dandelion Chandelier and a former Senior Research Analyst at McKinsey & Co and Analyst at Shearman & Sterling. She is an avid fan of Nordic design, having owned an independent lifestyle store and sales agency focused on emerging Scandinavian design. Jillian lives in New York and is married with three young children. She loves cross-country skiing, the New York Rangers, reading, travel and discovering new brands.