The New Luxury: Why Sneakers are Like Rare Works of Art
All products are independently selected by our editors. If you buy something, we may earn an affiliate commission.
Low is the new high in the world of modern luxury, and much of the thanks (or derision) for this phenomenon goes to the humble sneaker. The sports and leisure shoe has morphed from a utilitarian and affordable item of footwear into a prized collectible worthy of the attention of a high-end auction house. Why are vintage sneakers now being treated like prized works in the contemporary art market? High auction houses like Sotheby's and Christie's are holding vintage Air Jordan luxury sneaker sales this summer, as athletic shoes are quickly becoming the hot new collectible item. Luxury sneaker as collectible art? Watch your back, watches. They're coming for you.
the rise of luxury auction house vintage sneaker sales
This week, Artnet News announced that Christie's is entering the luxury sneaker game. The house will host an online auction, "Original Air: A Sale of Michael Jordan Game-Worn and Player Exclusive Sneaker Rarities" from July 30 to August 13, 2020.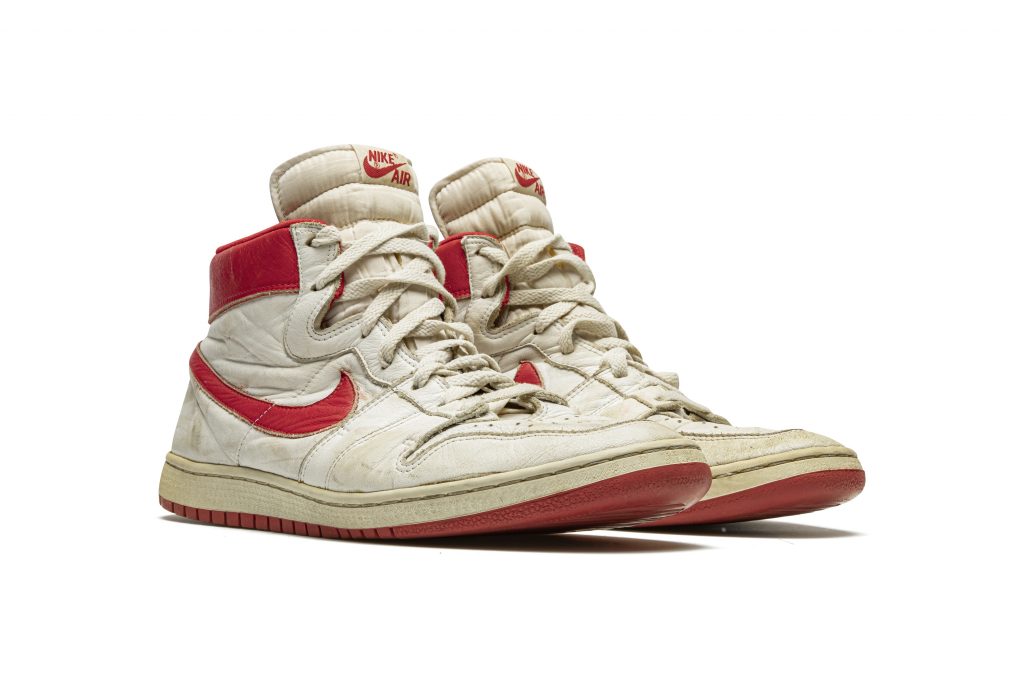 The sale will feature Michael Jordan game-worn kicks and other rare finds, and is a collaboration between the auction house and Stadium Goods (aka "Tiffany's for sneakerheads.)" A portion of the proceeds will be donated to the NAACP Legal Defense Fund.
The recent airing of The Last Dance, an ESPN documentary chronicling the last season of Jordan's career with the Chicago Bulls – and the scheduled return of the NBA on the same date as the start of the online auction – make this feel like a flash in the pan happening. You know, just another entertainment-sports-luxury-commerce Thing that will soon be forgotten.
[white_box]
Join our community
For access to insider ideas and information on the world of luxury, sign up for our Dandelion Chandelier newsletter. And see luxury in a new light.
sign up now >
[/white_box]
As much as it may appear to be a one-off harmonic convergence, actually the High Luxury Sneaker Auction is quickly becoming a permanent element of the luxury landscape.
Until now, rival auction house Sotheby's has been the sole player in this space (no pun intended). The house held its own sale of Jordan's shoes earlier this summer. Collector Jordan Geller parted with a pair of autographed and game-worn Nike Air Jordans from 1985. The final sale price was $560,000, a new record for the category.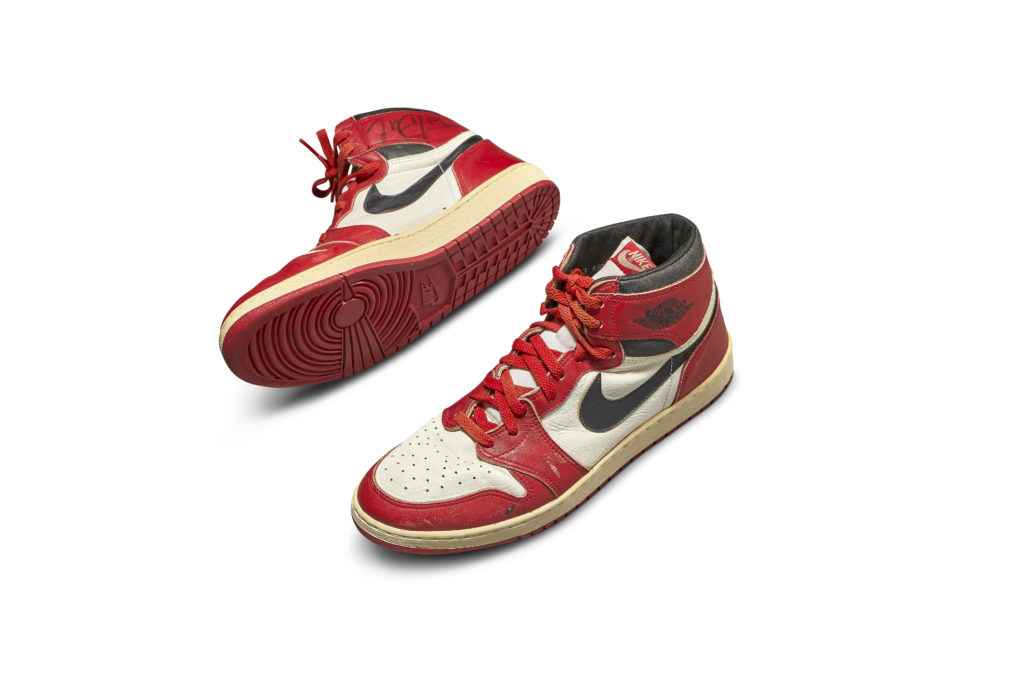 Novices should note that the Air Jordan is the O.G. of expensive and rare signature sneakers, making them particularly valuable. Their success in the late 1980's paved the way for subsequent successful launches from stars like Kobe Bryant and LeBron James.
The single-lot sale of the shoes earlier this year followed Sotheby's debut sneaker auction in July 2019, which featured a pair of rare Nike "Moon Shoes." They fetched $437,500 at auction, at that time a world record in the category.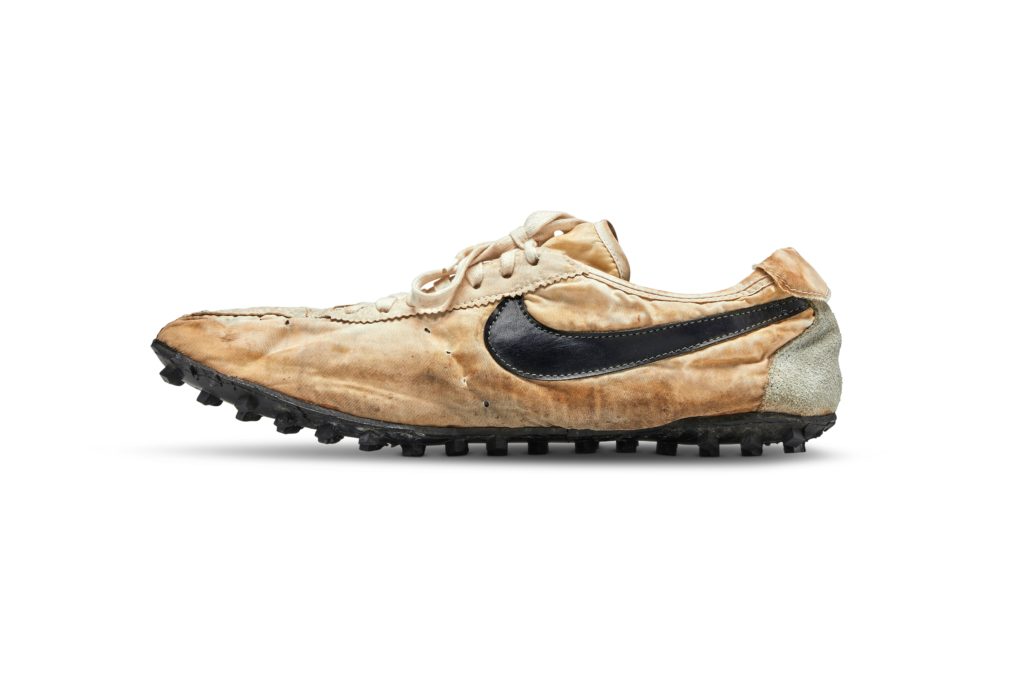 Ahead of that online sale, Canadian entrepreneur Miles S. Nadal purchased 99 of the 100 pairs on offer for $850,000. Stadium Goods also helped source the items for that sale.
[white_box]
Related Post
what you need to know about expensive luxury sneakers
read more >
[/white_box]
Sneakers were also featured in Sotheby's spring 2020 sale in Hong Kong, NIGOGOLDENEYE, where two pairs of "BAPE x KAWS" sneakers, estimated at $125 to $190, soared to a final price just under $16,000.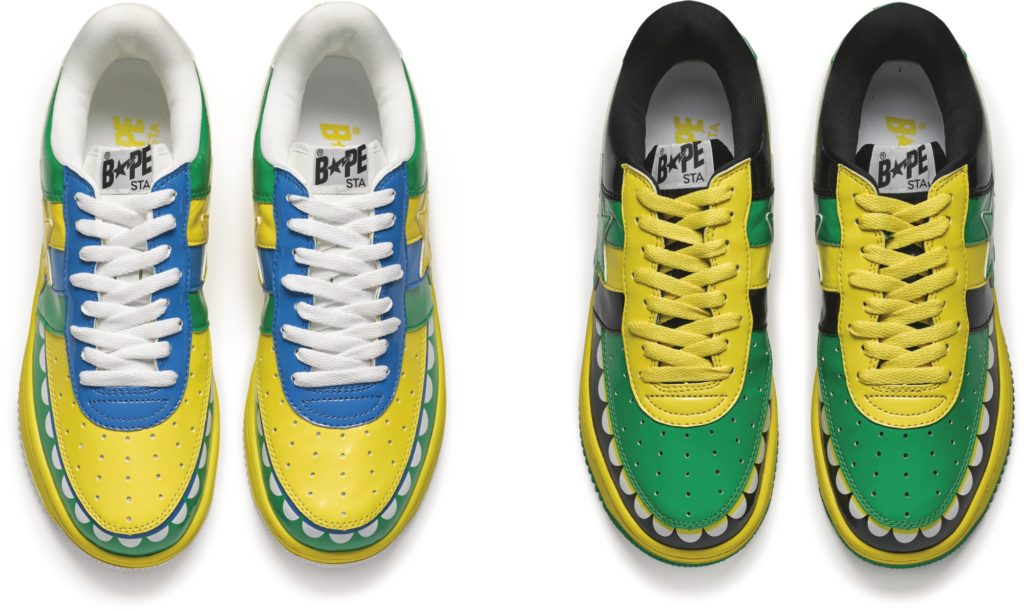 Sotheby's revealed that 17-year-old Vancouver collector Carson Guo was the buyer of a complete archive of 248 skateboard decks produced by the streetwear brand Supreme. Guo purchased the set at Sotheby's New York for $800,000.
original air
"Original Air" features 11 lots, including the Nike Air Ship, MJ Player Exclusive (1984) game-worn high-tops that carry an estimate of $350,000 to $550,000. As Jordan preferred, the left shoe is a size 13.5, and the right shoe is a size 13.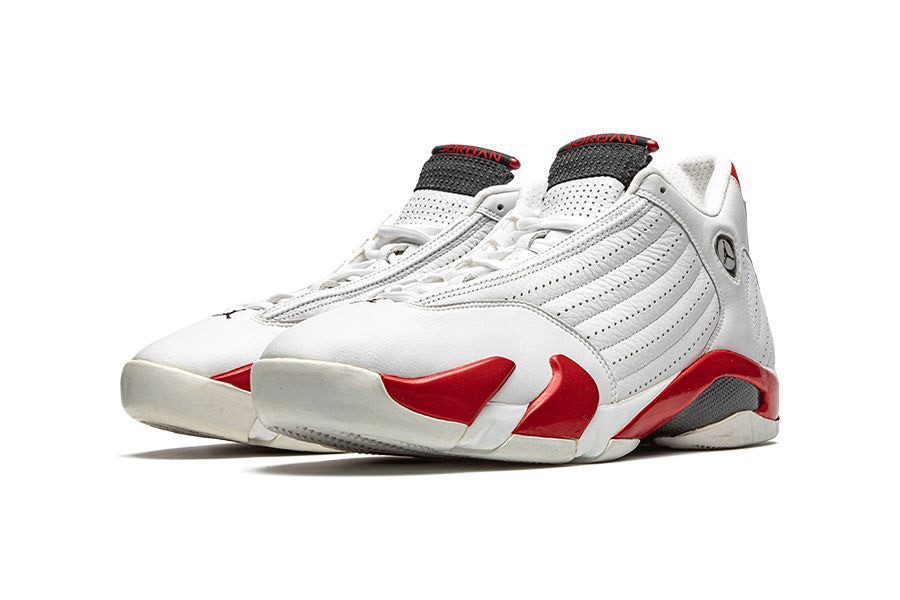 Another of the lots in this sale is the Air Jordan 14 "Chicago" (1998) mid-top shoes that Jordan wore during practice in his final season with the team. Featuring his number 23 stitched on the back alongside the MJ slam-dunk icon, they have an estimated price of $6,000-8,000.
[white_box]
Related Post
the favorite sneaker of the rich and powerful
read more >
[/white_box]
Original Air won't have the stage completely to itself. Hypebeast reports that Gotta Have Rock and Roll is hosting an online auction for another rare pair of Air Jordans starting July 22, 2020.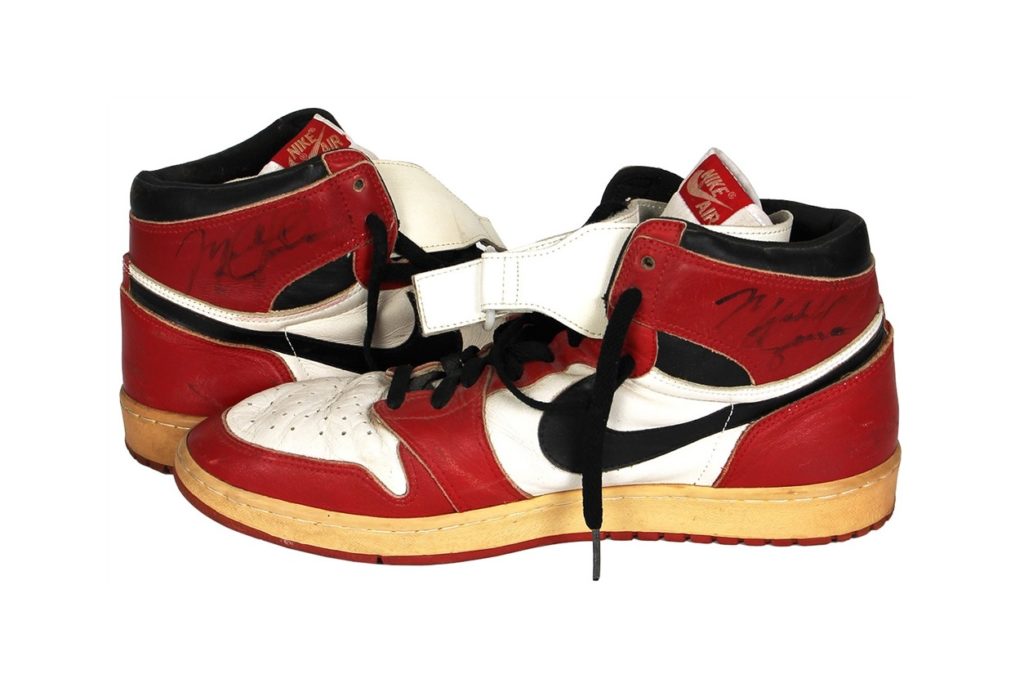 This pair is notable because the modified shoes were worn only by MJ himself. Specially made for Jordan after he fractured his foot in the third game of the 1985-86 NBA season, this model was never released to the public. Given the record-breaking price from the Sotheby's auction, the final price on this pair is expected to far exceed the $100,000 estimate.
[white_box]
Related Post
who are the best-dressed NBA players right now?
read more >
[/white_box]
not just sneakers
While sneakers are the stars, there are also some more traditional works on auction as part of this event. In conjunction with "Original Air," Christie's is hosting two other athletic-themed sales.
"The Athlete: Images by Walter Iooss, Jr" features exclusive images from decades of the artist's work photographing athletes. "Gamechangers" includes work by a range of artists – from Andy Warhol to Jonas Wood – who have used sports as a subject. Those sales will run online from July 23 through August 14, 2020
the luxury sneaker as collectible contemporary art
While the auction house reports that 70% of the bidders in the spring sneaker auction were new to Sotheby's, the house also reports that the interest in rare and vintage sneakers comes from a wider base of buyers than you might suspect. In addition to young, plugged-in consumers in the U.S., China and Japan, the auction house notes that there's also an avid fan base in London and Paris. It turns out that there is a great deal of interest in sneakers from rare car collectors.
Artnet News surmises that the future of luxury auctions – at least until the COVID-19 ends – is going to be all about collectibles that don't require in-person viewing. And that appeal to digitally-savvy consumers. Sneakers, meet jewelry, watches, coins, rare books and detritus from outer space. The future of contemporary art sales may be on a shelf, not on a wall.
join our community
For access to insider ideas and information on the world of luxury, sign up for our Dandelion Chandelier Newsletter here. And see luxury in a new light.