Sure, Opening Day turned out to be Opening Night. And yes, there will be only 60 games. But baseball season is finally here! Take that, coronavirus! Our correspondents Vincent and Michael Thomas, a father-son team of avid and knowledgeable baseball fans, are sharing their annual preview of the Major League Baseball (MLB) season. Here's what you need to know on 10 key 2020 topics so that you can join the baseball conversation (even if it's on Zoom instead of at the water cooler). Our annual guide to how to talk Major League Baseball (MLB) like an expert this 2020 season, which is going to be like none other. Batter up!
Author's Note: In order to recognize the limitations imposed on the 2020 Major League Baseball season as a result of the COVID-19 pandemic, we wrote this blog post in 37% of the usual time, and with no fans present.
the mlb 2020 season has finally started
Major League Baseball commenced its 2020 season on Thursday, July 23, four months later than planned, because of the COVID-19 pandemic.
[white_box]
Join our community
For access to insider ideas and information on the world of luxury, sign up for our Dandelion Chandelier newsletter. And see luxury in a new light.
sign up now >
[/white_box]
For those of us who love the game, any MLB Opening Day (or Night) is a cause for celebration. It's also a perfect excuse to talk about baseball at social gatherings (at six feet or more of physical distance, while wearing a nose and mouth covering, of course.)
What You Need to Know About Baseball's 2020 Season
Are you ready to discuss the 2020 MLB baseball season with the fans in your life? Are you open to the possibility of your team being in the pennant race becoming a welcome respite from the challenges of the pandemic, even if you aren't usually a baseball fan? If so, then read on.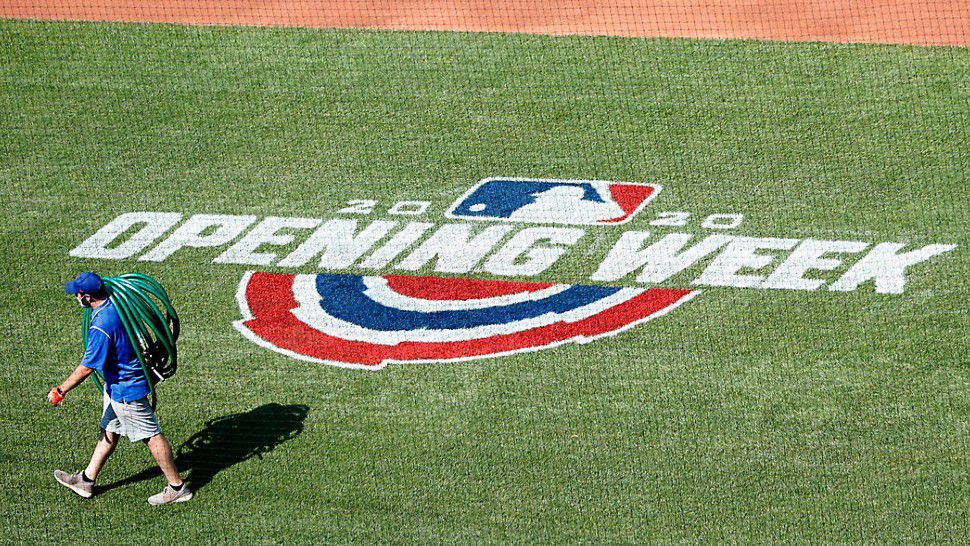 To help you prepare, we present our third annual list of ten Opening Day conversation topics. Because MLB implemented several one-time only changes for its shortened 2020 season, we begin with a chart (consider it a crib sheet) of what's different this year:
2019
2020
Number of Games
162
60
Number of Players Per Team (Roster Size)
40
60
Maximum Number of Players Per Team for Any Game
25
30 first two weeks; 28 next two weeks; 26 the rest of the season
Opponents
All teams in a team's league, plus inter-league games against selected teams from the other league
Only teams from the same division and the corresponding division of the other league.

(example: the New York Yankees will only play teams from the American League East and the National League East)

Designated Hitter Rule in effect
American League games and inter-league games hosted by American League teams
All games
In-Person Attendance by Fans
The more the merrier!
No fans allowed
Extra Innings
Start each extra inning as any other inning
Start each extra inning with a runner on second base
how to talk about baseball like an expert this season
1. Which teams will qualify for the playoffs? Who's going to win the World Series?
If there's any silver lining to a short season, it is that more teams have a chance to make the playoffs. A team that goes on a six-game winning streak in 2020 will have won ten percent of its games for the season.
Talent, however, still matters. The New York Yankees, Minnesota Twins, Houston Astros, Tampa Bay Rays, Los Angeles Angels, and Oakland Athletics are the best American League teams.
The Atlanta Braves, St. Louis Cardinals, Los Angeles Dodgers, Washington Nationals, and Philadelphia Phillies are the best National League teams. The consensus among professional baseball commentators is that the Dodgers and the Yankees are baseball's two most talented teams. We agree.
[white_box]
Related Post
you need to see these amazing sports championship rings
read more >
[/white_box]
2. Which teams are good "upset" picks to qualify for the playoffs or advance in the playoffs?
These teams have rosters with sufficient talent to exceed expectations and make the playoffs. In the American League: the Chicago White Sox. In the National League: the Cincinnati Reds. Both teams have bolstered their rosters through off-season acquisitions and blossoming younger players.
The Athletics and Rays are teams from small markets with low payrolls who are perfectly capable of upsetting the Yankees and Astros in the American League playoffs. In the National League, a short season and the presence of Christian Yelich makes the small-market Milwaukee Brewers a threat to the elites.
3. Which teams made the best moves during the off-season?
The Dodgers acquired right fielder Mookie Betts and starting pitcher David Price from the Red Sox. Two-thirds of the Dodgers starting outfield (Betts and centerfielder Cody Bellinger) will be players who have won the Most Valuable Player Award.
The Yankees signed Astros starting pitcher Gerrit Cole as free agent, adding one of the game's very best starting pitchers. And weakening its top rival for the American League Championship in one fell swoop.
The Angels signed Nationals third baseman Anthony Rendon as a free agent, adding a third star to the stellar Mike Trout-Shohei Ohtani duo it already had. The Twins signed Braves third baseman Josh Donaldson as a free agent, adding another home run hitter to a roster that set the MLB record for most home runs by a team in a season in 2019. The White Sox, Braves, and Reds didn't acquire any of the biggest stars, but added several very good players to their rosters.
[white_box]
Related Post
the best books about sports and athletes right now
read more >
[/white_box]
4. Who's not playing because of the pandemic?
MLB allowed players and coaches with concerns for their health because of the pandemic to opt out of playing this season.
Pitchers David Price (Dodgers) and Michael Kopech (White Sox), and position players Buster Posey (San Francisco Giants,) Ian Desmond (Colorado Rockies,) and Ryan Zimmerman (Nationals) are on the list of well-known players who chose to opt out.
5. I heard someone talking about Yeonis Cespedes playing for the New York Mets. I completely forgot about him!
With the extended off-season, it's even more likely that players who missed the entire 2019 season because of injury have disappeared from fans' radar screens. So some may not recall the Mets slugger Yeonis Cespedes.
Happily for Mets fans, at the season opener against the Atlanta Braves, playing in his first game since July 2018, Cespedes became the first designated hitter in Major League Baseball history to hit a home run in a regular season game between two National League teams.
In addition to Mr. Cespedes of the Mets, the following star players will be returning from long absences: Luis Severino and Miguel Andujar, Yankees. Dellin Betances, formerly of the Yankees (now with the Mets). Lance McCullers, Jr., Astros. Salvador Perez, Kansas City Royals. And Michael Fulmer, Detroit Tigers.
6. Who's operating under new management?
By choice:
The Philadelphia Phillies, disappointed (to put it mildly) about failing to qualify for the 2019 playoffs after adding Bryce Harper and several other expensive veterans to their roster, fired manager Gabe Kapler and hired former Yankees manager Joe Girardi to succeed him.
Mr. Kapler landed on his feet by becoming the new manager of the San Francisco Giants. The Angels chose Chicago Cubs manager Joe Maddon to succeed Brad Ausmus. The Cubs, in turn, chose recently retired Cubs catcher David Ross to succeed Mr. Maddon. The Royals (Mike Matheny,) San Diego Padres (Jayce Tingler,) and Pittsburgh Pirates (Derek Shelton) also chose new managers.
Involuntarily:
On New Year's Day, the Astros, Boston Red Sox, and Mets planned to start the season with A.J. Hinch, Alex Cora, and Carlos Beltran, respectively, as their managers.
All of that changed on January 21 when MLB Commissioner Rob Manfred announced that the investigation into the Astros alleged cheating during the 2017 season had resulted in admissions by Astros players that they used electronic devices to steal the hand signs their opponents' catchers used to call pitches. Allowing them to notify their own hitters what pitch to expect.
Mr. Hinch, the Astros 2017 manager; Mr. Cora, who served as an Astros coach in 2017; and Mr. Beltran, who played for the Astros in 2017, were all directly implicated. MLB suspended Mr. Hinch, and the Astros hired former Nationals manager Dusty Baker to succeed him. Mr. Cora and Mr. Beltran "mutually agreed" with the Red Sox and Mets that they could not continue in their roles, and resigned. The Red Sox hired Ron Roenicke to succeed Mr. Cora. The Mets hired Luis Rojas to succeed Mr. Beltran.
[white_box]
Related Post
a luxury fashion insider takes on the new NFL uniforms
read more >
[/white_box]
7. Are you still angry about the Astros having cheated while winning the 2017 World Series?
In a word? Yes!
And we suspect that we are not alone in this feeling. However, the opprobrium the team receives from fans is likely to be muted due to the circumstances unique to this season. The decision to play games with no fans in attendance means that the Astros will play their entire 2020 season without ever appearing in person before any fans who could criticize them for their dishonesty.
Astros position players will, however, face angry opposing pitchers as hitters. Will opposing pitchers who faced the Astros three years ago deliberately try to hit the Astros who are holdovers from the 2017 team as revenge? Stay tuned.
8. Who are the rookie players we should be excited about?
It's always exciting to find out whether a promising young player is as good as advertised -especially if he's on your favorite team.
In the American League, keep an eye on Jesus Lazardo (Athletics); Luis Robert (White Sox); Jo Adell (Angels); and Evan White (Mariners). In the National League, follow Gavin Lux (Dodgers); Carter Kieboom (Nationals); MacKenzie Gore (San Diego Padres); and Dylan Carlson (Cardinals).
9. Will there ever be (labor) peace on (MLB) earth?
The pandemic gave MLB (management) and the Major League Baseball Players Association (labor) the opportunity to work together to devise a solution that would benefit both management and labor by planning a shortened schedule in lieu of a completely canceled season.
They couldn't do it.
MLB unilaterally acted last month to establish the 60-game schedule and the concomitant rules and operations changes listed above. The Players Association, in turn, filed a grievance with the National Labor Relations Board that accused MLB of failing to negotiate in good faith. The current Collective Bargaining Agreement between MLB and the Players Association expires at the end of the 2021 season. This summer's events don't inspire confidence that management and labor will easily agree on a new one.
[white_box]
Related Post
great new books about baseball
read more >
[/white_box]
10. It's already late July, and my favorite team isn't that good. Why should I follow them?
Because the pandemic caused Minor League Baseball to cancel its season, and because MLB teams can carry 60 players on their rosters, several teams will likely carry promising players who would otherwise have spent the entire season in the minor leagues on their major league rosters. Weaker teams may decide to use this season's games to give their best minor league players their only opportunity to play in live games all summer.
Consequently, fans of the Tigers (Casey Mize,) Seattle Mariners (Jarred Kelenic, via trade from the Mets,) Baltimore Orioles (Adley Rutschman,) and Miami Marlins (Max Meyer) may get to see their teams' high draft picks from 2018, 2019, and 2020 appear in MLB games for the first time this summer, sooner than expected.
Red Sox fans will be pleasantly surprised at the talent of Alex Verdugo, the young outfielder acquired from the Dodgers in the Mookie Betts trade. And their team still has a young star in third baseman Rafael Devers.
Cleveland Indians fans still have shortstop Francisco Lindor and a great starting pitching staff. Cubs fans can't sunbathe in the Wrigley Field bleachers, but any team that has infielders Kris Bryant, Javier Baez, and Anthony Rizzo in its lineup is worthy of attention. The Toronto Blue Jays and the Padres both have several highly promising young players on their teams who made their debuts in 2019.
Our World Series Predictions
Vincent: Dodgers over Yankees. Michael: Dodgers over Rays.
What You Need to Know About Baseball's 2020 Season
The four months between the date that the MLB season was originally scheduled to start (March 26) and the date it finally did start (July 23) have been difficult for lots of people in lots of ways, to say the least. Almost everyone has lost something or someone as a result of the coronavirus pandemic.
The start of the MLB season gives us all a chance to recover at least a little something that, up until now, has been lost to the pandemic: the chance to take a temporary break from our cares and concerns for three hours at the sound of two words: Play ball!
Enjoy the season – and stay safe and healthy out there.
join our community
For access to insider ideas and information on the world of luxury, sign up for our Dandelion Chandelier Newsletter here. And see luxury in a new light.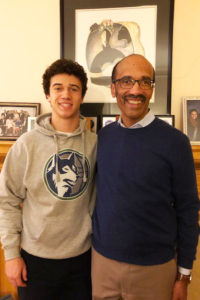 Vincent Thomas is a community college academic dean, a former practicing attorney, and the brother of Dandelion Chandelier founder Pamela Thomas-Graham. He lives in Minneapolis, Minnesota. His favorite Major League Baseball team is the Detroit Tigers.
Michael Thomas is a rising junior at The College of Wooster in Wooster, Ohio; an Economics major and Spanish minor; and the nephew of Dandelion Chandelier founder Pamela Thomas-Graham. His favorite Major League Baseball team is the Chicago Cubs.