How to Send the Gift of a Luxurious Sunflower Bouquet
All products are independently selected by our editors. If you buy something, we may earn an affiliate commission.
It's sunflower season! And it hasn't come a moment too soon. Lots of people need a pick-me-up right now, and how better to raise someone's spirits than with a gorgeous sunflower bouquet? Like, does anyone not like sunflowers? They're the perfect embodiment of summer and fall. But where can we find the best luxury bouquets of sunflowers to send right now as a gift? Our ace correspondent Jillian Tangen has everything you need to know about how to send the gift of a luxurious sunflower bouquet by mail with no hassle at all.
everything you need to know about sunflowers
'Tis the season of blooming sunflowers. Between late summer and early fall each year, these beautiful golden blossoms spring up across the United States.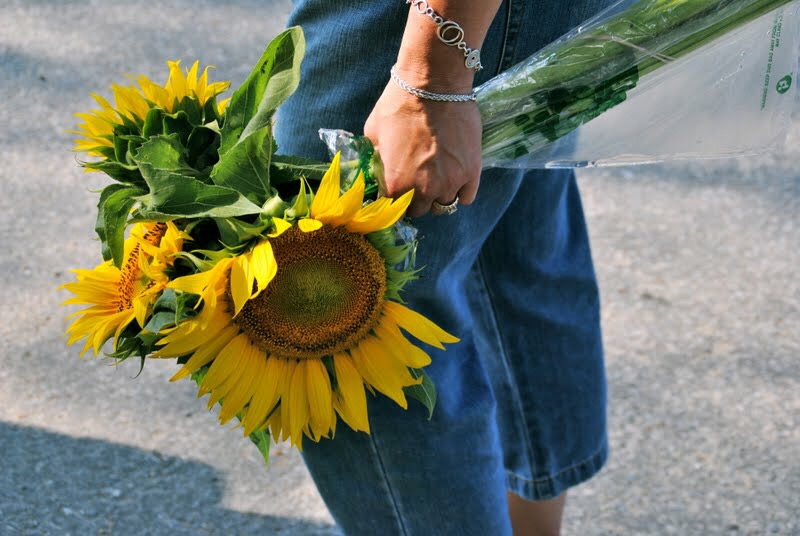 Native to the Americas, the sunflower was domesticated around 1000 B.C. Even way back then, people were able to see not only the beauty, but also value in growing sunflowers.
[white_box]
Join our community
For access to insider ideas and information on the world of luxury, sign up for our Dandelion Chandelier newsletter. And see luxury in a new light.
sign up now >
[/white_box]
Do they come in colors other than yellow?There are about 70 species of sunflowers. Annual sunflowers have been bred to grow beyond the standard sunny yellow blooms, with a new range of colors from golden yellow and orange to ruby red, bronze and even white.
While the most common varieties are similar to the traditional bright and cheery common sunflower we all know and love, they can also take a variety of shapes. The "goldie" sunflower, for example, looks a lot like those chic puffball accessories that everyone's been attaching to their handbags recently.
Fun fact: each sunflower is actually thousands of teeny flowers. The iconic yellow petals and brown centers are actually individual flowers themselves with as many as 2,000 making up the classic bloom.
[white_box]
Related Post
Can the Best Luxury Faux Flowers Actually Look Real?
read more >
[/white_box]
What do these bold blooms symbolize? Sunflowers have taken on a lot of meanings through the years. They imply a long life since most varieties stand in full bloom for months on end during the hottest days of summer. They also represent loyalty and strength thanks to their solid and upright stems that stand as high as 10 feet tall (the world record is just over 30 feet) and symbolize nourishment to others since they produce an abundance of edible seeds for both humans and animals alike.
Sunflowers are considered bright, cheerful and positive – and for good reason, they always face the sun. In fact, the French word for sunflower is "tournesol," which means "turns with the sun."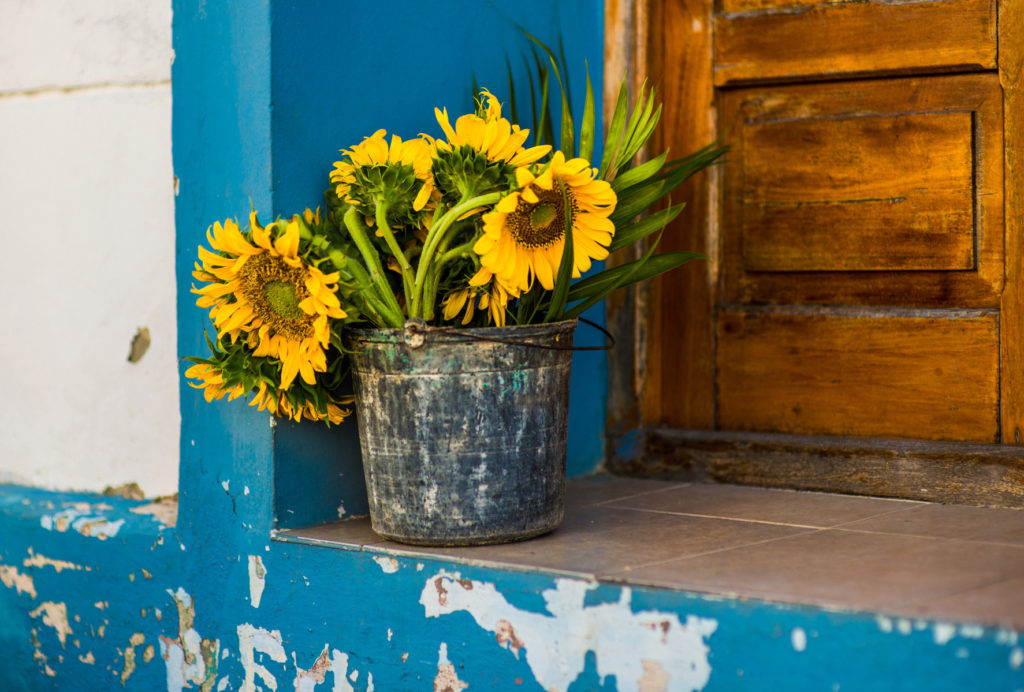 How well do they hold up if given as a gift? Because of their vibrant yellow and orange petals, sunflowers are considered happy occasion flowers, making them the perfect gift to bring joy to someone's (or even your own) day. And they are relatively long lasting too. Cut sunflowers can last anywhere from 6 to 12 days.
how to send the gift of a luxurious sunflower bouquet
If you're ready to send a luxurious sunflower bouquet as a gift, here are our top picks for the florists who can make it happen seamlessly.
1. urban stems
Urban Stems offers 7 arrangements featuring sunflowers this season. We love The Leo ($75)
with vivid sunflowers and limonium ruscus nestled in a chic gold vase.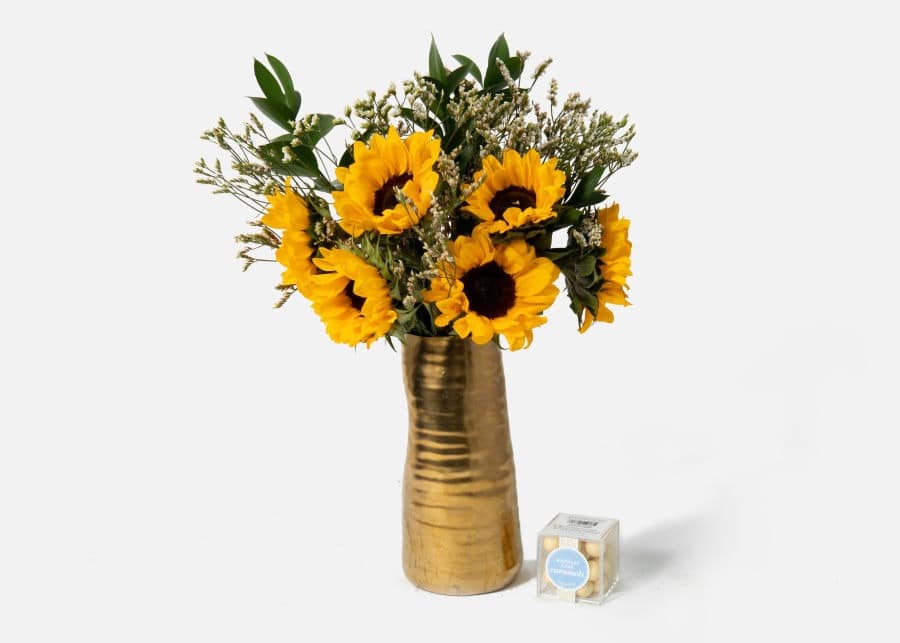 BUY NOW – $75
2. sunflower guy
The Sunflower Guy specializes solely in sunflower arrangements, offering 10 options created from the nearly 500,000 sunflowers grown in their Northern California farm. Our pick is the simple California Sunshine ($40) arrangement.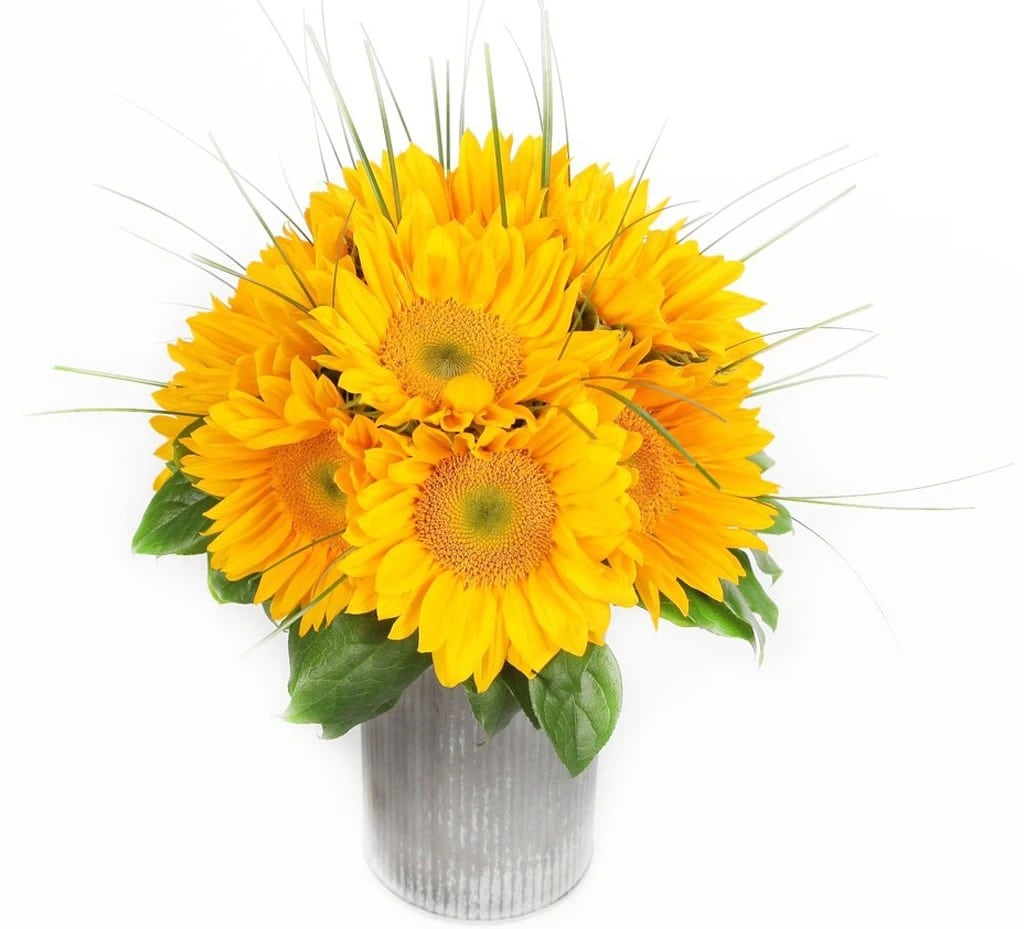 BUY NOW – $40
3. the bouqs co
The Bouqs Co. partners with sustainable farms committed to growing "farm-to-table" flowers. Amongst the 7 sunflower focused offerings you will find the company's Picnic Arrangement ($64) which features a vibrant mix of lavender alstroemeria, yellow sunflower and pink and peach roses. It's the perfect accessory for, well, your next picnic of course!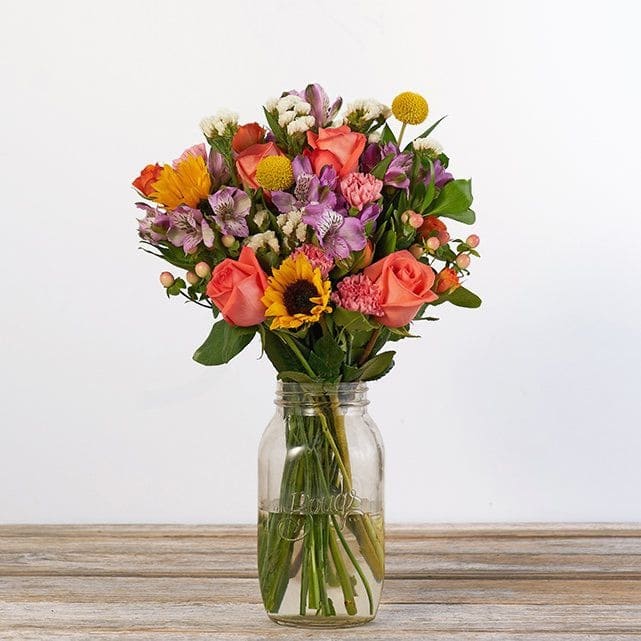 BUY NOW – $64
[white_box]
Related Post
Say it With Flowers in the Most Beautiful Luxury Prints
read more >
[/white_box]
4. floom
Floom can deliver a Sprinkle of Sunshine ($129) with same-day and next-day delivery across the UK and selected US cities, including New York City, Los Angeles, San Francisco, San Diego, Chicago, Houston and Boston.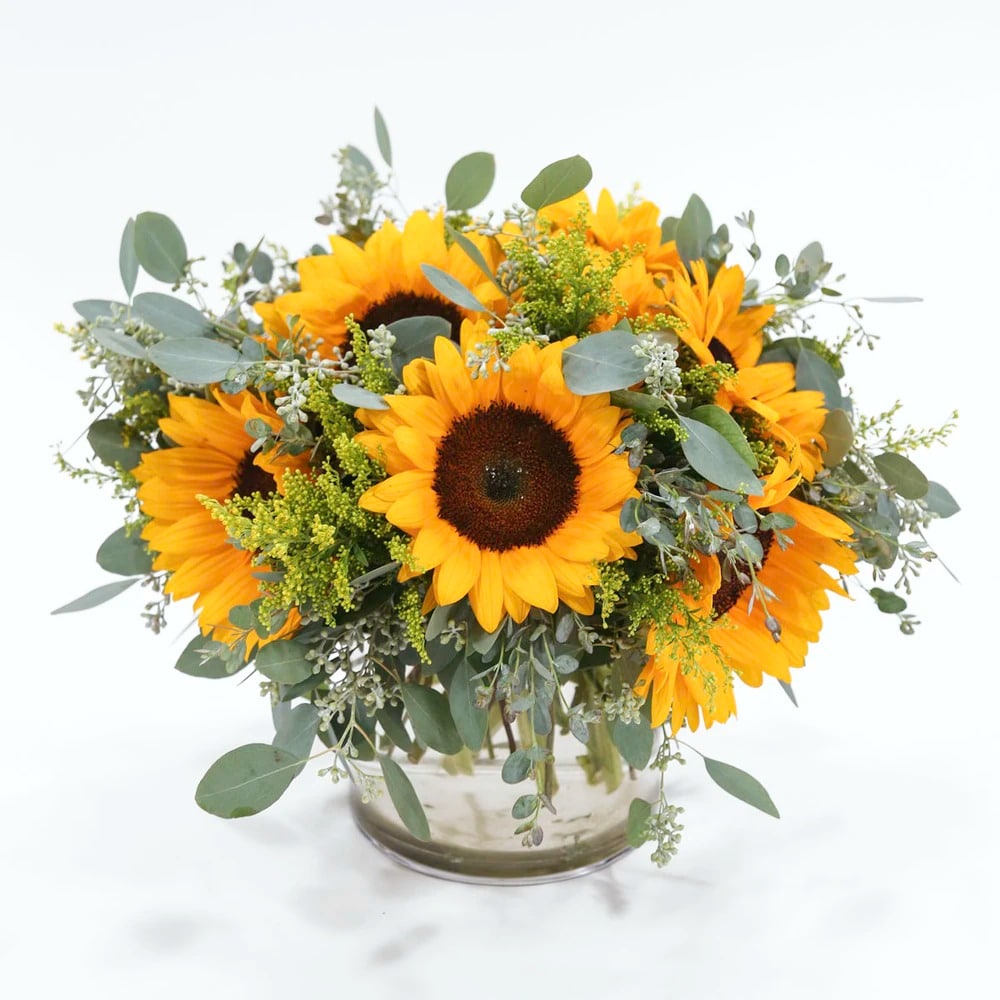 BUY NOW – $129
5. floraqueen
Launched in 2004 in Barcelona, Spain, FloraQueen now delivers fresh flowers to 100 countries worldwide. Our pick is the Summer Sensations (€37) arrangement filled with a mix of seasonal chrysanthemums and sunflowers.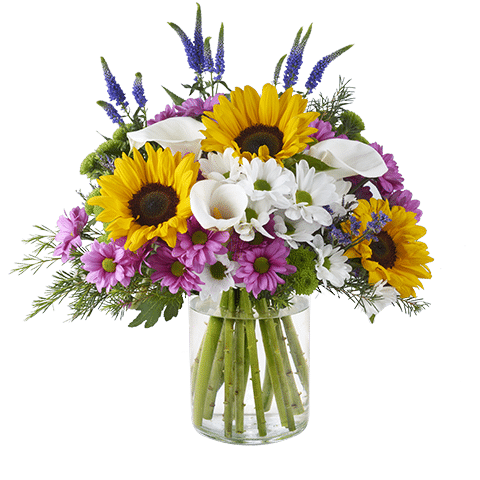 BUY NOW – €37
6. flower bx
Based in London, Flower Bx is the preferred florist of the fashion world – its clients include Louis Vuitton and Dior. For sunflower season, the company is offering an elegant minimalist arrangement featuring either 10 or 20 stems ($65-85).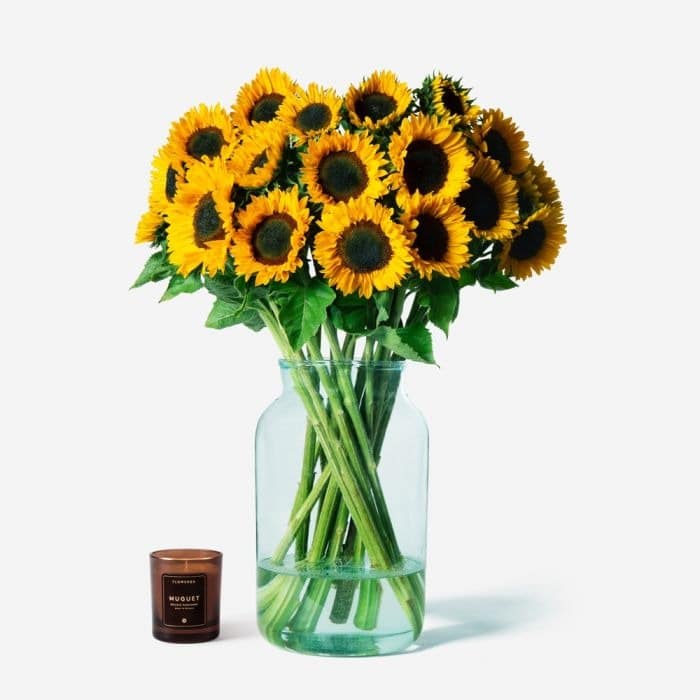 BUY NOW – $65-85
[white_box]
Related Post
How to Send the Gift of a Luxurious Peony Bouquet
read more >
[/white_box]
7. william paul design
Though based in California, William Paul Design offers nationwide delivery of 9 sunny bouquets. We think the bold You're Golden Bouquet ($75) featuring sunflowers paired with delicate oregonia, magnolia leaves, lemon leaf and moss would brighten anyone's day.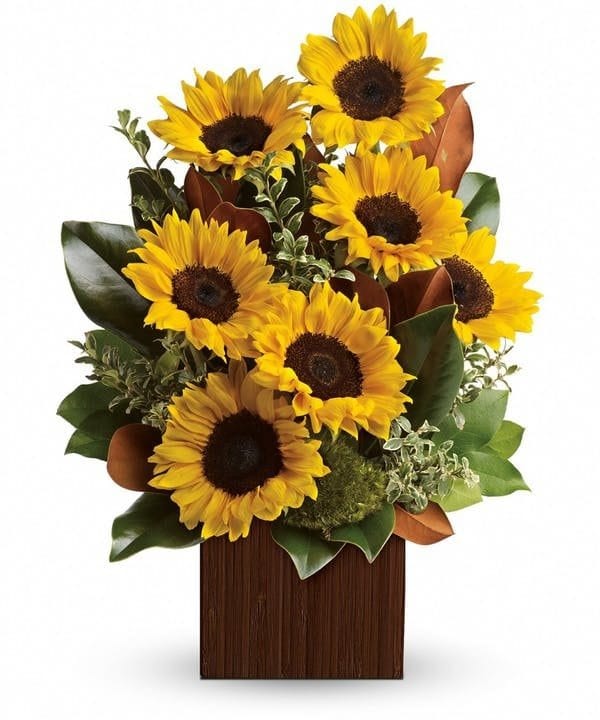 BUY NOW – $75
8. afloral
Whether you call them fake, silk or faux flowers, realistic-looking artificial flowers can make just as much of a statement as live ones – no green thumb required. Afloral's Real Touch Flower Bundle of Yellow Sunflowers ($34) will make for a true endless summer.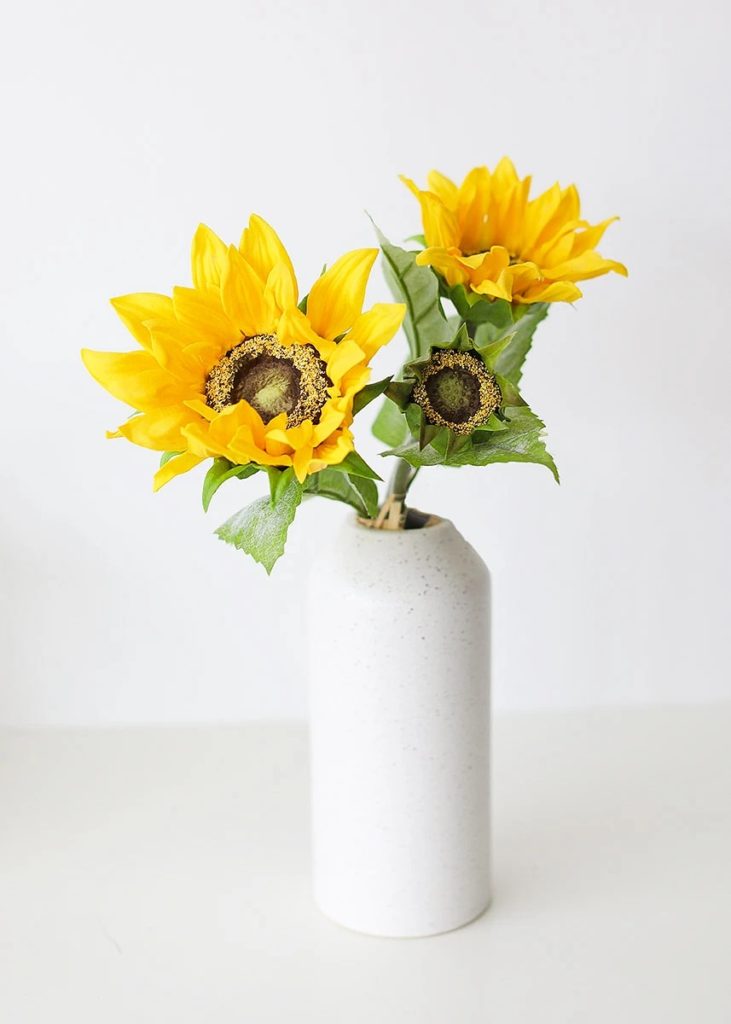 BUY NOW – $34
9. plantshed
If your gift recipient lives in New York City, we love New York florist PlantShed. The company hand-delivers flowers and plants to any borough of New York City, seven days a week. Amongst their 13 show stopping sunflower filled arrangements is the vibrant orange and yellow Manhattan Sunset ($85).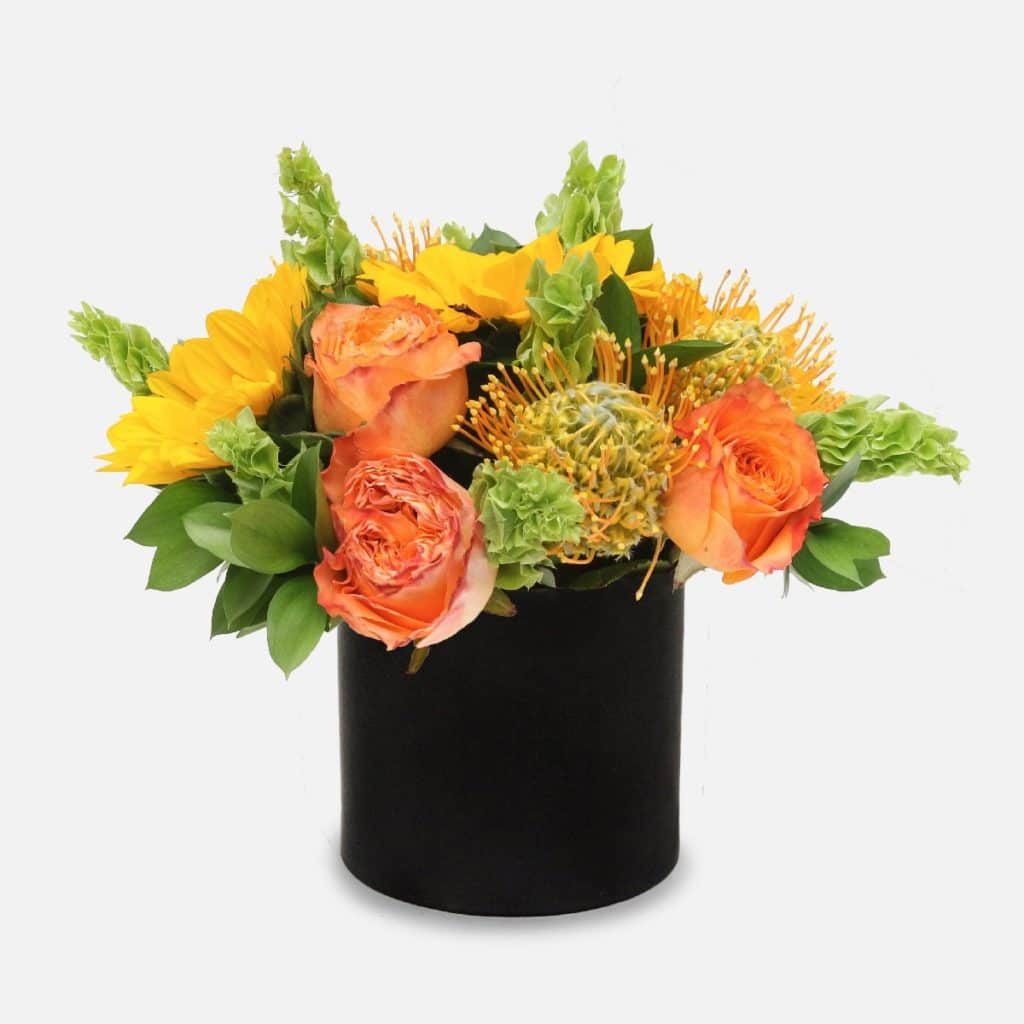 BUY NOW – $85
10. h. bloom
Luxury florist H. Bloom has 4 sunflower bouquets and arrangements. The Golden Rod ($115) arrangement is a bright mix of sunflowers, craspedia and other yellow seasonal flowers, accented with greenery for a contemporary twist.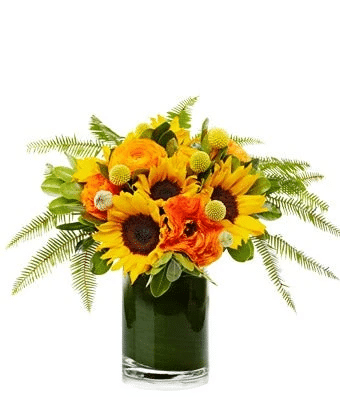 BUY NOW – $115
11. florists' transworld delivery
With a long history of quality (FTD has been delivering flowers for over 100 years), FTD offers brightly designed bouquets like the golden Sweet As Lemonade ($66) arrangement that can be shipped around the world.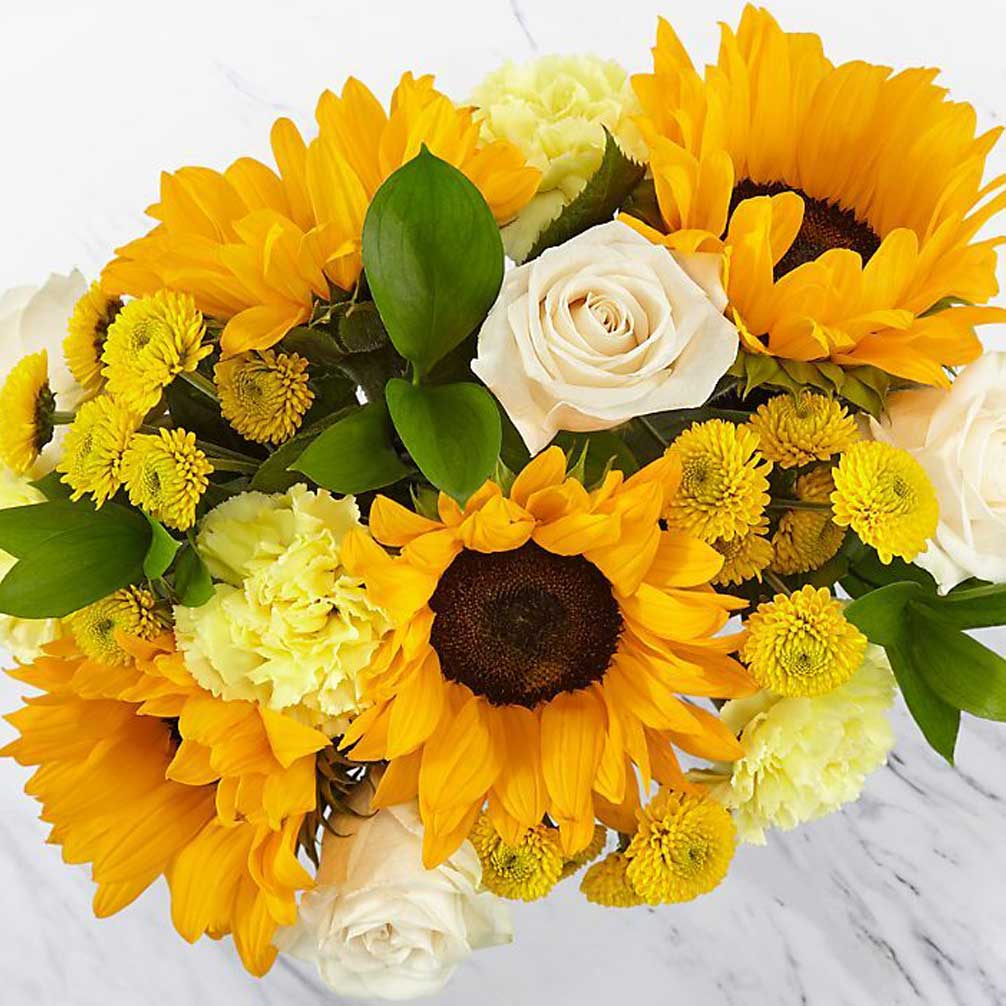 BUY NOW – $66
12. winston flowers
Based in New York but able to work with local florists in other locations for deliveries, Winston Flowers has a luxurious sunflower bouquet for its August Design of the Month ($300). It features a lush arrangement of sunny yellow blooms paired with olive greens and mojito hydrangea in a gray vase.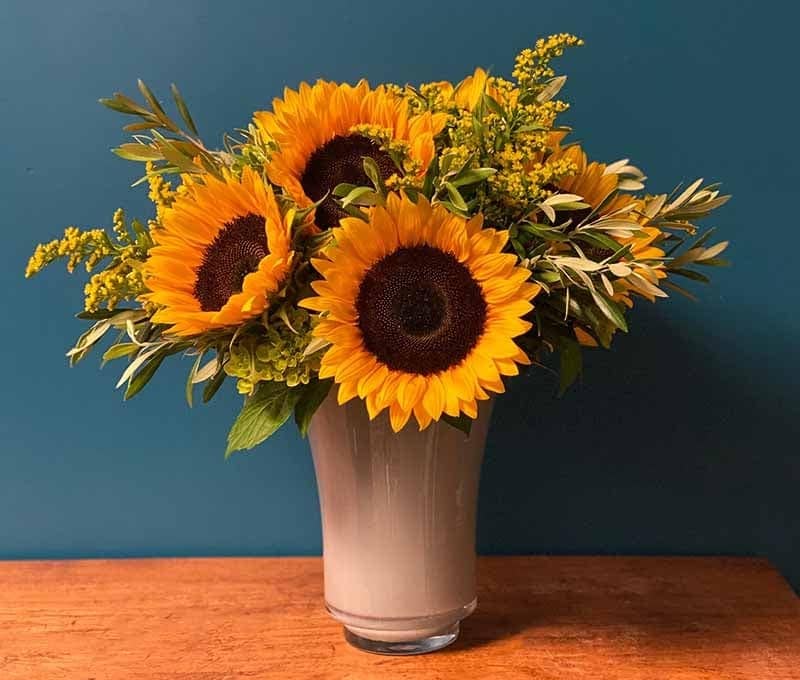 BUY NOW – $300
13. pick your own
For something a little more hands on, you could always opt to take a trip to a local sunflower farm near you. There are 1.7 million acres of sunflowers in the United States according to the USDA. While the majority of those were found in North Dakota, they can also be found throughout California and New England too. In the Hudson Valley for example, you can get to Sunflower Valley Farm now through early September to wander amongst the sunny fields for the Instagram shot of your dream – and even pick a few blooms too. Afterwards you can create your own beautiful handmade arrangement as a gift.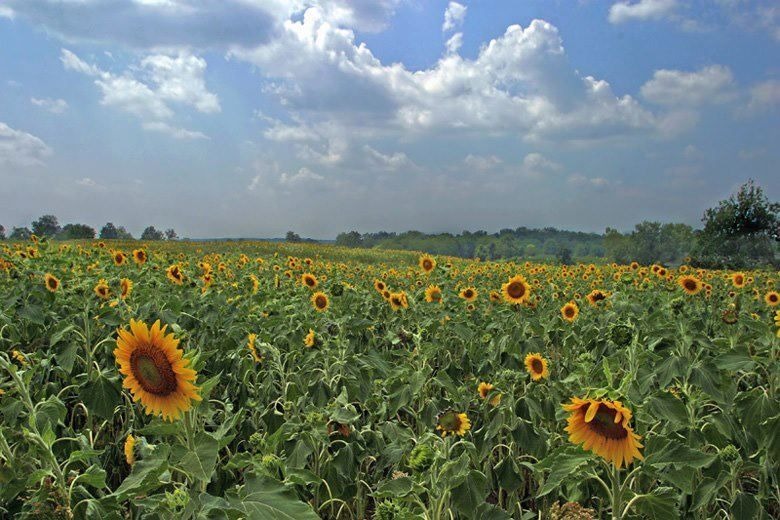 how to send the gift of luxury sunflowers
That's it! So many easy ways to send a luxurious sunflower bouquet. But don't wait too long. Just like summer, sunflower season won't last forever.
join our community
For access to insider ideas and information on the world of luxury, sign up for our Dandelion Chandelier Newsletter here. And see luxury in a new light.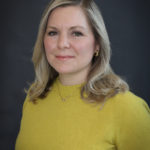 Jillian Tangen is the Head of Research at Dandelion Chandelier and a former Senior Research Analyst at McKinsey & Co and Analyst at Shearman & Sterling. She is an avid fan of Nordic design, having owned an independent lifestyle store and sales agency focused on emerging Scandinavian design. Jillian lives in New York and is married with three young children. She loves cross-country skiing, the New York Rangers, reading, travel and discovering new brands.