.Necessity is the mother of invention, and if there's any silver lining to this coronavirus era, it's the stunning level of creativity that people in every field of endeavor are demonstrating. Add this to your list of one of the good things to come into the world in 2020: protective face masks that match every skin tone. Yep, consider these Fenty Beauty-inspired skin tone matching face masks the new makeup. Los Angeles-based designer Shami Oshun, 21, tells Dandelion Chandelier's Jeanette Settembre how Rihanna's Fenty Beauty line inspired her to leverage fashion and tech to launch a line of inclusive shades in protective face coverings during COVID-19. Here's how to find the perfect match for your skin in a face mask, thanks to Shami Oshun's line of inclusive nude masks.
Now you can match your face mask to your foundation – and your skin tone
Goodbye forever, "nude." In an era of Black Lives Matter, with a huge wave of support building for inclusiveness and diversity in every realm of art, culture and fashion, the lowly face mask is being elevated to a new level by a charismatic young black woman entrepreneur.
Los Angeles-based fashion designer Shami Oshun has created face coverings in nearly a dozen shades to match Rihanna's Fenty Beauty foundation after getting requests for skin-tone matching masks at the height of the coronavirus pandemic in April.
[white_box]
Join our community
For access to insider ideas and information on the world of luxury, sign up for our Dandelion Chandelier newsletter. And see luxury in a new light.
sign up now >
[/white_box]
"People kept asking us, 'How do I match my Fenty shade? What mask should I get?'" Oshun told Dandelion Chandelier Monday of the inspiration behind her Nude Fashion Mask collection made to make whomever wears them feel like it's an extension of their own skin.
Oshun matched nearly a dozen Fenty Beauty foundation shades with the fabric of her masks, each made with two layers of cotton and filter pockets that can be washed and reworn. Then she tweeted out a chart with the Fenty Beauty shades that matched her corresponding face masks, garnering more than 30,000 likes on Twitter.
[white_box]
Related Post
the top black-owned beauty brands to know right now
read more >
[/white_box]
"I wanted to come up with as many different shades as I could," Oshun said, adding that her goal is to expand to more shades as she continues to grow her business.
another step forward for inclusivity in fashion
In the age of the coronavirus pandemic, face masks are the face of health, safety and, with a little help from designers like Oshun, natural beauty. And skin-tone matching clothing is the latest way designers are incorporating more inclusivity in fashion.
Call it the Fenty effect. Musician and beauty mogul Rihanna disrupted the makeup industry when she launched Fenty Beauty in 2017 with a groundbreaking 40 shades of foundation spanning evenly from fairest skin tones to deepest setting an industry standard.
[white_box]
Related Post
black girl luxury magic: the names you need to know
read more >
[/white_box]
"We've come far as a culture and society for diversity in makeup. But I still think clothing lacks the range of shades. When I was collecting different nude fabrics for the collection, I found it very hard to find a range of browns," Oshun said. "It was seeing the frustration and wanting to make a difference."
Oshun, 21, who grew up in the Bay Area of California, made waves in the fashion industry as a teenager at 17 when a photo of the prom dress she made for herself out of $15 worth of purple tulle the night before went viral in 2017.
[white_box]
Related Post
the chic luxury face masks to buy this fall
read more >
[/white_box]
Oshun was tight-lipped when asked if there was a potential partnership in the works with Fenty Beauty. And she did not collaborate with the brand on her launch. But there's certainly demand — since April, Oshun says she's sold hundreds of thousands of the $33 face masks globally.
join our community
For access to insider ideas and information on the world of luxury, sign up for our Dandelion Chandelier Newsletter here. And see luxury in a new light.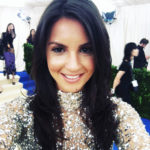 Jeanette Settembre is a New York City features writer and editor specializing in lifestyle, food, and travel. Her work has appeared in The Wall Street Journal, WSJ Magazine and Architectural Digest, among many other publications. Jeanette started her career in journalism as a features reporter for the New York Daily News. She edited Entertainment and wrote the Sunday food column "Eats Beat."