15 Swimsuits for Women from Luxury Designers Best for Summer 2021
All products are independently selected by our editors. If you buy something, we may earn an affiliate commission.
What are the best designer swimwear brands and bathing suits right now? Our ace correspondent Jillian Tangen has curated a list of the top trending swimsuits (including maillots and bikinis), and the hot swimwear styles and colors for women to buy from luxury designers this summer 2021.
15 chic luxury designer swimsuits to buy for Summer 2021
Summer is just around the corner, which means relaxing in the sun at the beach, the park or at long last, a far flung destination. But regardless of your location, you'll need a swimsuit.
From the pool to the shore to dining al fresco, a bating suit that makes you feel great is an essential part of your summer wardrobe.
[white_box]
Join our community
For access to insider ideas and information on the world of luxury, sign up for our Dandelion Chandelier newsletter. And see luxury in a new light.
sign up now >
[/white_box]
Trust us when we say that there is nothing quite like trying on dozens of ill-fitting and unflattering swimsuits to send your confidence into low gear. And possibly leave you heading home empty-handed.
So we decided to do a little research to find out what some of the best brands in designer swimwear are doing this season to make us feel and look our best post-Covid.
[white_box]
Related Post
18 new thrillers best to keep you riveted and reading Summer 2021
read more >
[/white_box]
Some are employing high-end fabrics that sculpt and mold the body while others are perfecting sustainable production. On top of that you'll find flirty florals, shimmering hues, high waisted briefs and beautiful textures suitable for all shapes and sizes. Ensuring you can find one (or more) chic, comfortable and flattering options.
And even better? You can still try them all on from the comfort of your home – so long, bye-bye dressing room drama!
Ahead our 15 favorite luxury swimsuits for summer 2021:
The best luxury designer swimsuits to wear this Summer
1. shoshanna floral belted swimsuit
Shoshanna's Floral Belted One-Piece Swimsuit ($240) is giving us some serious retro island vibes – not to mention a cinched waist.
BUY NOW – $240
2. fisch fish print bikini
This playful Grenadins recycled fibre-blend bikini top ($127) and matching Flamands fish-print high-cut bikini briefs ($102) from Fisch is not only cute, but it's eco-friendly too.  It's made from regenerated nylon fabric that's created from fishnets.
3. emilio pucci quirimbas swimsuit
More is always more, especially when it comes to Emilio Pucci's glamorous swimwear designs like this 70's inspired Quirimbas Swimsuit ($580).
BUY NOW – $580
4. patbo gabi ruffle bikini
Who can resist the eye catching combination of ruffles and abstract flowers on this Gabi Ruffle Bikini Top ($135) and Gabi Floral Print Ruffle Bikini Bottom ($125) from PatBo?
[white_box]
Related Post
12 luxury headbands perfect for a chic Summer 2021
read more >
[/white_box]
5. eres cassiopée bandeau swimsuit
The quality and fit of swimsuits from the French label Eres are unmatched. With more than forty years under their belt, the brand has mastered the art of creating perfect one-pieces like this Cassiopée Bandeau Swimsuit ($510).
BUY NOW – $510
6. montce mer bikini
If you love vibrant shades, treat yourself to the Montce Mer Stripe Hayden Bikini Top ($152) and Mer Stripe Tamarindo Ruffle Bikini Bottom ($122).
7. everlane the square-neck one-piece
The eco-friendly brand Everlane recently launched its first-ever line of swimsuits, and its sleek designs, including The Square-Neck One-Piece ($65) made of regenerated nylon, are perfect for minimalists.
BUY NOW – $65
8. silvia tcherassi polka dot bikini
Looking for a bikini that won't leave you too exposed? Silvia Tcherassi's Trancoso Bustier Bikini Top ($190) and matching Hilaria Bikini Bottoms ($150) in a modern polka dot motif have got you covered.
9. andrea Iyamah nisi ruffled swimsuit
The origami-esque ruffles on Andrea Iyamah's Nisi Ruffled One-Piece Swimsuit ($190) are anything but basic.
BUY NOW – $190
10. oséree lumière bandeau bikini
Oséree believes beachwear should be glamorous. Case in point: this shimmering Lumière Bandeau Bikini ($210).
BUY NOW – $210
[white_box]
Related Post
21 trending Summer luxury fashions best for the beach 2021
read more >
[/white_box]
11. summersalt the perfect wrap one-piece
When you want a little extra support and coverage all around, go for Summersalt's The Perfect Wrap One-Piece ($95) with a figure-hugging wrap style.
BUY NOW – $95
12. bondi born bandeau high rise bikini
Bondi Born's figure-sculpting Stella Bandeau Bikini Top ($150) and Poppy High-Rise Bikini Bottoms ($140) are made with chlorine-resistant fabric that ensures you can wear your suit for multiple seasons to come.
13. norma kamali slip mio one-piece
Keep it laid back with Norma Kamali's tye-dye Slip Mio One-Piece Swimsuit ($125).
BUY NOW – $125
14. missoni mare chevron-stripe bikini
The iconic knits from legendary fashion house Missoni are also available in swimsuit form. Our pick is the classic Chevron-stripe Triangle Bikini ($319).
BUY NOW – $319
15. jade swim yara swimsuit
Jade Swim proves that minimal doesn't have to mean boring with this eye-catching Yara Ruched Strapless Swimsuit ($198).
BUY NOW – $198
15 chic luxury designer swimsuits for women to buy for Summer 2021
There you have it, our picks for the top 15 best designer swimsuits to buy this season. Now nothing stands between you and enjoying a good beach book this summer.  Just don't forget the sunscreen!
join our community
For access to insider ideas and information on the world of luxury, sign up for our Dandelion Chandelier Newsletter here. And see luxury in a new light.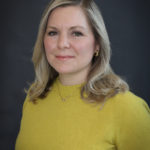 Jillian Tangen is the Head of Research at Dandelion Chandelier and a former Senior Research Analyst at McKinsey & Co and Analyst at Shearman & Sterling. She is an avid fan of Nordic design, having owned an independent lifestyle store and sales agency focused on emerging Scandinavian design. Jillian lives in New York and is married with three young children. She loves cross-country skiing, the New York Rangers, reading, travel and discovering new brands.