12 Office Party Outfits Perfect to Stand Out and Stay On Trend 2021
All products are independently selected by our editors. If you buy something, we may earn an affiliate commission.
Like it or not, back to the office for lots of us also means back to the office holiday party. That minefield of potential faux pas and cringe-inducing incidents. How do you dress for success, particularly at a time like this? Our ace correspondent Jillian Tangen has curated a list of what to wear: 12 luxury office party outfits that work perfectly to ensure you stand out and stay on trend this holiday 2021, including dresses, suits, blazers, skirts and accessories. Consider this a perfect opportunity to show up like a boss.
the office holiday party is back. what to wear?
There's no shortage of stressors during the holiday season. Everything from finishing up the holiday shopping, attending countless school functions, extended family visiting from out of town to struggling to meet work deadlines before year end. Each can take some of the joy out of the most wonderful time of the year.
[white_box]
Join our community
For access to insider ideas and information on the world of luxury, sign up for our Dandelion Chandelier newsletter. And see luxury in a new light.
sign up now >
[/white_box]
One thing is for sure, no matter what is causing your anxiety, selecting the perfect holiday office party look shouldn't be one of them. But how do you combine office appropriate attire together with a party ready ensemble? What to wear to the office holiday party in 2021 that strikes just the right note?
Whether you work in a corporate environment or a more casual co-working space, your holiday party look should first and foremost be professional. A good tip is not to wear anything you wouldn't wear to meet a client. So it's best to leave the more daring looks for a night out with friends. Save the slip dress for another time. Instead, stick to polished silhouettes mixed with bright pops of color, textures and prints. That will add some fun and fizz to your look without crossing the line.
From gorgeous dresses to chic suiting and lush separates, we've found 12 outfit ideas that are certain to have people talking around the water cooler the next day (and for all the right reasons).
Ahead, our 12 picks for best office holiday party looks in 2021.
office party outfits that work perfectly for holiday 2021
1. vampire's wife coordinated suit set
This festive coordinated Vampire's Wife No.2 single-breasted brocade jacket ($1,820) and Bell Ringer brocade wide-leg trousers ($970) suit set will ensure you get the attention you deserve.
BUY JACKET NOW – $1,820, BUY TROUSERS NOW – $970.
2. cinq à sept wrap dress
When in doubt, a wrap dress in a seasonal print like this Daisy Kacy Tumbled Dress ($425) from Cinq à Sept will always look good.
BUY NOW – $425.
3. sandro tweed jacket
Swap out your traditional 9 to 5 blazer for a more sparkling Sandro Cropped Tweed Jacket ($545).
BUY NOW – $545.
[white_box]
Related Post
cuddle up with the best new shearling fashion pieces of 2021
read more >
[/white_box]
4. tove ruched mini dress
Can you ever go wrong with a classic LBD and matching heels? Absolutely not. Tove's Asha Ruched Organic Cotton Mini Dress ($715) will take you straight from the office to the party by swapping out flats for pumps.
BUY NOW – $715.
5. free people velvet blazer
It's a holiday classic for a reason: Velvet always feels festive, whether it's in dress form or as a separate, like with this Ashby Velvet Blazer ($198) from Free People.
BUY NOW – $198.
6. carolina herrera printed satin-crepe dress
Ensure you stand out in Carolina Herrera's eye-catching Printed Pussybow Satin-Crepe Dress ($2,190). Pair with a red purse or heels for a subtle festive touch.
BUY NOW – $2,190.
[white_box]
Related Post
10 designer loafers perfect for fall-winter 2021-22
read more >
[/white_box]
7. amina mauddi x wolford turtleneck dress
Channel your inner Shiv Roy with this winter white Jersey Turtleneck Midi Dress ($580) from Amina Muaddi x Wolford paired with simple gold jewelry.
BUY NOW – $580.
8. moncler faux leather skirt
Take your leather skirt up a notch by adding a cozy sweater and party-ready booties. Don't have a leather skirt yet? We're coveting this high waisted 2 Moncler 1952 faux leather midi skirt ($446) from Moncler.
BUY NOW – $446.
9. tory burch metallic ribbed knit set
Tory Burch's Metallic Stripe Ribbed Sweater ($448) and coordinating Metallic Stripe Ribbed Knit Skirt ($498) knit set is a good option if you're heading straight from your desk to drinks. All that's left is a swipe of your fav lipstick and kitten heels to complete the look.
BUY SWEATER NOW – $448, BUY SKIRT NOW – $498.
[white_box]
Related Post
the butterfly trend is back, big time, in 2021
read more >
[/white_box]
10. oscar de la renta red dress
Nothing says the holidays like a red dress and strappy heels. And this Oscar de la Renta Asymmetrical Drape Dress ($2,690) is a classic that can be worn for years to come.
BUY NOW – $2,690.
11. rotate open back dress
A plunging neckline is best saved for holiday parties spent with friends. Instead, consider an open back dress like Rotate's Mary open back midi dress ($445). It's celebratory, yet there's zero chance of a wardrobe malfunction.
BUY NOW – $445.
12. red valentino tartan trousers
How to dress for an office holiday party this year? When in doubt, a seasonal tartan should do the trick. Pair these RED Valentino tartan cropped tailored trousers ($475) with a crisp white button down for a professional spin on the season.
BUY NOW – $475.
office party outfits that work perfectly for holiday 2021
There you have it, answers on how to dress for the office holiday party in 2021. 12 different outfits that will definitely work this year. Now go forth and have fun with your co-workers in style! You've earned it.
join our community
For access to insider ideas and information on the world of luxury, sign up for our Dandelion Chandelier Newsletter here. And see luxury in a new light.
This article contains affiliate links to products independently selected by our editors. As an Amazon Associate, Dandelion Chandelier receives a commission for qualifying purchases made through these links.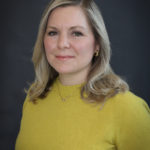 Jillian Tangen is the Head of Research at Dandelion Chandelier and a former Senior Research Analyst at McKinsey & Co and Analyst at Shearman & Sterling. She is an avid fan of Nordic design, having owned an independent lifestyle store and sales agency focused on emerging Scandinavian design. Jillian lives in New York and is married with three young children. She loves cross-country skiing, the New York Rangers, reading, travel and discovering new brands.