12 Best Fringed Looks in Designer Fashion for 2022 Summer Fun
All products are independently selected by our editors. If you buy something, we may earn an affiliate commission.
Fringed designer outfits are suddenly on trend this summer, and no longer, well . . . on the fringe of the fashion universe. See what we did there? Our correspondent Jillian Tangen has curated and edit of 12 of the best on-trend fringed accessories and outfits in designer fashion for 2022 summer fun, including dresses, tops, skirts, bags, and more.
fringed designer looks are suddenly on trend, and no longer on the . . . fringe of fashion
From cut-outs to pink power suits, to preppy knit polos and bold colors and textures that have us channeling our inner Emily in Paris, summer 2022 is without a doubt season two of dopamine dressing.
[white_box]
Join our community
For access to insider ideas and information on the world of luxury, sign up for our Dandelion Chandelier newsletter. And see luxury in a new light.
sign up now >
[/white_box]
And why not? With Covid still present and lots happening in the US and around the world, we still find ourselves looking to our closets for a mood booster.
And this summer, we think no trend exudes more joy than fringe. It's fun, it's flirty and it's next to impossible not to dance in. Thanks to brands like Proenza Schouler, Jonathan Simkhai and Chloé, the onetime Western style staple has been revamped to include colorful and oversized swaying statement making strips. The looks are playful, dynamic and joyful.
Nor ready to go full on fringe? Many dresses, tops and bottoms on the market right now feature just a touch along the hemline. Or you can sway every step of the way with artfully embellished bags, footwear and accessories.
Ahead, we've rounded up 12 of our favorite fringed finds so you have your most sunny summer yet.
the fringe fashion trend means fun, and here are 12 of the best for summer 2022
1. chloé
The easiest entry point to the fringe fashion trend is – unsurprisingly – through a new bag. Our pick is Chloé's timeless Woody Knitted Cotton Fringe-Trim Tote ($1,490).
BUY NOW – $1,490.
2. taller marmo
While some fringe dresses are designed to be worn to the beach, this silky Taller Marmo Merengue Halterneck fringed Dress ($809) is a perfect way to channel the fringe fashion trend for a summer wedding.
BUY NOW – $809.
[white_box]
Related Post
The 12 new trending shorts for women to love for Summer 2022
read more >
[/white_box]
3. comme des garçons
Elevate your white t-shirt collection with this dramatic Fringe-Detail T-shirt ($254) from Comme Des Garçons.
BUY NOW – $254.
4. adina reyter
Don't leave your ears out of the fun. Accessorize with Adina Reyter's Fringe 14K Yellow Gold and Sterling Silver Huggie Earrings ($650).
BUY NOW – $650.
5. farm rio
Add some artful flounce to your beach ensemble with Farm Rio's Fringe Hem Printed Midi Skirt ($185).
BUY NOW – $185.
6. the row
Dip your toe in on the look in ultimate style with The Row's luxe Fray Fringed Satin Slingback Sandals ($920).
BUY NOW – $920.
[white_box]
Related Post
The 10 best on trend fisherman sandals for women for Summer 2022
read more >
[/white_box]
7. pippa holt
Pippa Holt's handmade Fringed Cotton Mini Kaftan ($594) perfectly captures summer's carefree charisma.
BUY NOW – $594.
8. anthropologie
If you want to test out the trend, consider this Fringed Kimono ($110) from Anthropologie. The fringe is minimal and at the hem, so it's more subtle.
BUY NOW – $110.
9. maje
White jeans are a summer must-have, so why not try these relaxed Pavot High-Rise Fringed Stretch Cropped Jeans ($295) from Maje?
BUY NOW – $295).
10. raey
Looking to make a statement at your next black tie event? Raey's dramatic Rouleau-fringed Mini Dress ($607) will turn heads as you swish across the room.
BUY NOW – $607.
[white_box]
Related Post
10 perfect books to read for a lively Summer 2022 book club
read more >
[/white_box]
11. no pise la grama
Going out dancing with friends? No Pise La Grama's Pax Fringe Halter Top ($436) will sway to the music with you.
BUY NOW – $436.
12. paco rabanne
It's no secret we love a good matching set and this glam vacation ready Paco Rabanne Sunrise-print Fringed Cropped Top ($450) and Sunrise-print Fringed Skirt ($520) combo is no exception.
BUY TOP NOW – $450.  BUY BOTTOM NOW – $520.
fringe is the latest fashion trend of summer 2022
There you have it – 12 fun and flirty fringed outfits to channel this summer's fringe fashion trend, including  dresses, tops, skirts, accessories and more. We don't know about you, but we suddenly feel like dancing. Cue the music!
join our community
For access to insider ideas and information on the world of luxury, sign up for our Dandelion Chandelier Newsletter here. And see luxury in a new light.
This article contains affiliate links to products independently selected by our editors. As an Amazon Associate and member of other affiliate programs, Dandelion Chandelier receives a commission for qualifying purchases made through these links.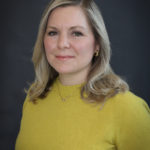 Jillian Tangen is the Head of Research at Dandelion Chandelier and a former Senior Research Analyst at McKinsey & Co and Analyst at Shearman & Sterling. She is an avid fan of Nordic design, having owned an independent lifestyle store and sales agency focused on emerging Scandinavian design. Jillian lives in New York and is married with three young children. She loves cross-country skiing, the New York Rangers, reading, travel and discovering new brands.