The 12 Best Fall Candles to Buy Now That Smell Just Like Autumn
All products are independently selected by our editors. If you buy something, we may earn an affiliate commission.
Scent is one of the most powerful triggers of memory. Which is why each year we look forward to surrounding ourselves with the fragrance of fall. When sweater weather arrives, we start craving the scents of apples, wood smoke, cinnamon and pumpkin spice – you know what we mean. Our correspondent Jillian Tangen has curated a list of the 12 best luxury scented candles that smell like fall, with the fragrance of  pumpkins, campfires, apples and more, perfect for the fall 2022 season.
what are the best smelling fall candles this year?
There's a lot to love about fall – the colorful foliage, sweater weather, pumpkin picking and, of course, it's home to two of our favorite holidays, Halloween and Thanksgiving.
But let's be honest. Another reason we all look forward to fall is that it marks the official start of candle season.
Yes, we love burning candles year round – they've even been known to boost your mood, but during fall it's so much more pleasurable to light them thanks to the longer nights and crisp cool air. There's nothing like a flickering wick and aromatic fragrance to complete the season's cozy atmosphere in your home, right?
That's why we're rounding up some of our favorite luxury fall candles, from traditional fireside and pumpkin spice-inspired favorites to more understated bouquets of leather and pomegranate.
These fragrant beauties will not only help usher the season into your home, they will also serve as a subtle reminder as to why this time of year is so wonderful – despite the dropping temperatures and shorter days.
So, which autumn candle is for you? Here are 12 luxury scented candles in elegant autumnal vessels, with fragrances that evoke the beauty of the changing season.
12 best luxury scented fall candles to bring the autumn indoors
1. forvr mood
In celebration of their 2nd anniversary, FORVR Mood looked to their roots for inspiration, using common Nigerian phrases and ingredients in its new fall line. The lush Soft Life Candle ($38) includes notes of cinnamon, caramel, ginger, buttercream vanilla icing and nutmeg.
BUY NOW – $38.
2. elemis
Transport yourself to a classic English library with Elemis's Regency Library Candle ($60). Notes of musky Cedarwood mix with whispers of spicy clove and warm whiskey for a rich home fragrance.
BUY NOW – $60.
3. otherland
With notes of hickory wood, pink peppercorn and brown sugar, Otherland's Spice It Up Candle ($36) offers a fresh take on a classic fall scent composition. The result is a toasty, spicy and sweet – perfect for welcoming the spooky season.
BUY NOW – $36.
4. jo malone
Pomegranate season starts in late September, making Jo Malone's Pomegranate Noir Candle ($75) ideal for fall.
BUY NOW – $75.
5. cire trudon
Infused with warm cashmere, cedar and birch wood – and a dash of candied chestnuts – Cire Trudon's Gabriel Gourmand Chimney Fire Classic Candle ($125) candle captures the feeling of late fall evenings bundled up by a fire.
BUY NOW – $125.
6. snif
A blend of amber, lily, musk and sandalwood, one whiff of Snif's Off the Grid Candle ($49) will make you want to spend the afternoon tucked into a warm blanket relaxing while this candle softly burns.
BUY NOW – $49.
7. royal fern
Take a trip into the forest with the fresh Fantastic Woods Scented Candle ($79) from Royal Fern. It will be a breath of fresh air in your home.
BUY NOW – $79.
8. voluspa
#sorrynotsorry, but we have to show a little pumpkin love. Voluspa's Spiced Pumpkin Latte ($34) will fill your home with the traditional sweet smells of pumpkin, coconut and vanilla.
BUY NOW – $34.
9. cassina
Bringing together musky notes with hints of wood, leather and red apple, Cassina's Santal King Candle ($76) is the perfect balance of seasonal and sophistication.
BUY NOW – $76.
10. nest new york
For something a little fruiter, we like NEST New York's Autumn Plum Candle ($46) whose elegant hue complements the warm, sweet fragrance within.
BUY NOW – $46.
11. overose
When in doubt, Overose's Pink-Anthurium Scented Candle ($58) will lighten the mood and add a pop of color to any room.
BUY NOW – $58.
12. brunello cucinelli
It doesn't get any more luxe than Brunello Cucinelli's woody and spicy Ebano Candle ($250) infused with ebano and teak.
BUY NOW  – $250.
best smelling luxury fall candles with scents of autumn
There you have it, our 12 favorite candles to celebrate the arrival of autumn.  Just grab your favorite red wine (or a cup of tea), a good book and get ready to sit back and enjoy all that is fall.
join our community
For access to insider ideas and information on the world of luxury, sign up for our Dandelion Chandelier Newsletter here. And see luxury in a new light.
This article contains affiliate links to products independently selected by our editors. As an Amazon Associate, Dandelion Chandelier receives a commission for qualifying purchases made through these links.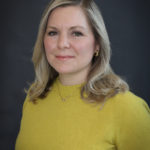 Jillian Tangen is the Head of Research at Dandelion Chandelier and a former Senior Research Analyst at McKinsey & Co and Analyst at Shearman & Sterling. She is an avid fan of Nordic design, having owned an independent lifestyle store and sales agency focused on emerging Scandinavian design. Jillian lives in New York and is married with three young children. She loves cross-country skiing, the New York Rangers, reading, travel and discovering new brands.